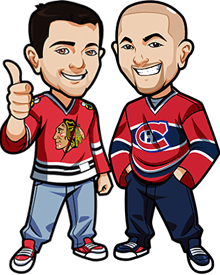 Written by Graeme & Scott on Monday, February 11th, 2013
Step by Step Guide for Betting NHL Online – or How To Bet NHL Online For Dummies.
Below is a step by step guide on how to bet on the NHL at each and every Sportsbook.
So if you are unfamiliar with a site and how to use it, these instructions will have you betting there like a pro in no time.
Some sites can be confusing, the way the interface is set up. Some will display all of their NHL bets on one page, others will force you to go through various menus to see.
It may seem a lot more complicated than going to the corner store and betting on your Pro-Line slip! But trust us it's worth it.
How To Bet NHL Online At 888Sport
Visit 888 Sports
Register an account, or log in.
On the left of the screen choose Ice Hockey which expands the options for all hockey leagues available, then choose NHL Match List for example
Under Match List you can select either team from any game available to win by checking the box associated with your selection. If you want more options for a certain game then select more and choose Bet to select bet
Once a bet is selected a Bet Slip Window opens up showing your bets
In Bet Slip window choose how much you're willing to bet
When ready select Place Bet and your bet is placed
How To Bet NHL Online At Bodog
Visit Bodog
Register an account, or log in.
At the Top of the screen choose Sports
Along the left of the screen choose Hockey, then Hockey Lines for example
Games and betting options now on screen, checking box will select bet. Select Odds from drop down menu from American,Fractional and Decimal
On the right a wager window is open asking you how much you want to bet and showing you the potential winnings
Continue selecting bets and placing wagers. Parlay option available after selecting two or more bets
When ready click Review Bets
Click Place Bets and Bets will be placed
How To Bet NHL Online At Bet365:
Visit http://www.Bet365.com.
Register an account, or log in.
In the left sidebar, click "Hockey".
The NHL betting options will appear at the top. Click "Game Lines", for example.
The betting options will be displayed. Please note you can change the odds to American, Fractional or Decimal odds – whichever you prefer – at the very top right of the site.
Now click on the "odds" for what you want to bet.
The bet you made is now added to your "bet slip" at the right.
Put in the amount that you wish to bet, which is your "Stake".
Click "Place Bet" and your bet will be placed.
How To Bet NHL Online At 5Dimes
Visit 5Dimes
Register an account, or log in.
Clicking the box Hockey will select all hockey games available to bet: NHL, Euro, Reduced and Futures. Select both NHL and Reduced for NHL Game Lines then press continue
Placing a dollar amount in the box of the game you want to bet
Along the left of the screen is a list of different types of bets available ie. Straight and If Bets
Continue to place bets until ready then select continue
An summary of the bets you have placed are now listed with wagers and payouts
Selecting continue places your bet
How To Bet NHL Online At BetOnline
Visit BetOnline
Register an account, or log in.
Choose Sportsbook
Choose Hockey from the list on the left which expands to open up options for betting select NHL for example>
Choose View Selected at the top of the list of sports to open NHL Lines
Games Listed now with drop down menu allowing you to bet on 1st period lines as well as Odds format: American or Decimal
Checking the box selects the game you would like to bet on
Bet Slip on the left is now open place wager on game/games
Place My Bet to place your bet
How To Bet NHL Online At JustBet
Visit JustBet
Register an account, or log in.
Select NHL under the Hockey option
Place Wager amount in the box beside the bet you would like to place
When ready select Continue on the bottom right of the game list to place your bet
How To Bet NHL Online At Nordic Bet
Visit NordicBet
Register an account, or log in.
Choose Ice Hockey from the List on the left
Hover mouse over NHL which opens a Menu from there select Regular Season
Choose the game you want to bet on which opens up all available options for betting on that game choose moneylines for example
Select your bet then on the left opens your bet slip where you select your wager amount
Press place bet to place bet
How To Bet NHL Online At Pinnacle Sports
Visit Pinnacle Sports
Register an account, or log in.
Choose Betting Home
Then on left select Hockey then NHL which opens all options for NHL
Choose NHL OT Included for example
Odds format can be changed from the top of the screen American or Decimal
Placing your wager amount in the box next to the team and odds you want will select that team as your bet
When done betting select Submit Bets on the bottom of the game list to place your bets
How To Bet NHL Online At Titan Bet
Visit Titan Bet
Register an account, or log in.
Choose Sports from the Top Line Menu
Select Ice Hockey from the Menu on the left
Choose team you want to bet on.
Choose view all Markets opens up different options for betting
After selecting game or games to bet on a Bet Slip appears on the right of the screen
Select wager amount
Press Place Bet to place bet
How To Bet NHL Online At Intertops
Visit Intertops
Register an account, or log in.
Choose Sportsbook
Choose Ice Hockey from the menu on the left
Odd formats can be switched by clicking on the one you want :American, Decimal and Fractional
Select team to bet by Clicking on team name
When ready select View Slip from the menu on the top left of the screen
Enter Wager for each bet
Press Submit when ready to place bets
Best America Sportsbooks for NHL
BetNHL.ca » NHL Betting Guide » How To Bet NHL Online