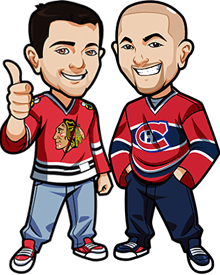 Written by Graeme & Scott on Friday, March 8th, 2013
Looking for a nice and easy NHL schedule in EST format to keep updated on the games in March 2013? Look no further!
Below is a nice and easy to follow list, which lists the entire schedule of NHL Games in Eastern Time format. This is also a nice printable or downloadable schedule too – you can copy and paste it into an e-mail or a word document and access it at any time, anywhere.
March 1, 2013 Edmonton Oilers at St. Louis Blues 8:00 PM EST
March 1, 2013 Columbus Blue Jackets at Chicago Blackhawks 8:30 PM EST
March 1, 2013 Minnesota Wild at Anaheim Ducks 10:00 PM EST
March 2, 2013 Ottawa Senators at Philadelphia Flyers 12:00 PM EST
March 2, 2013 Tampa Bay Lightning at Boston Bruins 1:00 PM EST
March 2, 2013 New Jersey Devils at Buffalo Sabres 3:00 PM EST
March 2, 2013 Washington Capitals at Winnipeg Jets 3:00 PM EST
March 2, 2013 Pittsburgh Penguins at Montreal Canadiens 7:00 PM EST
March 2, 2013 Florida Panthers at Carolina Hurricanes 7:00 PM EST
March 2, 2013 Anaheim Ducks at Phoenix Coyotes 8:00 PM EST
March 2, 2013 Los Angeles Kings at Vancouver Canucks 10:00 PM EST
March 2, 2013 Nashville Predators at San Jose Sharks 10:30 PM EST
March 3, 2013 Chicago Blackhawks at Detroit Red Wings 12:30 PM EST
March 3, 2013 Ottawa Senators at New York Islanders 3:00 PM EST
March 3, 2013 Colorado Avalance at Columbus Blue Jackets 3:00 PM EST
March 3, 2013 St. Louis Blues at Dallas Stars 3:00 PM EST
March 3, 2013 Carolina Hurricanes at Florida Panthers 6:00 PM EST
March 3, 2013 Montreal Canadiens at Boston Bruins 7:30 PM EST
March 3, 2013 Buffalo Sabres at New York Rangers 7:30 PM EST
March 3, 2013 Edmonton Oilers at Minnesota Wild 8:00 PM EST
March 3, 2013 Vancouver Canucks at Calgary Flames 8:00 PM EST
March 4, 2013 New Jersey Devils at Toronto Maple Leafs 7:00 PM EST
March 4, 2013 Tampa Bay Lightning at Pittsburgh Penguins 7:30 PM EST
March 4, 2013 Anaheim Ducks at Phoenix Coyotes 9:00 PM EST
March 4, 2013 Nashville Predators at Los Angeles Kings 10:30 PM EST
March 5, 2013 Tampa Bay Lightning at New Jersey Devils 7:00 PM EST
March 5, 2013 Montreal Canadiens at New York Islanders 7:00 PM EST
March 5, 2013 Boston Bruins at Washington Capitals 7:00 PM EST
March 5, 2013 Buffalo Sabres at Carolina Hurricanes 7:00 PM EST
March 5, 2013 Edmonton Oilers at Columbus Blue Jackets 7:00 PM EST
March 5, 2013 Philadelphia Flyers at New York Rangers 7:30 PM EST
March 5, 2013 Winnipeg Jets at Florida Panthers 7:30 PM EST
March 5, 2013 Colorado Avalance at Detroit Red Wings 7:30 PM EST
March 5, 2013 Minnesota Wild at Chicago Blackhawks 8:30 PM EST
March 5, 2013 San Jose Sharks at Vancouver Canucks 10:00 PM EST
March 5, 2013 St. Louis Blues at Los Angeles Kings 10:30 PM EST
March 6, 2013 Ottawa Senators at Toronto Maple Leafs 7:00 PM EST
March 6, 2013 Colorado Avalance at Chicago Blackhawks 8:00 PM EST
March 6, 2013 San Jose Sharks at Calgary Flames 9:30 PM EST
March 6, 2013 Phoenix Coyotes at Anaheim Ducks 10:00 PM EST
March 7, 2013 Toronto Maple Leafs at Boston Bruins 7:00 PM EST
March 7, 2013 Buffalo Sabres at New Jersey Devils 7:00 PM EST
March 7, 2013 New York Rangers at New York Islanders 7:00 PM EST
March 7, 2013 Pittsburgh Penguins at Philadelphia Flyers 7:00 PM EST
March 7, 2013 Florida Panthers at Washington Capitals 7:00 PM EST
March 7, 2013 Montreal Canadiens at Carolina Hurricanes 7:00 PM EST
March 7, 2013 Vancouver Canucks at Columbus Blue Jackets 7:00 PM EST
March 7, 2013 Winnipeg Jets at Tampa Bay Lightning 7:30 PM EST
March 7, 2013 Edmonton Oilers at Detroit Red Wings 7:30 PM EST
March 7, 2013 St. Louis Blues at Phoenix Coyotes 9:00 PM EST
March 7, 2013 Dallas Stars at Los Angeles Kings 10:30 PM EST
March 8, 2013 Ottawa Senators at New York Rangers 7:00 PM EST
March 8, 2013 Winnipeg Jets at Florida Panthers 7:30 PM EST
March 8, 2013 Edmonton Oilers at Nashville Predators 8:00 PM EST
March 8, 2013 Chicago Blackhawks at Colorado Avalance 9:00 PM EST
March 8, 2013 Calgary Flames at Anaheim Ducks 10:30 PM EST
March 9, 2013 Philadelphia Flyers at Boston Bruins 1:00 PM EST
March 9, 2013 Washington Capitals at New York Islanders 1:00 PM EST
March 9, 2013 Detroit Red Wings at Columbus Blue Jackets 2:00 PM EST
March 9, 2013 St. Louis Blues at San Jose Sharks 4:00 PM EST
March 9, 2013 Pittsburgh Penguins at Toronto Maple Leafs 7:00 PM EST
March 9, 2013 New Jersey Devils at Carolina Hurricanes 7:00 PM EST
March 9, 2013 Montreal Canadiens at Tampa Bay Lightning 7:00 PM EST
March 9, 2013 Minnesota Wild at Nashville Predators 8:00 PM EST
March 9, 2013 Dallas Stars at Phoenix Coyotes 8:00 PM EST
March 9, 2013 Calgary Flames at Los Angeles Kings 10:00 PM EST
March 10, 2013 New York Rangers at Washington Capitals 12:30 PM EST
March 10, 2013 Columbus Blue Jackets at Detroit Red Wings 5:00 PM EST
March 10, 2013 Montreal Canadiens at Florida Panthers 6:00 PM EST
March 10, 2013 Winnipeg Jets at New Jersey Devils 7:00 PM EST
March 10, 2013 New York Islanders at Pittsburgh Penguins 7:00 PM EST
March 10, 2013 Edmonton Oilers at Chicago Blackhawks 7:00 PM EST
March 10, 2013 Buffalo Sabres at Philadelphia Flyers 7:30 PM EST
March 10, 2013 Vancouver Canucks at Minnesota Wild 8:00 PM EST
March 10, 2013 San Jose Sharks at Colorado Avalance 8:00 PM EST
March 10, 2013 St. Louis Blues at Anaheim Ducks 8:00 PM EST
March 11, 2013 Boston Bruins at Ottawa Senators 7:30 PM EST
March 11, 2013 Calgary Flames at Los Angeles Kings 10:00 PM EST
March 12, 2013 New York Rangers at Buffalo Sabres 7:00 PM EST
March 12, 2013 Carolina Hurricanes at Washington Capitals 7:00 PM EST
March 12, 2013 Vancouver Canucks at Columbus Blue Jackets 7:00 PM EST
March 12, 2013 Boston Bruins at Pittsburgh Penguins 7:30 PM EST
March 12, 2013 Tampa Bay Lightning at Florida Panthers 7:30 PM EST
March 12, 2013 Toronto Maple Leafs at Winnipeg Jets 8:00 PM EST
March 12, 2013 San Jose Sharks at St. Louis Blues 8:00 PM EST
March 12, 2013 Anaheim Ducks at Minnesota Wild 8:00 PM EST
March 12, 2013 Nashville Predators at Dallas Stars 8:30 PM EST
March 12, 2013 Edmonton Oilers at Colorado Avalance 9:00 PM EST
March 12, 2013 Los Angeles Kings at Phoenix Coyotes 10:00 PM EST
March 13, 2013 Ottawa Senators at Montreal Canadiens 7:00 PM EST
March 13, 2013 Philadelphia Flyers at New Jersey Devils 7:30 PM EST
March 13, 2013 Detroit Red Wings at Calgary Flames 9:30 PM EST
March 14, 2013 Florida Panthers at Boston Bruins 7:00 PM EST
March 14, 2013 Pittsburgh Penguins at Toronto Maple Leafs 7:00 PM EST
March 14, 2013 Washington Capitals at Carolina Hurricanes 7:00 PM EST
March 14, 2013 Chicago Blackhawks at Columbus Blue Jackets 7:00 PM EST
March 14, 2013 New York Islanders at Tampa Bay Lightning 7:30 PM EST
March 14, 2013 New York Rangers at Winnipeg Jets 8:00 PM EST
March 14, 2013 Phoenix Coyotes at St. Louis Blues 8:00 PM EST
March 14, 2013 Colorado Avalance at Minnesota Wild 8:00 PM EST
March 14, 2013 Anaheim Ducks at Dallas Stars 8:30 PM EST
March 14, 2013 Nashville Predators at Vancouver Canucks 10:00 PM EST
March 14, 2013 Los Angeles Kings at San Jose Sharks 10:30 PM EST
March 15, 2013 New Jersey Devils at Philadelphia Flyers 7:00 PM EST
March 15, 2013 Nashville Predators at Calgary Flames 9:00 PM EST
March 15, 2013 Detroit Red Wings at Edmonton Oilers 9:30 PM EST
March 16, 2013 Washington Capitals at Boston Bruins 1:00 PM EST
March 16, 2013 New York Rangers at Pittsburgh Penguins 1:00 PM EST
March 16, 2013 Ottawa Senators at Buffalo Sabres 3:00 PM EST
March 16, 2013 Minnesota Wild at Colorado Avalance 3:00 PM EST
March 16, 2013 Winnipeg Jets at Toronto Maple Leafs 7:00 PM EST
March 16, 2013 Montreal Canadiens at New Jersey Devils 7:00 PM EST
March 16, 2013 Carolina Hurricanes at Tampa Bay Lightning 7:00 PM EST
March 16, 2013 Phoenix Coyotes at Columbus Blue Jackets 7:00 PM EST
March 16, 2013 New York Islanders at Florida Panthers 7:30 PM EST
March 16, 2013 Anaheim Ducks at St. Louis Blues 8:00 PM EST
March 16, 2013 Chicago Blackhawks at Dallas Stars 8:00 PM EST
March 16, 2013 Detroit Red Wings at Vancouver Canucks 10:00 PM EST
March 16, 2013 San Jose Sharks at Los Angeles Kings 10:30 PM EST
March 17, 2013 Boston Bruins at Pittsburgh Penguins 12:30 PM EST
March 17, 2013 Winnipeg Jets at Ottawa Senators 5:00 PM EST
March 17, 2013 Buffalo Sabres at Washington Capitals 7:00 PM EST
March 17, 2013 Nashville Predators at Edmonton Oilers 8:00 PM EST
March 18, 2013 Carolina Hurricanes at New York Rangers 7:00 PM EST
March 18, 2013 Philadelphia Flyers at Tampa Bay Lightning 7:30 PM EST
March 18, 2013 Calgary Flames at Dallas Stars 8:30 PM EST
March 18, 2013 Chicago Blackhawks at Colorado Avalance 9:00 PM EST
March 18, 2013 Minnesota Wild at Vancouver Canucks 10:00 PM EST
March 18, 2013 San Jose Sharks at Anaheim Ducks 10:00 PM EST
March 18, 2013 Phoenix Coyotes at Los Angeles Kings 10:30 PM EST
March 19, 2013 New York Rangers at New Jersey Devils 7:00 PM EST
March 19, 2013 Ottawa Senators at New York Islanders 7:00 PM EST
March 19, 2013 Florida Panthers at Carolina Hurricanes 7:00 PM EST
March 19, 2013 Nashville Predators at Columbus Blue Jackets 7:00 PM EST
March 19, 2013 Buffalo Sabres at Montreal Canadiens 7:30 PM EST
March 19, 2013 Washington Capitals at Pittsburgh Penguins 7:30 PM EST
March 19, 2013 Boston Bruins at Winnipeg Jets 8:00 PM EST
March 19, 2013 St. Louis Blues at Vancouver Canucks 10:00 PM EST
March 19, 2013 Phoenix Coyotes at Los Angeles Kings 10:30 PM EST
March 20, 2013 Tampa Bay Lightning at Toronto Maple Leafs 7:00 PM EST
March 20, 2013 Minnesota Wild at Detroit Red Wings 7:30 PM EST
March 20, 2013 Dallas Stars at Colorado Avalance 9:30 PM EST
March 20, 2013 San Jose Sharks at Edmonton Oilers 9:30 PM EST
March 20, 2013 Chicago Blackhawks at Anaheim Ducks 10:00 PM EST
March 21, 2013 Toronto Maple Leafs at Buffalo Sabres 7:00 PM EST
March 21, 2013 Montreal Canadiens at New York Islanders 7:00 PM EST
March 21, 2013 Florida Panthers at New York Rangers 7:00 PM EST
March 21, 2013 New Jersey Devils at Carolina Hurricanes 7:00 PM EST
March 21, 2013 Boston Bruins at Ottawa Senators 7:30 PM EST
March 21, 2013 Washington Capitals at Winnipeg Jets 8:00 PM EST
March 21, 2013 Calgary Flames at Nashville Predators 8:00 PM EST
March 21, 2013 Vancouver Canucks at Phoenix Coyotes 10:00 PM EST
March 21, 2013 Dallas Stars at Los Angeles Kings 10:30 PM EST
March 22, 2013 Pittsburgh Penguins at New York Islanders 7:00 PM EST
March 22, 2013 Calgary Flames at Columbus Blue Jackets 7:00 PM EST
March 22, 2013 Washington Capitals at Winnipeg Jets 7:00 PM EST
March 22, 2013 Detroit Red Wings at Anaheim Ducks 10:00 PM EST
March 23, 2013 Tampa Bay Lightning at Ottawa Senators 2:00 PM EST
March 23, 2013 San Jose Sharks at Minnesota Wild 2:00 PM EST
March 23, 2013 Vancouver Canucks at Los Angeles Kings 4:00 PM EST
March 23, 2013 Boston Bruins at Toronto Maple Leafs 7:00 PM EST
March 23, 2013 Buffalo Sabres at Montreal Canadiens 7:00 PM EST
March 23, 2013 Florida Panthers at New Jersey Devils 7:00 PM EST
March 23, 2013 Columbus Blue Jackets at Nashville Predators 8:00 PM EST
March 23, 2013 Colorado Avalance at Dallas Stars 8:00 PM EST
March 23, 2013 St. Louis Blues at Edmonton Oilers 10:00 PM EST
March 24, 2013 Florida Panthers at New York Islanders 5:00 PM EST
March 24, 2013 Philadelphia Flyers at Pittsburgh Penguins 7:00 PM EST
March 24, 2013 Washington Capitals at New York Rangers 7:00 PM EST
March 24, 2013 Tampa Bay Lightning at Winnipeg Jets 8:00 PM EST
March 24, 2013 Vancouver Canucks at Colorado Avalance 8:00 PM EST
March 24, 2013 St. Louis Blues at Calgary Flames 8:00 PM EST
March 24, 2013 Detroit Red Wings at Anaheim Ducks 8:00 PM EST
March 25, 2013 Toronto Maple Leafs at Boston Bruins 7:00 PM EST
March 25, 2013 New Jersey Devils at Ottawa Senators 7:30 PM EST
March 25, 2013 Los Angeles Kings at Chicago Blackhawks 8:00 PM EST
March 25, 2013 Edmonton Oilers at Nashville Predators 8:00 PM EST
March 25, 2013 Minnesota Wild at Dallas Stars 8:30 PM EST
March 25, 2013 Detroit Red Wings at Phoenix Coyotes 10:00 PM EST
March 25, 2013 San Jose Sharks at Anaheim Ducks 10:00 PM EST
March 26, 2013 Florida Panthers at Toronto Maple Leafs 7:00 PM EST
March 26, 2013 Montreal Canadiens at Pittsburgh Penguins 7:00 PM EST
March 26, 2013 New York Islanders at Washington Capitals 7:00 PM EST
March 26, 2013 Winnipeg Jets at Carolina Hurricanes 7:00 PM EST
March 26, 2013 New York Rangers at Philadelphia Flyers 7:30 PM EST
March 26, 2013 Buffalo Sabres at Tampa Bay Lightning 7:30 PM EST
March 26, 2013 Edmonton Oilers at St. Louis Blues 8:00 PM EST
March 26, 2013 Calgary Flames at Chicago Blackhawks 8:30 PM EST
March 26, 2013 Columbus Blue Jackets at Vancouver Canucks 10:00 PM EST
March 27, 2013 Montreal Canadiens at Boston Bruins 7:30 PM EST
March 27, 2013 Phoenix Coyotes at Minnesota Wild 9:00 PM EST
March 27, 2013 Colorado Avalance at Calgary Flames 10:00 PM EST
March 27, 2013 Anaheim Ducks at San Jose Sharks 10:00 PM EST
March 28, 2013 Carolina Hurricanes at Toronto Maple Leafs 7:00 PM EST
March 28, 2013 New York Islanders at Philadelphia Flyers 7:00 PM EST
March 28, 2013 Winnipeg Jets at Pittsburgh Penguins 7:00 PM EST
March 28, 2013 New York Rangers at Ottawa Senators 7:30 PM EST
March 28, 2013 Buffalo Sabres at Florida Panthers 7:30 PM EST
March 28, 2013 Los Angeles Kings at St. Louis Blues 8:00 PM EST
March 28, 2013 Phoenix Coyotes at Nashville Predators 8:00 PM EST
March 28, 2013 Columbus Blue Jackets at Edmonton Oilers 9:30 PM EST
March 28, 2013 Colorado Avalance at Vancouver Canucks 10:00 PM EST
March 28, 2013 Detroit Red Wings at San Jose Sharks 10:30 PM EST
March 29, 2013 New Jersey Devils at Tampa Bay Lightning 7:30 PM EST
March 29, 2013 Anaheim Ducks at Chicago Blackhawks 8:30 PM EST
March 29, 2013 Minnesota Wild at Dallas Stars 8:30 PM EST
March 29, 2013 Columbus Blue Jackets at Calgary Flames 9:00 PM EST
March 30, 2013 Boston Bruins at Philadelphia Flyers 1:00 PM EST
March 30, 2013 New York Islanders at Pittsburgh Penguins 1:00 PM EST
March 30, 2013 Carolina Hurricanes at Winnipeg Jets 3:00 PM EST
March 30, 2013 Nashville Predators at Colorado Avalance 3:00 PM EST
March 30, 2013 Washington Capitals at Buffalo Sabres 7:00 PM EST
March 30, 2013 New York Rangers at Montreal Canadiens 7:00 PM EST
March 30, 2013 Toronto Maple Leafs at Ottawa Senators 7:00 PM EST
March 30, 2013 New Jersey Devils at Florida Panthers 7:30 PM EST
March 30, 2013 Los Angeles Kings at Minnesota Wild 8:00 PM EST
March 30, 2013 Vancouver Canucks at Edmonton Oilers 10:00 PM EST
March 30, 2013 Phoenix Coyotes at San Jose Sharks 10:30 PM EST
March 31, 2013 Chicago Blackhawks at Detroit Red Wings 12:30 PM EST
March 31, 2013 Anaheim Ducks at Columbus Blue Jackets 6:00 PM EST
March 31, 2013 Los Angeles Kings at Dallas Stars 6:00 PM EST
March 31, 2013 Boston Bruins at Buffalo Sabres 7:00 PM EST
March 31, 2013 Washington Capitals at Philadelphia Flyers 7:30 PM EST
Best America Sportsbooks for NHL
BetNHL.ca » Schedule » March 2013 Eastern Standard Time Schedule