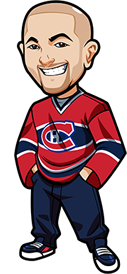 Written by Graeme on Thursday, September 7th, 2017
Hi all,
Well we're just under a month away from the beginning of the NHL season. We've been quite quiet on the site this Summer for once – sorry about that. Just been a very busy Summer.
Over the next few weeks we'll be covering the division and conference betting tips – we know everyone loves those futures and it's a good way to get back into hockey betting slowly.
In the meantime I've got a quick announcement – we're going to have KHL Betting Tips this season.
I'm not going to be sending out e-mails with the KHL Betting Tips each day – as I know they probably only interest about 20%-30% of you. Instead I ask you to bookmark this page and check back each day as I'll be posting the tips here and updating the post daily.
Here's todays:
KHL Betting Tips:
Remember to bookmark and check back daily. Due to the times of games I may even post tips the night before.
Record: 2-1, +0.8u
September 19th: Just another handicap pick today of Neftekhimik -1.5 at 2.25 for tomorrows game.
Handicaps:
Sep 19th: Neftekhimik -1.5 @ 2.25
Sep 18th: Salavat -1.5 @ 1.80 (Loss)
Sep 17th: SKA -1.5 @ 1.67 (Win)
---
Past Results:
September 15th: Barys to win at 1.95 odds. (Loss)
September 10th: Barys to win at 2.00 odds. (Winner)
September 8th: Barys Astana to win @ 1.80 odds. (Winner)
And here are notes and questions on the KHL Betting Tips.
Where Can I Bet KHL?
The US books usually list the KHL games under "Russia". Also please note that "Everyone Else" won't be accurate due to specific country restrictions at those sportsbooks. They all won't let you bet there. Just too tough to break it down on a country by country basis.
Are Your KHL Bets Guaranteed Winners?
Much like the NHL Tips we offer – no. No they are not.
We'd never guarantee winners. That's just crazy. My knowledge level of the KHL is still in its early days too so I don't really feel super confident about the tips. I'm personally betting only 1/4 of what I bet on the NHL.
This is similar to the OHL, AHL and WHL betting tips that I offer up during the season. It's using mathematical systems based on previous game data to hopefully provide winning tips. There's very little human interaction with it other than tweaking the system and checking to make sure there's not a key injury or roster change that could throw everything off.
Hell this is the first season where I've been able to sit down and actually watch the KHL on a regular basis thanks to a new streaming service in Canada – DAZN.
I first started the system during the 2015/2016 season. I then worked on it more during the 2016/2017 season. I've been working on it over the past few weeks and am happy enough with the results to give it a try.
It might work out great, it might all go tits up. Just have to wait and see!
Will You Do Separate Posts for Your KHL Tips?
No. I'll keep all the tips in this post until the NHL season begins. Then much like the OHL/AHL/WHL tips, I'll have a separate section at the bottom of the NHL tips covering those. I may do a weekly round-up post on them. We'll see.
What KHL Betting Tips Will You Offer?
Just the basics. Teams to win, teams to win in regulation, handicaps. Possibly over/unders too although I've never felt fully confident with those. We'll initially be sticking to our own NHL rules where we rarely go below 1.70 and maybe throw in a few doubles from time to time.
Any Other Questions?
If you have anything else to ask about the KHL tips just ask away in the comments below.
Best America Sportsbooks for NHL
BetNHL.ca » Tonights Tips » KHL Betting Tips Now At BetNHL.ca