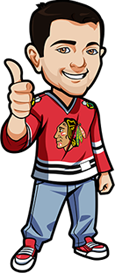 Written by Scott on Tuesday, March 8th, 2016
1-1 last night with the tips.
We had Over 5 in the Lightning vs Flyers game and the Flyers won 4-2.   With the win the Flyers are now at 73 points, only 2 behind the Red Wings for 8th place in the East.
We also had Over 5 in the Capitals vs Ducks game but the Caps won 2-1 in a shootout. The Caps ended the Ducks winning streak at 11 games but the Ducks are still 18-1-2 over their last 21 games. If this was a preview of the Stanley Cup finals then we are in for an amazing series.
The Sabres beat the Leafs 4-3 in a shootout which has the Leafs in last place with 53 points, 6 points behind the Oilers who are in 29th.  I really hope the Leafs stay where they are to give themselves the best chance at the first pick in the draft.  The Bruins beat the Panthers 5-4 in OT and the Bruins are now tied with the Panthers for 2nd in the Atlantic Division.  Overall another great night of NHL action.
Another busy night with 8 games. Let's get to the tips.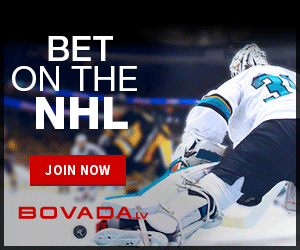 Rangers vs Sabres Betting Tips:
Rangers have had the Sabres number over the last 10 meetings going 9-1.
But tonight the Rangers will again be without Lundqvist.  Still like the Rangers chances in this one.  And the odds for a Rangers win show that.
But the Sabres have had some high scoring games lately.   Their last 3 had goal totals of 7, 5 and 9.  The Rangers are ranked 7th overall in goals per game and have had totals of 10, 5 and 5 over their last 3 games.
They have played once already this season  and it was a Rangers 6-3 win.  I like the chances of this game being another high scoring one.
Over 5.5
Canada: 2.20 Odds at Sports Interaction
USA: +120 Odds at Bovada
Everyone Else: 2.20 Odds at Bet365
Predators vs Jets Betting Tips:
The Predators are on fire at the moment.   They have won 6 of their last 7 games and are 8-0-4 over their last 12. 
The Jets are in a slump.  They're 2-6-2 over their last 10.
The Preds have gotten strong goaltending too. Rinne is 6-0-2 with a 1.72 gaa over his last 8 games. Preds backup goalie Carter Hutton is 4-0-1 with a 1.19 gaa over his past 5. So they're safe with whoever gets the start in this one.
Really like the Preds chances in this game.
Predators in regulation 
Canada: 2.17 Odds at Pinnacle Sports
USA: -105 Odds at Bovada
Everyone Else: 2.17 Odds at Pinnacle Sports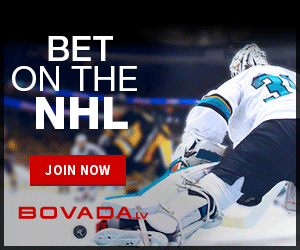 Penguins vs Islanders Betting Tips:
When these teams play each other there's goals.  Over the last 10 meeting there has been and average of 6.60 goals scored.  Over those games both teams have records of 5-4-1.  This is going to be a great game.  The Penguins rank 10th with 2.72 and the Isles 5th with 2.86 goals per game.
The first game between these 2 was a 5-2 Penguins win. Hard to predict a winner but I do like there to be goals
Over 5.5
Canada: 2.15 Odds at Sports Interaction
USA: +110 Odds at Bovada
Everyone Else: 2.15 Odds at Bet365
Americans: Place your NHL bets at Bovada. Very trustworthy, 100% deposit bonus, and awesome player and team props. Canadians: Sports Interaction - $20 Free Bet and $125 in Bonus Money.
Everyone Else: Bet365: €/£/$200 Bonus, additional €/£/$100 bonus when mobile betting for first time!
Experimental Betting Systems:
1st Period High Confidence: New York Rangers (2.55)
1st Period Low Confidence: Dallas Stars (2.80), Columbus Blue Jackets (3.15).
Bet the 1st periods at 888 Sports..
Americans: Bet 1st Periods at BetOnline or Bovada.
Best America Sportsbooks for NHL
BetNHL.ca » Posts » Tonights Tips » March 8th, 2016 NHL Betting Tips