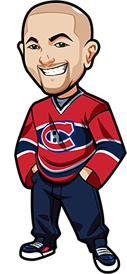 Not too much longer until the 2019/2020 season. Me and Scott are already counting down the days and looking forward to those upcoming games.
I wanted to take a minute to chat about the non-NHL leagues that I aim to be covering this year.
I've been getting quite a few questions over e-mail and in the comments so wanted to do a post to cover that.
I usually cover the OHL, WHL, AHL and KHL.
Last season I added the Czech Extraliga and it was profitable with an 8-5 record, for +1.26u. I ran a poll last year and I will now be adding the Swedish Hockey League and Finland SM Liiga to that list.
Here's a quick status update on regard to all leagues:
AHL: Begins Friday, October 4th.
Czech: Begins Thursday, September 12th.
FSML: Begins Thursday, September 12th.
KHL: Underway. Approx 3-4 games played.
OHL: Begins Thursday, September 19th.
SHL: Begins Saturday, September 14th.
WHL: Begins Friday, September 20th.
For betting the non-NHL leagues, I recommend:
Canadians: Bodog and 888 Sports.
Americans: Bovada.
Everyone Else: 888 Sports.
All of the above betting tips will be primarily data based predictions as they always have been. I do however overlook everything to make sure there is no major issues that may affect a betting tip.
We've been quite successful overall with these non-NHL Tips with a complete record of 252-192 for 41.72u profit since starting them in the 2016/2017 season. Hopefully that will continue. As always, and just like our NHL Tips, there are no promises or guarantees.
As this is based on data, that means I need quite a few games before I can even begin experimenting and tweaking the system. So while I am already harvesting data from the KHL, 3-4 games means not enough time to accurately predict anything yet.
I'm slowly fine tuning things and I think I can start doing tips for that in a couple of weeks. The other leagues I'll most likely give until the beginning of the NHL season.
As like previous years there won't be any separate posts for the non-NHL tips. All will be embedded within that days NHL Tips posts. I may create one separate one for the KHL just to cover KHL Tips until the NHL season begins.
Anyway just wanted to post an update. The additional leagues will mean a bit more work for me, but it won't affect the other tips in any manner. Hopefully we can keep going strong, and I can add even more leagues next year.
Best America Sportsbooks for NHL
BetNHL.ca » Blog » Non-NHL Tips 2019/2020 Season Notes