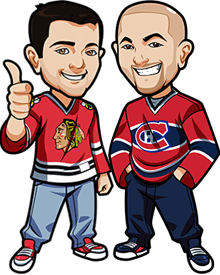 Follow @BetNHL
In this review, I am going to be offering my personal opinion of the online sportsbook Bet365, and look at it from a hockey betting perspective (with my main focus on the NHL of course).
This review was last updated on May 6th, 2018 and is written by Graeme.
Let's start with my personal history with Bet365.
I have been betting at Bet365 since the early 2000s and when all things are equal, it's my personal favourite sportsbook to bet at. Whether it's hockey, horse racing, nba or soccer – if the odds are the same everywhere, I'll bet at Bet365. Or if it's convenience I am looking for, I'll bet at Bet365.
I strongly advise everyone bet at different sportsbooks based on the odds or promotions that other sportsbooks are running. However if you're looking for a consistent book to place the majority of your bets at, the one for me personally is Bet365.
This mainly ties in with their interface. It's extremely easy to use and easy to navigate. It's something I am very comfortable with and everything is easy to understand. They offer a lot of statistics for each game just a click away too which is very helpful when I need a quick refresher on how a team is doing.
Their mobile interface in particular is excellent. I find I am using my mobile phone a lot for betting these days and I find it extremely easy to use. It's set up for the ultimate convenience and ease of use. If I'm at a bar and want to bet on the Blue Jays game a minute before it starts I'm not even caring about odds – I'm using Bet365 simply because I feel it's the fastest and easiest mobile sportsbook to use.
Another reason is trust. Out of all the online sportsbooks there is, there is only a few sportsbooks I put full trust in. There are some that I bet at who I don't fully trust and will withdraw a portion my bankroll when it's at a certain amount. However there are sportsbooks where I personally don't mind letting five figures sit there for a long time and one of them is Bet365.
In all my years there I've never had an issue with them nor have I ever saw any real controversy. If you are concerned about the safety of online gambling, I can give my highest recommendation to Bet365.
Now let's look at Bet365 from a hockey betting perspective and what they offer:
Bet365 NHL Betting:
Bet365 offer a solid selection of NHL props. They're lacking in some props – for example there's no NHL player props at Bet365 – however they still offer a very good selection of match props.
You can bet on who will win, the puck line and the game total over/under. You can also bet alternative punk lines and totals, as well as bet the Team to Score First and the Team to Score Last.
You can bet the winning marging, the correct score, the Highest Scoring Period and Race to 3 Goals.
You can also do live betting at Bet365. So if you're watching Blackhawks losing to the Leafs 2-0 but you've seen the Leafs blow a lead like this before and think the Hawks come back you can bet on that. And the odds are reflective of the score at the time.
They also offer daily props when there is a lot of games where you can bet the Grand Salami (Total goals scored in all games that night) and Home Teams vs Away Teams.
You can bet a lot of futures props at Bet365 too. Usually you can bet the Stanley Cup winner, conference winner and division winners. Come playoff time you can bet on who will win each series, bet series handicaps, bet the series correct score or bet what game the series will finish on.
Overall while they don't have the best selection of NHL props and bets they do have an excellent selection regardless.
Bet365 Hockey Betting:
Along with the NHL, Bet365 cover various other hockey leagues all with the same props as listed above.
They're more focused on Europe in that regard so you won't find the OHL here for example. However for hockey leagues such as the KHL, Eishockey Liga, Swiss NLA, AHL, VHL etc etc you can bet here mostly with the same props as listed in the NHL section.
Bet365 Review Summary:
Personally I feel if you're new to sports betting or never bet online before, Bet365 is an excellent place to bet. Based purely on the odds, I probably place at least 30% of my betting action at Bet365(which is a lot). They offer a nice variety of bets, I trust them completely, and they're extremely user friendly.
Follow @BetNHL
BetNHL.ca » NHL Sportsbooks » Bet365 Review From An NHL Hockey Betting Perspective