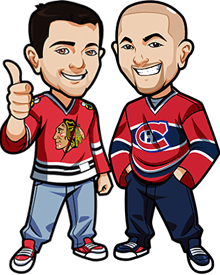 Written by Graeme & Scott on Tuesday, April 30th, 2013
Whats up guys,
Are you ready for some NHL PLAYOFFS?
Today is the day the NHL Playoffs start and man are we hyped. Both of us met up this morning, and over some delicious steak and eggs we went through EVERYTHING Playoff related so we can provide you with the best NHL Betting Tips possible.
First and foremost – NHL Live Betting Tips Start Tonight. Let's quickly explain what that is and what you need – this is live betting DURING the game. For example, we may recommend halfway during the second period "Bet the Blackhawks to score the next goal" and that's what the bet is.
To take advantage of live betting you're going need to do two things. The first is sign up for Bet365. They are the best for live betting. They have a great website with a sick interface, they offer the best odds, the best variety of bets, and they have a mobile app AND mobile website to suit your needs.
That way even if you are at the bar or over at a buddies place, you can follow our live betting tips via your iPhone, Android or whatever.
The second thing is you need to FOLLOW us. We are not posting the tips on the website at the moment – it will be PURELY on Twitter and Facebook. Twitter is probably the best bet as it is quicker – we have it all set up to auto-post to Facebook too, but I'd recommend following us on Twitter.
Twitter: http://www.twitter.com/BetNHL
Facebook: http://www.facebook.com/BetNHL
Alright – got it? So sign up for Bet365, deposit your cash and then follow us and we'll do some live betting starting tonight!
NHL Playoffs Series Betting Tips:
Our regular betting tips where we tip the games every day, will resume tomorrow. However for today we are doing NHL Playoff Series Betting Tips based on any futures.
All of these bets and odds are available at Bet365: Quick note: when you go to Bet365, go to the "Hockey" section then scroll down to the bottom for the "NHL Futures". That's where you find these bets.
Kings vs Blues Betting Tips: Kings to Win The Series
We all saw how the LA Kings did last year – they stumbled into the playoffs, before coming alive and absolutely killing it. We both really like them to do the same against the St Louis Blues.
The LA Kings had the Blues number all season, sweeping them and being completely dominant. Despite the Blues having home ice advantage, we just don't see them being able to stop the Blues.
Red Wings vs Ducks Betting Tips: Red Wings to Win The Series
The Red Wings go into this game as slight underdogs, which is a bit of a surprise. They matched up well against the Ducks during the regular season, including 2 back to back wins against them.
Detroit have really turned it on since DeKeyser has joined the team, and if he got there earlier I'd have no doubt they would have home ice advantage. Anaheim also looked pretty weak at the end of the season.
This is a lively Detroit team, with a nice mix of youth and experience. We are recommending you bet the Red Wings at 2.15 odds to win the series.
Senators vs Habs Betting Tips: Sens to Win the Series
As a Habs fan Graeme hated recommending this – but it's the right call.
Ottawa won both games in Ottawa, and the Habs won both games in Montreal. Obviously home ice advantage should come into play here, but the odds on the Senators are just too good to ignore. They are just an incredibly run franchise who had an amazing regular season considering their injuries – and now practically everyone is back.
The odds of 2.4 odds are just too good to pass up here. The pressure of the Habs fans – who can turn very easily on the team – could prove to be too much during one of those crucial home games if the Senators score early. Bet the Senators to win the series at 2.4 odds.
Rangers vs Capitals Betting Tips: Caps to Win the Series
The sportsbooks aren't sure about this one – they have the odds at 1.9 apiece. But we are.
The Rangers struggled to get here. They DID beat the Capitals twice out of three games – both both of those games were before Ovechkin well – practically did the impossible. His sick, sick, SICK form is going to continue into the playoffs, and he's going to lead the Capitals to a series victory.
Bet the Capitals to win the Series.
Blackhawks vs Wild Betting Tips: Blackhawks Sweep 4-0
This is what the Hawks have been waiting for all season. They've absolutely dominated the NHL thus far, and that's going to continue against the Wild. Minnesota barely made it in – and they're going to be out before they know it.
Blackhawks proved during the regular season that on the road they are just as lethal as they are at home. They'll be picking up a nice easy couple of wins, and head to Minnesota ready to wrap things up. IF Heatley was fit we'd have to think twice – but without Heatley, the Wild are in no mans land.
Bet the Blackhawks to win 4-0 – 6.5 odds at Bet365.
Best America Sportsbooks for NHL
BetNHL.ca » NHL Betting Tips » NHL 2013 Playoffs Series Futures Betting Tips