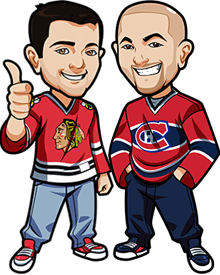 Follow @BetNHL
Last Updated: April 9th, 2017. We also verify on a monthly basis to make sure this is all accurate.
Welcome to our NHL Betting FAQ. We get asked a lot of questions so we have set up this page to list any frequently asked questions we have to assist people in the future.
It's a little disorganized right now but once we get more questions we'll be sure to organize it a lot better.
If you have any questions at all feel free to ask away.
You can contact us here and don't worry if you think your question is dumb or whatever – we're glad to help.
I see it's a .ca domain – is this site just for Canadians?
No. When we originally started the site we targeted it towards purely Canadians. That's why some of the earlier articles on the site are focused towards Canadians. However we soon ended up with a worldwide audience – with the Scandinavian countries being dominant. So we target it for everyone and we use geo targeting on the site. So for example the online sportsbook Sports Interaction – they only accept Canadians so if you're outside Canada you won't see their banner ads etc.
Q: Are Your NHL Betting Tips Free?
Yes. All of our NHL Betting Tips are free, and we do not charge for tips at all, nor do we ever plan on doing that. We are big NHL fans who are betting NHL often anyway – so we already know what we're betting, we just need to do writeups for the site about it.
We aim to post three NHL Betting Tips per day to accommodate those who use Pro-Line, Sport Select etc.
Q: You often make negative comments about Pro Line and Sport Select. Why?
If you want to actually make money from betting NHL, you NEED to get away from services like Pro Line or Sport Select. The restrictions plus the poor odds make it a mugs game. We have our Betting NHL Online for Dummies article which goes into more details about that.
Q: Do You List Sport Select / Proline Odds?
No we don't. I believe both of their official websites offer their odds for display if you are too lazy to walk to the local corner store.
However do me a favour – when you go there – compare them to our online sportsbook NHL Betting Odds and you'll see the difference. Then when you next bet 3 at Proline – play around with an online sportsbook and see how much the odds differ.
Q: Who is an eight time Norris Trophy winner?
What the hell – we're a tips site not the NHL Encyclopedia!
Anyway Bobby Orr is the current only 8-time winner, who also won it 8 seasons in a row.
Q: What Are The Best Bets To Make with Friends?
Well this depends – if you are making bets WITH your friends or AGAINST your friends.
If I'm WITH my friends I'll usually bet on goals. Actually it's something I do often – at a bar with friends and there's a random game on.
Against friends – long-term the best bets are wins or points in a season. Short-term period by period betting is best to give people a chance to win their money back…or dig a deeper grave! Bets like "who will score next" are great.
Q: What happens in hockey if the over/under is a push?
If the line is set at over/under 5 goals in a game, and the total ends up being 5 goals – ie: 3-2 to the Blackhawks, then it is considered a "push". When this occurs you neither win OR lose – you will get the amount that you staked back.
That is why most sportsbooks add a half point to the line so it is over or under 5.5 and therefore there MUST be a winner.
Q: Who is the youngest player to win the Rocket Richard Trophy?
There's that NHL Encyclopedia question again. The youngest player was Rick Nash. He was only 19 years old when he won it for the first time in the 2003-2004 NHL season. That season was a tie – Kovalchuck and Jarome Iginla were also tied with 41 goals. However it should be noted that Nash only played 81 games that season while the others played 82.
Q: Does Bodog have better odds than Sport Select?
Yes. All online sportsbooks have better odds than Sport Select or Pro Line. Grab your Sport Select or Pro Line slip, head on over to [geocode id=5, change their odds to decimal and compare.
Q: How are points given in NHL for betting over/under?
The over/under line in NHL is for GOALS, not points. So if you bet over/under 5.5 then you are betting that there will be under 5.5 goals or over 5.5 goals in a game.
Q: What are your "Entertainment Bets" that you sometimes list in the tips?
We sometimes list Entertainment Bets for the Grand Salami, or Home Goals vs Away Goals. The reason for this is we have a lot of casual followers who don't care too much about winning money – they just want to spice up their night by watching lots of hockey with some money on the go. We will sometimes provide an entertainment bet like this for those people. Long-term you can't really win with these bets – there are just too many variables. But we sometimes list them as we get a lot of casual betters asking us from time to time.
Q: Do you currently offer OHL Betting Tips?
Yes, and AHL and WHL. They're at the bottom of each days NHL Tips.
Q: Is It Legal To Bet with Bodog In Canada?
Yes, although please note that sometimes banks won't let you transfer money to online gambling sites. Apparently even if it's your money – banks like the RBC and Scotiabank won't let you spend it any way you wish! If you have problems depositing see our deposit options page. I personally use Skrill/Moneybookers.
Q: At some books, such as Pinnacle, they have -1.5 for a team and -1.25. What's the difference?
The -1.25 line is a double handicap. Here is a chart that explains it all:
0.25: PK & 0.5.
0.75: 0.50 and 1.
1.25: 1 and 1.50.
1.75: 1.50 and 2.
You'll also see similar for Totals. For example:
3.25: 3 & 3.5.
2.75: 2.5 and 3.
2.25: 2 and 2.50.
So if you bet $10 on -1.25, you're betting $5 on the -1 and $5 on the -1.5. It's the asian handicap.
Follow @BetNHL
BetNHL.ca » NHL Betting Guide »