About Us / Contact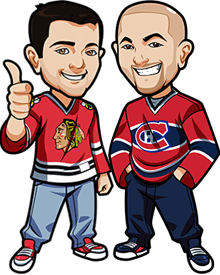 The best method to contact us is via e-mail.
You can contact both of us at the same e-mail address which is sitexx@betnhlxx.ca.
Just be sure to take out both "xx" in that e-mail address. We also have a contact form below if you want to use that.
You can hit us up on our BetNHL Twitter Account as well if need be although e-mail is always the best bet.
We don't have a Facebook page anywhere because oh my gosh Facebook don't like gambling stuff on there!
Finally you can use the contact form below which will also go straight to our e-mail and save you opening up your e-mail client:


About Us: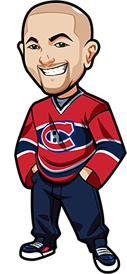 Hi guys,
I'm Graeme. I was born in 1981 so I'm about 32 years old. I'm Scottish, and moved to Canada when I was 16 years old. I moved to Kingston, Ontario which is halfway between Toronto and Ottawa and the birthplace of Kirk Muller, Doug Gilmour and Don Cherry!
When I arrived here, everyone was either a Leafs fan or a Senators fan. So being the teenage rebel that I am, I opted to become a Montreal Canadiens fan and I immediately fell in love with the Habs. Which means sadly I just missed out on the Patrick Roy years by about 2 years. I used to go the Habs a lot though in the NHL games for the Sega Genesis/Megadrive so I knew who he was!
I started betting sports at an extremely young age. My grandpa used to put bets on the biggest horse race in the UK, the Grand National and that got me hooked. Through my teenage years I bet horse racing and soccer in the UK, and in my early 20s really got into NHL, NBA and NFL and started betting on them.
I started playing online poker and was hooked. It was around that time where I really learned bankroll management and I really started taking online poker and sports betting seriously. I actually paid for my 5-figure wedding all with winnings at the poker table and from sports betting. I've always been a computer and stats geek, and I started building betting systems that would help give me an edge.
I now run a various of websites, including BetNHL,ca, dedicated to sports tips. Some of them are free, some of them you need to pay for the picks(ie: NBATips.net) and I make a healthy living off betting sports. I've decided to start work doing this free NHL Betting Tips site mainly because during the lockout, I really noticed how much I missed hockey(both due to my love of the game and financially), and I got really passionate about running this site.
I hope you all enjoy BetNHL.ca and make lots of money with our free NHL Betting Tips.
Graeme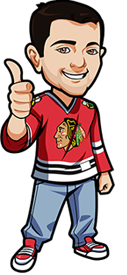 Hello
My name is Scott. I was born and raised in Kingston. I'm married with two amazing kids. When I was very young I rooted for the Canadians because my Father did. Then by the time I turned 10 I decided to root for my own team. I bought my first jersey of the Blackhawks and have been a fan ever since. My all time favorite player is Jeremy Roenick. Favorite goalie is Eddie Belfour.
I'll bet on any and everything. I used to be a sucker and played Proline every night until I smartened up I took my talents to the Online gambling world and haven't looked back.
I love everything about the NHL. I subscribe to the Hockey News and Sports Illustrated. I have Bell Center Ice and an XM Radio that never leaves the Hockey Channels. I own and played every single EA Sports Hockey game since the first one in 1991. I own over 25 different NHL Jerseys 5 of which are Blackhawks and my children and dog each have their own collection.
I Go to at least a few games a year on top of a couple of our local team the Kingston Frontenac's. While on vacation in California go to Ducks game, Florida, Lightning game. Toronto, Ottawa and Montreal as well. I've met and drank with a bunch of players over the years due to their having Kingston connections. From Kirk Muller, Don Cherry and Dougie Gilmour to Maurice Richard and Bobby Orr I have been fortunate to meet some incredible people from the NHL. Hockey is really a huge part of my life.
I work on a few other websites but my pride and joy is BetNHL as it is something I am extremely passionate about.
I work all the time and have 2 young kids so any free time is spent enjoying hockey; Playing, Watching, analyzing, talking I just can't get enough. And it's the years of being a die hard fan that have helped me gain a huge knowledge of the game that helps me a nch of money off of betting on it. Because of that I can help you to. New to the webmaster stuff but my bro Graeme has guided me along. Go Hawks… And Kate Upton! HAHA
[social]
BetNHL.ca »