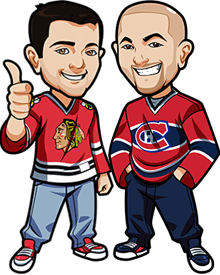 Follow @BetNHL
Welcome to the NHL Betting Odds page. What we have below is betting odds for every NHL game.
You can use this page to compare the odds at all of the main sportsbooks for betting NHL, and then pick the best odds, and place your particular bets at the sportsbook offering the best odds.
These odds are updated live – if the odds change at a sportsbook, they'll change here.
Note: This page isn't functioning too good anymore. We're going to be revamping this page during the 017 off-season. Stay tuned!
Tonights NHL Betting Odds:
Let me quickly explain how this works, and I'll go in-depth below. By default, the "Money Lines" are displayed – this is the odds on a team winning. If you click "Spread" in the title it will display the point spread amount(usually 1.5), who it is in favour of, and what the odds are on either side.
If you click "Over/Under" it will display the point amount over/under set line for each game, and the odds for betting the over as well as the under. We only list the sportsbooks that offer the TOP betting odds.
So look at the odds on whatever bet you want to make, then click on that one and make your bet there.
All of our odds are displayed in American odds format, however you can easily calculate that by using our NHL Betting Odds calculator:
Examples:
US Odds: +110
Decimal Odds: 2.1
Fractional Odds: 11/10
I recommend you bookmark this page so you can come back at any time and see the odds.
Live Betting Odds Explained:
Let me explain briefly a bit more about the odds – from the options to why it's important to always compare the betting odds. We'll use the 2013 Day 1 Matchup of the Pittsburgh Penguins vs the Philadelphia Flyers as an example.
NHL Money Line Betting: The money line odds basically means you are going to be betting on the winner of the game. No point spreads or anything like that to worry about – you're simply betting the team you think will win.
It will display for example, Pittsburgh Penguins -125 and Philadephia Flyers +105. This means the Penguins are the favourites. if you bet $100 on the Penguins to win, you would get $80 profit if the bet was correct. If the Flyers won at +105 odds you would get $105 profit.
However comparing odds is important. In this scenario, the Flyers were +105 at 5Dimes but +110 at Pinnacle. So you would get $110 back if you bet at Pinnacle, as opposed to $105 if you bet at 5Dimes. Now – that extra $5 may not seem important. But lets say you do 100 bets per year. That's $5×100 or $500 you'd be saving! It may not seem like a lot on individual bets, but it really adds up.
NHL Spread Betting: Spread betting is more popular in the major American sports like NBA and NFL, but it still has its place in the NHL. You'll see the average spread being 1.5, with the underdog getting 1.5 goals and the favourite giving 1.5 goals.
So if you bet the Penguins at -1.5, that means they start the game 1.5 goals behind. If the score ended 4-3 to the Penguins – when we factor in the goal spread, they actually LOST 2.5-3 and you would lose your bet. If you bet the Philadelphia Flyers at +1.5 then they would start the game with 1.5 goals. If they lost 4-3 then you would actually win your bet, because when you factor in the 1.5 goals, then the final score is 4-4.5.
Again, chasing the odds are important here. You can really see big differences in the odds. For example for this one, the Penguins were +230 at Pinnacle, but +240 at 5Dimes. That's a $10 difference this time, and 100 bets at that would result in $1000 back.
Over/Under Betting: This is a popular bet – you are betting here on the amount of goals scored in any given game. This is a great bet to make if you're a neutral watching a game – because you're cheering goals by either team. Much more fun than screaming for people to miss!
The sportsbook will set a line for a game – usually between 5 and 7, and then you have to predict whether or not the amount of goals in the game will go over that. So for example – the Penguins vs Flyers line was set at 6. If I bet Over, then there needs be 7 goals minimum. If I bet under, then there can't be any more than 5 goals.
However if there is 6 goals then that is known as a "push" – you don't win OR lose – you get your money back. That's why often you will see lines like 5.5 – with the .5 then there is no push and you will have to either win or lose.
How To Use Our Live Betting Odds:
By default, our live betting odds table displays the NHL Moneyline Odds. You can change that at any time by simply clicking Over/Under or Puck Lines. These are the NHL betting odds and lines that are widely available at most sportsbooks.
Why Betting The Best Odds Is Important:
It's easy to "settle" at one online sportsbook and place all your bets there – but you're essentially burning money.
First of all just factoring in the odds alone – why WOULDN'T you? It may seem convenient to just keep all your money at one sportsbook – but would you rather bet $10 to win $9, or $10 to win $10? And while $1 may not seem like a lot – you're going to be placing hundreds of NHL bets and that money adds up.
Another thing is sportsbook bonuses and rewards – every online sportsbook offers bonuses and free bets. But historically it's been proven that they reward the people who DON'T bet there all the time. If you're going to bet at an online sportsbook all the time – why should they throw money at you? But if you are only a sporadic better there, they will offer you more free NHL bets, bonuses etc to try and get you to give more of your action.
It may seem a bit inconvenient but once you deposit at the sportsbooks above you're good to go – just come to this page, see what the best NHL odds are and off you go.
Las Vegas NHL Betting Odds:
We get a lot of people coming to the site searching for the NHL Las Vegas Betting Odds.
The odds above are practically the same as the actual Vegas betting odds. Most of the online sportsbooks actually offer BETTER odds than Vegas, as they have a lot lower overhead.
NHL Stanley Cup 2013 Odds:
If you are looking for the betting odds for who is going to win the Stanley Cup in 2013 – we don't list them here. We list them on a separate page. You can click the following link below:
NHL Betting Tips: Stanley Cup 2013 Winners
On that page we provide you with the latest odds on the Stanley Cup 2013 and also provide our own betting tips.
Eastern & Western Confence Winner Betting Odds:
Same with the Stanley Cup Winners Odds – the odds for winning the Western & Eastern Conference are on separate pages. You can click those below:
NHL Betting Tips: Eastern Conference Winners
NHL Betting Tips: Western Conference Winners
We also provide betting tips as well as live odds on that page, on who we think are good bets for winning the Eastern and Western Conference, based on the betting odds provided by Vegas and various online sportsbooks.
We also offer betting tips for a whole bunch of other betting options – hey, we're geeks. If you can bet on it, we're there analyzing it and betting on it as well. See our NHL Betting Tips section for a complete list of those.
NHL Playoff Odds:
As of right now, we currently don't offer any NHL Playoff Odds for obvious reasons – the playoffs have not begun yet.
When the NHL Playoffs are ready, above we will offer the NHL Playoff odds for each individual game. So for example, we will display the playoff odds for Blackhawks vs Capitals Game 3.
If you are looking for the betting odds on who will win a playoff series, we will be offering that on a separate page full of betting analysis and tips.
If you are looking for the betting odds on who will MAKE the playoffs – currently, no sportsbook offers this future bet. It's likely that they will offer it after a few games into the NHL season. Once a sportsbook offers the nhl odds of making the playoffs, we will be sure to provide you with live and updated odds as well as betting tips on that.
We expect the odds for who will make the playoffs or win their respective divisions in the NHL to be available by February 2013.
Follow @BetNHL
BetNHL.ca » NHL Betting Odds »