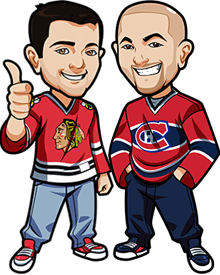 Written by Graeme & Scott on Monday, January 14th, 2013
Follow @BetNHL
Well those morons finally got it sorted out and now we can back to enjoying the greatest game on earth – Hockey – and whats better than watching the greatest game on earth? Well putting money on it of course and betting on who the eastern conference champion will be is just one of the many fun and exciting ways you can bet on the NHL. Now for the real question: So who is going to win the east and where can I bet on it? Let's hop into my NHL 2013 Eastern Conference Winner Betting Tips and see!
Well to start off I would first like to mention the obvious change to the NHL this year and that's the 48 game schedule. If this were a normal season with the usual 82 regular season game schedule then these Eastern Conference Winnertips would look different – the Eastern Conference Winner Betting Odds are also quite different from a regular season.
Since we only have 48 games things have changed significantly. For starters some teams thrive on a longer season with some room for error knowing that they still have plenty of time left to right their wrong but this year teams are not able to absorb a short 5 game losing streak and every single game counts. Plus if a player is injured any other year and was to miss a month ,while still very costly to the team, it was only a month he would be out. Now with this year being shortened so much and with little time to get in the 48 games forcing teams to play more games per week than usual a month could be completely devastating.
But with all that said the shortened season will also work in favor or certain teams and players. For instance a team with young players and rookies not accustomed to the wear and tear that a long 82 game season will bring will surely benefit from the shortened season and on the opposite side of the spectrum some veteran players will love this shorter season as after years of the grind of a long regular season this will be a little easier on the bones. And for teams that like to start the season off strong and then slowly crumble back down to earth (cough cough Leafs) well that hot start will really help you get in the playoffs and stay in for a change.
So below is a list of the teams I'm betting will have a legitimate shot at winning the Eastern Conference this year and where you can bet on who will win the East . Also included are a couple long shots that might not have as great a chance at winning but due to the lockout and some new players have a chance and also payout better than most teams. I've added this analysis as there may be a few teams you are looking for information on.
Bet on the Pittsburgh Penguins to win the Eastern Conference:
Well this should come as no surprise the Pittsburgh Penguins really are one of the teams to beat in the East. They have so much firepower from top to bottom with the reigning Hart trophy winner or league MVP in Evgeni Malkin, a full season of James Neal and a healthy season from some guy named Sidney Crosby not to mention a strong defense led by all star Kris Letang and Brooks Orpik.
Then with Marc-Andre Fleury already one of the best goalies in the world the Penguins decided to bring in a backup goalie who could and would start on 80% of the teams in the league in Tomas Vokoun, the Pittsburgh Penguins look like they have a legitimate shot at winning it all this year, and at the very least they look to be a good bet to win the eastern conference.
But as always the case with the Penguins injury's always seem to find them so this year may be no different and a during a shortened season injury's will really effect any team.
But when a team is as good and deep as the Penguins are then as you could imagine that the sports-books would also take notice and they have with Bodog offering 4-1 odds but still for a team that has a strong shot of taking it and for the gambler looking at a "safe" pick then this is the best bet for a team to win the Eastern Conference.
Bet it at Bodog and get free cash too!
Bet on the New York Rangers to Win the Eastern Conference:
This team is also, on paper, amazing and could really challenge for top spot in the East this year and are definitely worthy of a consideration for your bet.
They already had Brad Richards, Marian Gaborik, Ryan Callahan, the top defensive defenseman in the game in Dan Girardi, young blue line star Marc Stall and out of this world superstar goalie in Henrik Lundqvist they went out and grabbed the best available free agent on the market in Rick Nash who, having already put up great numbers on a terrible Columbus Bluejacket team , for the first time in his career will find himself surrounded by some equally talented players. So the pieces are all in place with this New York Rangers squad.
But will they have enough time to develop the chemistry needed to win the Stanley Cup? This shortened season will limit the time the guys have together to gel but only time will tell.
Over at Bodog the New York Rangers are paying out at 9-2 so it pays nicely for another team that has a really good chance at claiming top spot in the East. The odds are probably a little bit too short for me – if it was a longer season I think they would gel better, but I think the Penguins are the best short-term odds bet.
Bet on the Philadelphia Flyers to Win the Eastern Conference:
When looking to bet on the eastern conference winners you can never look past the pesky Flyers. This team has a bit of everything from some amazing young talent ready to take the next step in Sean Couturier and Brayden Schenn, some grizzled vets in Kimmo Timonen and Chris Pronger, a superstar in Claude Giroux , the under rated Scott Hartnell, the unpredictable both on and off the ice goalie Ilya Bryzgalov the list goes on and on.
But again injuries are a major concern as is the inexperience of some of the youngsters and the Flyers will need to stay healthy to have a legitimate shot a winning the east.
[geocode id=5 has the odds posted for the Philadelphia Flyers to win the East at 7-1 and that's a great payout for such a strong team. Injuries and inexperience could cost them – but I really think those odds are worth it.
And now for some other teams that are great bets to win the Eastern Conference just they are not as strong as the three above in my opinion:
Bet on the Washington Capitals to win the Eastern Conference:
Always a smart bet that the Caps will have a good season and this year they have a great shot to have another strong year with the addition of Mike Ribeiro, a healthy Mike Green and a bounce back year from Alex Ovechkin could this finally be the year the Caps win it all? Who cares from a betting perspective, as long as they win the Eastern Conference right?
The odds are 12-1 on the Caps over at [geocode id=5 and that's a decent price.
Bet on Carolina Hurricanes to Win The Eastern Conference:
Jordan Stall joins brother Eric on a team looking for a bounce back year that already had not only Eric Stall but young superstar Jeff Skinner and top goalie Cam Ward. And now that he's escaped Ovechkin's shadow will the change of scenery and responsibility bring Alex Semin back to the level he once was? It certainly wont hurt and you can bet that the Carolina Hurricanes will push for supremacy in the East.
The Hurricanes Vegas odds at winning the East at Bodog are currently at 11-1, the best available online.
And just how will the Canadian teams in the east do this year and are you willing to bet that one of them will win the Eastern Conference?
Toronto Maple Leafs Eastern Conference Winners:
The Leafs are great at jumping out of the gate but as always would get back to their normal ways. So with a shortened season a usual great strong start to the season will really help the leafs in their quest to not only make the playoffs but, maybe win the east.
The odds on the Leafs are 14-1 over at [geocode id=5. I personally think the Leafs could squeak it this year, but I'd say those odds are about average – although better than other books that have them as low as 11-1.
Ottawa Senators Eastern Conference Winners:
For a team that was all but wrote off at the start of last year to not only have a strong year but to take last years Eastern Conference champion New York Rangers to seven games was ridiculous to say the least so will the short season help all the young players on the Sens and will this be Alfies last years? If so you know he and the rest of the Sens will be going full speed trying to get Daniel Alfredsson that cup to go out on a high note? It's a safe bet that the Ottawa Senators will give it all they have regardless of where the end up.
[geocode id=5 has The odd of the Sens Winning the East at an amazing 20-1.
Montreal Canadiens Eastern Conference Winners:
Has Montreal finally added the missing grit and toughness they so badly needed over the last couple years and are finally ready to take the leap up the standings and win the East as they have done so many times before? Well that's for you to decided but adding Colby Armstrong and Brandon Prust will certainly make the Habs a lot tougher to play against and you can bet that their will be plenty of gloves being dropped this year for the Bleu, Blanc et Rouge.
[geocode id=5 odds Of Montreal winning the East is 16-1 – I wouldn't recommend this bet.
Winnipeg Jets Eastern Conference Winners:
Well heres a safe bet you could make: That the Jets sensational rookie Mark Scheifele will make the team this year. But with really no notable additions to an already weak squad things don't look great for them this year. But as is the case in all sports anything is possible. At 28-1 odds though I don't think that's quite enough.
Follow @BetNHL
BetNHL.ca » NHL Betting Tips »