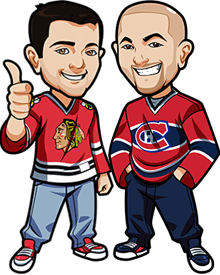 Follow @BetNHL
Each Sportsbook has various methods for you to deposit money.
You'll need to deposit money to the Sportsbook before you can place any bets.
So below we've listed each method ie. Visa, MasterCard, Skrill Etc.
Also which sites you can go to that will allow you to use that form of deposit.
Also we have listed how, after determining your deposit method, you can withdraw money.
Bet the NHL Online Using Visa
Visa is a very popular credit card but at times it can be hard to find a site that will allow you to deposit using it. You cannot withdraw funds funds back onto your Visa. You will need to withdraw using bank wire or cheque. Below is a list of Sportsbooks that allow you to deposit using your Visa.
Bet the NHL Online Using Instadebit
Instadebit is a low-cost, internet-based alternative to traditional money transfer methods such as cheques, money orders and wire transfers that allows payments to be made through the Internet. Instadebitallows accepting online payments made with major payment cards or Instadebit own online accounts. Instadebit is widely accepted by Sportsbooks and withdraws can be made directly back into your Instadebit account
[geocode id=5
Bet the NHL Online Using Cheque
Depositing by Cheque is an old fashioned yet still effective way to deposit money onto a Sportsbook account. Unfortunatley not very many Sportsbooks accept cheques. Withdraws can be returned in the form of a Cheque
Bet the NHL Online Using Bank Transfer
Wire transfer or credit transfer is a method of electronic funds transfer from one person or institution to another. A wire transfer can be made from one bank account to another bank account. There are some Sportsbooks that accept Bank Transfers and withdraws can be returned the same way
Bet the NHL Online Using PayPal
PayPal is an Online bank account allowing payments and money transfers to be made through the Internet by the user. Unfortunately there are very few online Sportsbooks that allow people to deposit using PayPal. You can withdraw money directly back on to your PayPal account.
Follow @BetNHL
BetNHL.ca » NHL Betting Guide »