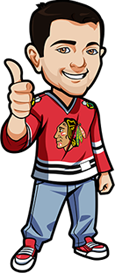 Written by Scott on Friday, October 3rd, 2014
The position that has the most talented players in the league is without a doubt the center position. The amazing players available are unreal and you really can't go wrong. I mean of the 6 players we listed below we left off some superstars like Malkin, Toews, Getzlaf, Giroux etc. That's not to say that you shouldn't take those players because if any of them are available when its your turn to pick you better take them if you want to win.
Fanduel is a nightly fantasy hockey league where you can play with players from all over the globe. Its so much fun and there is a chance to win some huge money. And its because of the number of people playing that the prize money is amazing. You can enter a team for as little as $2 and can walk away with $5,000 +. If you haven't already then be sure to go register and take advantage of this fun and unique way to play fantasy hockey.
Best Centers
Sidney Crosby – What can I say about Sidney that hasn't already been said? He has accomplished more already in his short career then some players will ever. When healthy he is the best player in the world and even during a season when he gets injured he still manages to be near the top of the league in points. He feels great after off season wrist surgery and if you have the number one pick you MUST pick Sid the Kid
Steven Stamkos – Last season he played in only 37 games. But in those 37 games he score 25 goals and 40 points. Well now that Stamkos is healthy look for him to again be around the 50 goal mark. The Lightning got much better in the offseason and much of their success will come from the stick of this superstar
John Tavares – A season ending injury suffered during the Olympics stopped what was going to be an amazing season for Tavares. The Islanders look to be taking the next step in their rebuild and thanks to Tavares they will finally be a force in the East. He will be over a point-per-game player
Sleeper Centers
Jason Spezza – For the first time in his NHL career, Spezza wont be looked to to be the number scoring option on a team. With less pressure and playing against the oppositions weaker defensive pairing, Spezza could go off this year for the Stars
Brad Richards – Comes into Chicago where he will be playing with the best players he has since his days in Tampa Bay where he shared the ice with Vinny Lecavalier and Marty St. Louis. His wings will be filled by two of the following players: Patrick Sharp, Patrick Kane, Marian Hossa or Brandon Saad. Will get powerplay time as well
Nathan MacKinnon – He put up 63 points and won the Calder in his rookie season. Colorado is going to be even better this year and MacKinnon will be a huge part of that. As long as he can avoid the "Sophomore Slump" expect him to be over 85 points
Best America Sportsbooks for NHL
BetNHL.ca » Fantasy Hockey » Fantasy Hockey Tips: Centers