NHL Betting Record / Stats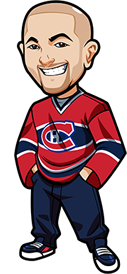 As we do this all for free and spend a fair bit of time on the tips, we haven't got around to creating a big spreadsheet documenting every pick yet.
It's on our to do list and all of our previous tips are accessible to you if you want to check – just go to the Tonights Tips section and there's links there to previous years.
We hope to get to it soon but it's just a bloody big job! We were tracking throughout the season and kept a running record, but we need to go through EVERY post for the spreadsheet and record the picks for every games so it will take awhile.
The way we calculate the stats is very simple: we assume a bet of 1 unit on every bet. So if your units were $100, and we provide a tip of 1.91 odds and it wins, you would profit $91 as you would have bet $100. However in all honesty the amount of money you are betting should be increasing as your bankroll grows – so our stats are generally a low estimation of what your actual return should be. In 2012/2013 for example, we won +35.43 units. If you were betting $100 as a unit you'd think that'd mean you're up $3543. However it should be MUCH More as your bankroll grows and you should bet more.
Quick note that when we offer player or team props they are not counted in the stats – win or lose. The reason is they are mostly for entertainment purposes. We do our best to win those of course!
These stats are moneylines, handicap bets and over/under bets.
We've been providing these tips on this website from the 2013 season(the one that started January 2013 due to the strike) and here are our stats:

2012/2013 Season(Including playoffs): 142-100, +35.43 units.
2013/2014 Season(Including playoffs): 274-244, +32.98 units.
2014/2015 Season(Including playoffs) 242-217 +49.66 units.
2015/2016 Season: 223-191 (+22.85 units).
Haven't added the playoffs for 15/16 yet will do that later. Too focused on the 16/17 season ATM.
We've also got detailed stats month by month of the 2013/2014 season.
Oct 2013: 40-41., +3.33 Units.
Nov 2013: 35-37., -5.06 Units.
Dec 2013: 31-40., -6.39 units.
Jan 2014: 42-28, +8.89 units.
Feb 2014: 39-31, +4.60 units.
Mar 2014: 43-36, +4.28 units.
April 2014: 15-17, -0.35 units.
2013/2014 Playoffs: 29-14, +23.68 units.
2013/2014 Regular Season Year: 213-207(+32.49)
March/April: 56-35 (+28.49)
February: 29-39 (+1.95)
January: 31-34 (-6.35)
December: 35-42 (-2.5)
November: 34-30 (+3.40)
October: 28-27(+7.55)
Total: 626-552 (+102.95 units)
2015-2016 Season;
15/16 Regular Season:
223-191(+22.85)
October: 25-30(-6.05)
November: 48-30 (+17.67)
December: 31-36 (-7.83)
January: 30-29 (-0.77)
February: 42-24 (+14.68)
March: 33-37 (-2.94)
April: 14-5 (+7.59)
1st Periods:
Halfway through the 2015/2016 season, we introduced a 1st period betting system. With 2 months remaining and with the system very successful but not a lot of quantity of picks, we decided to add two variations of it but with much less confidence.
Results:

1st period High Confidence(Regular System): 30-36 (+15.99u)
1st Period Medium Confidence: 2-9 (-5.60)
1st Period Low Confidence: 7-21 (-8.05)


We'll do our best to get a spreadsheet done on Google Drive at some point so you can go through it all.
And we can't say this enough – despite two winning seasons, please don't take our tips as gospel. Form your own opinion but use our tips as advice.
BetNHL.ca » NHL Betting Record / Stats