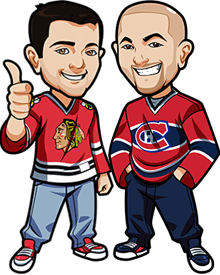 The 2019/2020 season is almost here. We're deep into preseason right now and the NHL season begins Wednesday, October 2nd 2019.
We'll be providing tips right from the beginning of the season and can't wait for it to get started.
We wanted to remind everyone that we have a list of online sportsbooks that we recommend people use and we strongly advise you sign up at each of these. These are online sportsbooks that we either use ourselves, or trust.
The primary reason for having an account at each of these sportsbooks is simple – getting the best odds. Over the course of the season each sportsbook will have different odds and sometimes the differences are crazy. It's very common to see differences in the odds of 0.10 or greater.
That may not seem like a large difference but on the grand scale of things, it is.
Let's say you bet $100 per game. If you bet and win 10 games at 2.00 odds, you've made $1000. However if you bet and win 10 games at 2.10 odds, you've won $1100. That means you've increased your betting units by one, simply by placing a bet at a different online sportsbook!
We even do the hard work for you – when we go to post the tips, we go through all of the sportsbooks we recommend and pick out the best odds for each game. We break it up by America, Canada and Everywhere Else.
Another reason to have multiple accounts is bonuses and rewards. The majority of online sportsbooks offer up deposit bonuses etc which helps increase your bankroll. Now they all have wagering requirements but over the course of an NHL season, you're going to be able to clear each one.
It's nice simply betting hockey like you always do, then getting $300 of the sportsbooks money simply because you gave them some of your action.
Here's a quick list of the online sportsbooks that we advise you taoe the time to get an account at in preparation for the 2019/2020 season:
Look at that list, and if there is any you aren't registered at then take the time to sign up with them. Your bankroll will be happy!
We should note that we also get a small kickback from a few of these sportsbooks for people who sign up via our links – so if you want to support the site and hard work we do, taking the time to register at those sportsbooks and deposit is much appreciated! It goes towards beer and wings when we get together to watch the games. And don't worry that doesn't affect who we recommend – there are multiple sportsbooks who have offered us a decent amount of money to promote them but we refuse to due to our own trust issues with them. Then there are a few sportsbooks above that we get nothing from, but still recommend to you regardless.
Here is some quick reviews of the Sportsbooks broken down by country:
American Sportsbooks To Bet Hockey At:
Bovada. Have been around forever (were formerly Bodog). Despite everything that's happened over the years in the US in regard to gambling, they've stuck it out. They pay promptly and while they rarely have the best odds, they've got a nice $250 welcome bonus. Cover lots of non-NHL leagues like OHL etc too. They also offer player props.
5Dimes. A real no frills sportsbook however they often offer the best odds. They also offer various rewards such as cash back rewards etc. We've personally been betting here for over 10 years and never had any issues.
Intertops. An excellent option for Americans. $200 deposit bonus and they have the best odds a fair amount of the time due to being a sportsbook that also focuses on a lot of European traffic.
GT Bets. A solid option with a rewards program where you can get some cool swag, a deposit bonus etc.
Canadian Sportsbooks To Bet Hockey At:
All of the "Everywhere Else" sportsbooks accept Canadians so you can go through that list below. Two sportsbooks that are exclusive to Canada however is:
Sports Interaction. Our #1 recommended online sportsbook for Canadians. They have hooked us up with exclusive free bets over the years to give to you guys. They offer a 100% to $200 bonus. When the odds are even, we always place our bets here. We can't recommend these guys enough.
Bodog. Been around for many, many years and completely trustworthy. Deposit bonus, lots of options outside of NHL(such as OHL, WHL etc) and fast withdrawals. They also offer player props.
Everywhere Else – Sportsbooks To Bet Hockey At:
Bet365. Other than Sports Interaction, Bet365 get most of our action when the odds are equal. Just a fantastic sportsbook with a lot of things covered and an excellent mobile website. They tick all the boxes.
Pinnacle Sports. A no frills sportsbook however if you are serious about making money, you need an account here. Their odds are better than the rest a large majority of the time. Customer service is excellent, withdrawals are fast.
5Dimes. A real no frills sportsbook however they often offer the best odds. They also offer various rewards such as cash back rewards etc. We've personally been betting here for over 10 years and never had any issues.
888 Sports. We advise betting at these guys a lot during the season because when it comes to regulation time bets, they are king. Their odds are often the best online. They also offer various promos and also have prop bets for most NHL games such as player props.
Mr. Green. These guys use the same provider as 888 so everything about 888 is the same here. It's good to have an account here too though as that's just another deposit bonus you can clear!
Best America Sportsbooks for NHL
BetNHL.ca » NHL Betting Guide » Where To Bet The NHL 2019/2020 Season