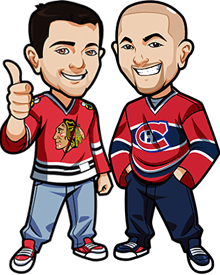 So watching hockey is fun enough by itself but it's a lot more fun when you have actual money on the game.
But I'm sure we've all been there – we've headed out to a bar with some friends and start watching hockey. Suddenly you start itching to put money on the game, wishing you had planned to do so at home. And the local convenience store is a few blocks away, so you can't even duck out and do some betting on pro-line.
Well that isn't a problem for Iphone and Ipad users as many sites offer mobile websites that are designed for the Iphone and Ipad and takes advantage of the touch screen capabilities. Another cool thing is that some sites list live scores so you are always up to date and are able to follow along with all the games you have bet on no matter what game is on the TV.
I'll tell you about three sites that offer very easy to use iPhone sites and I'll do a step by step guide for people who are unfamiliar with mobile sites. This will show you just how easy it is to bet on your iPhone.
Best NHL iPhone Betting Apps:
The first site i will tell you about is Titan Bet. They offer lots of NHL options but also so many other things to bet on here: Darts, Politics the list is incredible. They also give you $50.00 in free bets and they also offer special bonuses for Canadians so anyone that gives us extra bonuses is good in my books also offer live betting.
Next is Pinnacle Sports who are guaranteed to have the best betting odds available. Their iPhone app is nice and fast which is always a bonus when betting on the go.
Think about it, you're dragged out clothes shopping with the wife and when shes trying something on you can put a few bets down on the Sens or Leafs and she will have no idea!! What a great husband you are!!
Last but certainly not least is Bet365.
Let me show you how easy it is to bet on Bet365 with your iPhone. I will give you a step by step guide on how to get to where you need to be to place bets.
So in your Safari browser enter Bet365.com which will take you to a page with language selection.
After choosing the language you will be taken to the main screen where each sport is listed and has a icon of the ball or puck to make it easier to navigate.
So the first 4 listed are football, basketball, tennis and soccer so swipe from right to left bringing up 4 more and the first one listed is hockey. Choose that.
This will take you to a screen of available bets you can place that are associated to hockey. Not just the NHL is listed – you can bet on all sorts of leagues across the globe from the KHL to the Swiss National League.
So by scrolling down find the game you wish to bet on and press it.
This game will open up and provide a list of all bets that can be made on that game, and believe me they have a lot to choose from! Bet365 is famous for their unique props and gaming options – and all of this is available with their iPhone app as well.
Once you find the bet you want to place just simply press it which will add it to your bet slip.
After you have selected all bets you want to choose the bet slip at the top of the screen.
This will take you to your slip where you choose how much you want to wager for each event selected, and when ready press "place bet" and voila you're done.
That's how easy it is to bet on your iPhone – register at Bet365.com then give it a whirl. You don't even need to have money in your account to test out the Bet365 iPhone app.
Best America Sportsbooks for NHL
BetNHL.ca » NHL Betting Guide » Bet NHL on Your iPhone