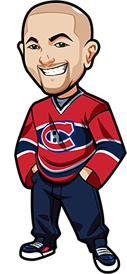 Follow @BetNHL
UFC 249 was an absolute banger last night. If you're one of the people in the UK who missed out on the show – it's being replayed tonight. Don't miss it.
We went 1-2 with the bets. Had Pettis to win and he did so against Cerrone. To be honest I thought Pettis would KO/TKO him but I just took to win so glad I did. That was a heck of a fight.
I lost with Michelle Waterson. That was a split decision and a rather controversial one with two judges declaring 30-27 for either fighter. That's UFC for you sometimes. I also lost with Ferguson to beat Gaethje via finish. That was a crazy one.
One of my favourite things with UFC or any sport really is when I get swayed from who I am originally cheering for. I love Tony and was cheering him on regardless of the bet there. However Gaethjes was putting on his A+ game. An absolute clinic. Incredible performance. And by the 2nd round I realized I was actually rooting him on. Was awesome to see.
I was chatting to SanDiegoBruins, a frequent commenter here, at BetSoccer.ca earlier about a draw I had tipped and how betting a draw in soccer can be such a tough bet just like betting overtime in NHL.
I started thinking about that and decided rather than tips today, I'd write an article on 5 things I look at when deciding whether to bet if a game will go to overtime.
Some quick notes: I bet a game will go to overtime a fair bit in the NHL. It's a high variable bet however which is why we never tip it here. I've got a few mathematical systems I use to calculate the probability of it going to overtime and a lot of those are based on the below 5 points.
This is however a very casual article. It's hard to switch my brain onto "NHL Betting" and my goal here is to simply give you something that YOU could use when it comes to betting. It's a system I like to use for betting at times where it's like a 5 point system. The quantity of points it earns decides whether you should bet it or not.
This can be a good starting point and I can do more of these if people are interested. These more broad observations are what I consider prior to getting down to the nitty gritty.
I'll run through these super quick:
5 Things I Consider When Betting an NHL Game Will Go To Overtime
1: The Odds.
Ovetime odds for an NHL game will generally be from 4.00 to 5.00. With high variance even with a slight edge, you may wish to consider a threshold such as only bets at 4.30 and above. This is something where you should either come up with a system or formula and then go through historical odds to determine the threshold, or do it live as that's not as boring but just track it well.
2: Overtime Stats
One you can consider using later in the season obviously which is how often each team in a particular game goes to overtime. Again you should consider historical data for that as for a lot of teams there is consistency season to season.
3: Home vs Away:
Should consider this for the majority of bets as there can be drastic differences obviously. How you interpret it is up to you. Just as one example – the Blue Jackets this season had 15 losses in overtime. Only 4 of those were at home. Theoretically that means the Jackets will be more confident in overtime at home so they may not be as urgent to score as they would if they were on the road.
4: Goalies
I mean goalies are one of those factors you should look into for everything. It's not enough to determine "The Devils have a good percentage of games going into overtime". There are a lot of factors that would go into that, and one of them would be the goalies.
5: Empty Net Stats
This is a big one. Maybe you have determined that the Blue Jackets and Bruins are very likely to have a game go into overtime. However what's the stats there when it comes to empty nets? That may make your bet more or less likely to come into play. If I feel the Bruins are favourited in that match-up, but I see that they concede a fair amount of goals against an empty net or the Jackets score a larger proportion of goals with an empty net? Well that makes it more likely if the Bruins are up by a goal that the Jackets could tie it up, and more likely I place the bet.
---
There's obviously a LOT more but this is a good starting point to at least get into the mindset of betting when a game will go to overtime. It's a very casual look to it but a great starting point.
Just thought I'd mix it up today. If there's any other topics you'd like me to broach let me know in the comments. I'll try and do these at least once per week, although from a more casual approach. Although man I cannot wait to dig into the likes of Corsi, Fenwick, xG etc etc again when the time comes.
Follow @BetNHL
BetNHL.ca » NHL Betting Guide » 5 Factors to Consider When Betting an NHL Game Will Go To Overtime