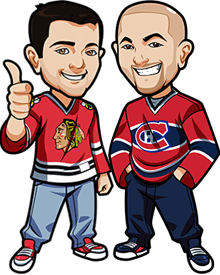 Follow @BetNHL
Oh technology! Where would we be without you? Do you remember back in the day to see who scored in a game that you missed you had to wait until the morning, throw on TSN and wait until the NHL highlights package came on to find out? Well as you know you can open up any sports website on your phone find out the score, who scored, who fought that huge hip check your buddy told you about literally seconds after it happened.
For people who like to bet and own a smartphone you can now place a bet no matter where you are and at any time you want. Blackberry, Android, Iphone any phone as long as your phone has a browser you can access the sportsbook of choice and place any bet you want from the palm of your hand!
Below i'll list a few that i feel are the easiest to use and offer bettors of all skill levels something to bet on to help fatten the wallets on the go and a step by step for people new to the joys of mobile betting.
Top 3 NHL Sportsbooks for Mobile Betting:
First up is Titan Bet. The options here are endless on things to bet on and not just NHL – you can bet on who the next American idol is going to be and if you're like me you couldn't care less!!
The site looks great – they offer $50.00 in free bets and they love Canadians, so much so that they offer extra bonuses just for being a Canadian how awesome is that!!
Next up is Pinnacle Sports who are always have the best betting odds available and their mobile site looks great and runs so smooth and fast its a great option for on the go betting.
So next time you're at the doctors office or your mechanics or the inlaws just think how sweet it'd be to be able to bet on the Flames vs Canucks game while Aunt Flo tells you the same story for the 500th time.
Follow @BetNHL
BetNHL.ca » NHL Betting Guide »