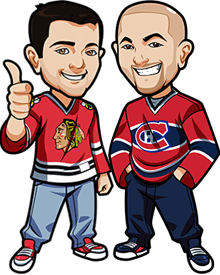 Follow @BetNHL
One great thing about betting online is that you are not restricted to just the one sportsbook. You can have an account at a variety of online sportsbooks.
This is actually highly recommended if only for line chasing – every sportsbook will have different betting odds for all the games – so having money at a variety of different sportsbooks means you are getting the best odds. If you have a quick peek at our live betting odds page you will see the 3 main sportsbooks, and how different some of the lines are.
However another reason to have multiple accounts is bonuses and rewards. Practically every online sportsbook will give you free cash for signing up with them, usually in the form of matching your deposit. So for example – if you deposit $50 at a sportsbook that has a 100% match bonus, they'll immediately give you $50 to match that, meaning you now have $100 to bet with.
Of course there are restrictions – you can't claim the money and leave. You need to wager it a certain amount of times before being able to withdraw the free cash. But the requirements aren't that stringent, and chasing bonuses are a great way to build your NHL sports betting bankroll.
On top of that once you have an account at various online sportsbooks you will get e-mails where they give you reload bonuses, free bets etc – so it's a great idea to have multiple accounts.
In this article, I'm going to teach you how to build your bankroll via sportsbook bonuses. It's a great and easy way to make a lot of money betting sports with no risk. You'd be betting anyway, right? So why not bet and get some free cash on top in the process.
I've set up a step by step guide below where I list the sportsbooks in the order that you should sign up at. It's a very simple process – sign up, deposit, do the wagering requirements and then leave. I've written the guide with the mindset of the smallest bankroll – so you can go into this with as little risk as possible, build your betting bankroll, and take advantage of the bigger bonuses near the end.
NHL Bankroll Building Guide:
#1: Sign Up With Skrill/Moneybookers
With this guide and with multiple sportsbook accounts you're going to be moving money around a fair bit. Depositing with credit cards or debit cards and then waiting for a cheque to arrive in the mail before depositing it, is going to seriously hamper the process.
Moneybookers, also known as Skrill, is pretty much like Paypal – except it's actually accepted and welcomed by online sportsbooks. Deposits are instant, and withdrawals take less than 24 hours. It's the best way to move money around gambling sites – so register there first then come back here.
#2: Start with at least $50:
The lowest amount needed to start building your NHL bankroll is $50. If you start with just $50 then you can follow the step by step guide in order and over the course of the season really build up your bankroll.
If you're willing to deposit more then you can build up your bankroll even quicker by taking advantage of multiple sportsbook bonuses at a time.
#3: Deposit $50 to Titan Bet:
Titan Bet offer a 100% to $50 deposit bonus for all new players. The Titan Bet one is a bit of a tricky one – it's worth taking advantage of, but it's better to get it out of the way first as it can give you a nice boost. Here's a nice step by step guide to simplify it:
Sign up at Titan Bet and deposit $50.
Place 5 bets of $10 each on odds of 2.0 or greater.
Titan Bet will now put $50 into your account.
Bet that $50. You can do it in one go, or do 5 bets of $10 or 10 bets of $5 or whatever you want.
The $50 free bet amount will now be removed from your account, but you will keep any profits.
Withdraw.
So it may seem complicated but it's actually extremely simple and we should end up with a bankroll of about $100+, depending on the results of the bets of course.
Click here to go to Titan Bet.
#4: Deposit $100 to Bodog:
Bodog have a 100% to $100 signup bonus. This is a much simpler one.
Sign up at Bodog and deposit $100.
They will IMMEDIATELY put $100 into your account(100% match on your first deposit).
It has a 3x wagering requirement. This means you need to wager 3x the deposit plus bonus amount prior to withdrawal. So simply wager a total of $600 – something which is easy to do if you're betting hockey every night – and you're done.
Withdraw.
#5: Deposit 100€ at Nordic Bet
100€, or 100 Euros, works out to be approximately $135 Canadian.
Deposit using the bonus code SPORT100
100 Euros will be put into your account.
The wagering requirement for this is 6x and is just for the bonus amount – so 600 Euros needs to be wagered, and on odds of 1.8 or higher.

Click here to sign up with Nordic Bet.

#6: 888 & WBX

By this point, our bankroll should be about $300-$500.

Let's take them one by one:

888: How this works is slightly different. They'll give you $88 free but it's only after certain bets. After your 1st bet you get $10 free, after your 4th bet you get $10, 7th, 10th, 13th, 16th and 19th all $10. Then on your 22nd bet you get $18 free. So it's an ongoing thing where you need to place 22 bets to take full advantage. So sign up at 888 then start slowly betting there when the odds dictate it.

WBX: WBX is World Betting eXchange. They offer £25 in free bets. How it works though is after you have wagered £100 you will get £10 free. Then every time you wager a total of £500 you get £5 free. So this is another one where you want to sign up and then basically place bets whenever the odds dictate it and you'll slowly earn the money.

So while you're slowly grinding away with those two, let's focus on other sportsbooks, namely:

#8: Intertops

Next up is Intertops, where you're going to need $400 to deposit to take advantage of the maximum bonus.

Sign up at Intertops and deposit $400. Then e-mail them and request the bonus. You'll get a 25% match which is $100. The wagering requirement is a bit tighter on this one at 8x, but again by this time we're hopefully betting more money so a lot easier to clear.

Intertops will also give you 10% bonus on Tuesdays and Thursdays if you ever need an additional bonus, and also have a rewards program for every amount that you wager – basically the more you wager there, the more points you earn which you can then cash in.

#9: JustBet

This is an exclusive bonus we were able to set up. Use the bonus code BetNHL after using this link and you'll get 100% to $500 bonus. So you want to deposit $500 maximum. The minimum deposit is $100. 10x rollover on this one, but very simple and easy to clear. JustBet also offer "plays of the day" so keep an eye out for any hockey games with reduced lines.

#10: The Big Ones

There are three other sportsbooks at this time that we'd recommend going after their bonus. However to take advantage of these you need to deposit huge amounts for the maximum. Now you don't have to do that, but it's best to deposit as much as you can.

I've left these ones at the end as it's up to you how much you want to deposit. Obviously depositing the maximum is recommended, but just whatever you feel comfortable with:

5Dimes: The 5Dimes bonus system is pretty simple. Anything below $500 you deposit, you get a 50% bonus. Anything above that, up to $2000, you earn 50% then 20%. It's a bit confusing so head over to http://www.5Dimes.com and look at their rewards system. A $500 deposit gets you $220 in bonuses, a $2000 deposit gets you $520.

BetOnline: BetOnlines bonus is 25% up to $900 meaning you can deposit up to $3600 to take advantage of their maximum bonus. Whew – nosebleed status or what? You also get $25 for your first live in-play bet of hockey.




Follow @BetNHL




BetNHL.ca » NHL Betting Guide »