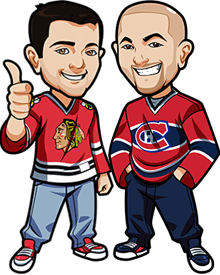 Follow @BetNHL
Depending on the online sportsbook that you go to, initially the betting odds for particular NHL games may appear different than what you are used to.
For example – if you usually bet offline with a system like Pro Line or Sport Select, then the odds that you will be used to are presented in a format similar to this based on regulation time:
Canadiens to Win: 2.45
Tie: 3.50
Leafs to Win: 2.65
This is known as the decimal betting odds display.
There are two main alternatives to the decimal betting odds, which are the fractional betting odds and the American betting odds.
Using the same example above, the odds would be:
Fractional Betting System:
Canadiens to Win: 29/20
Tie: 5/2
Leafs to Win: 33/20
American Betting System:
Canadiens to Win: +145
Tie: +250
Leafs to Win: +165
All of the odds work out to be the same. If you bet $10 on the Canadiens to win at 2.45 odds, you will profit $14.50. If you bet on the Canadiens to win at 29/20, you will profit $14.50. And if you bet on the Canadiens to win at +145 odds, you will win…..$14.50! There is no mathematical difference in how the NHL betting odds are displayed – different regions around the world simply display their odds in a different manner.
You can see for yourself how this works with our NHL Betting Odds Converter:
NHL Betting Odds Converter:
Simply fill in one of the fields below and click the "Convert Odds" button.
Examples:
US Odds: +110
Decimal Odds: 2.1
Fractional Odds: 11/10
Enter any of the examples above and it will display the odds so you can better understand the whole conversion process.
Most Online Sportsbooks Offer All 3 Betting Odd Displays:
If you're used to decimal odds and the online sportsbooks you are seeing are displaying data in the American odds format then don't worry – you don't have to come back to BetNHL.ca every time just to calculate what the odds are.
Most online sportsbooks will allow you to change the display yourself. It depends on the sportsbook but here are a few examples:
Change the Odds Display at 5Dimes:
After logging in and bringing up the lines, there is a navigation bar just above the odds with the link "Price Format". Click that and you can alternate between American Odds and European Decimal Odds. They do not offer fractional odds display.
Change the Odds Display at Titan Bet:
Near the top right of the website, underneath the login and time display, is the option to change your language. Beside that you will see a drop down box that if clicked on, you can change the odds display from Decimal to Fractional or American.
All online sportsbooks do it in a different manner, but the majority of online sportsbooks should give you the option to change the NHL odds display format to your preference.
NHL American Odds Explained:
Calculating how much money you will make off American odds is relatively easy and arguably the easiest betting odds system.
Let's say you place a bet of $100 and the odds are +150. These are the easiest ones to figure out. You will profit the exact amount based on a $100 bet. So if you bet $100 at +150, you would profit $150 on that specific bet. If you bet $10 on it you would profit $15, and if you bet $20 you would profit $30.
Where it can be simply confusing is when you bet and the line is negative, for example -150. Most US sportsbooks are set up as "to risk". For example they assume most sports betters will be betting to win a certain amount. So using the $100 example – to win $100 you would need to risk $150.
If you don't wish to bet "to risk" and you want to work out the math, it's a simple formula.
x*100/y=z.
x = the amount you wish to bet.
y = the odds. -150 would just be 150(no negative).
z = the amount of profit.
NHL Decimal Odds Explained:
Decimal odds are a lot easier to figure out. When you place a bet, think of it as a "unit". So let's say you place a bet of $100 and the odds are 1.67.
The "1" part of that can be slightly misleading as that is factoring in the return of the bet, not just the profit. If you take that out, you will get 0.67% of your unit in profit, or $67 total profit.
NHL Fractional Odds Explained:
Fractional odds usually seem simple enough, but can get quite confusing depending on the odds.
Let's take a simple one: 2/1 odds. You're "betting 1 to win 2". this means if you bet $100 you will win $200. Easy, right?
However the odds can get quite confusing. Sometimes you'll see odds like 20/27 or similar. What that basically means is that for every $27 you bet, you'll profit $20.
Play around with all of the odds, and determine what one is best for you. Some of them, no matter how often you use them, will look like double dutch. Others you will pick up fairly easy and end up using it to calculate all of your NHL bets.
What Other Betting Odds Displays Are There?
Along with American, Fractional and Decimal Odds you also have Hong Kong Odds, Indonesian Odds and Malay Odds.
Follow @BetNHL
BetNHL.ca » NHL Betting Guide »