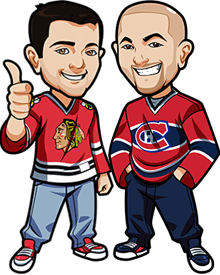 Follow @BetNHL
It's amazing the number of different ways you can bet on a hockey game.
But just where exactly can you place these bets? Well I will take the work out of looking for you and tell you which sites offer which bets.
I'll also tell you which Sportsbooks offer the best Odds for certain types of bets so you make sure you get the best value. It's recommended you have accounts at pretty much every sportsbook listed below so you can compare odds and always get the best value:
Where To Bet The Money Line Bet
The NHL Money Line Bet is the most placed bet there is. Its a bet on which team you think will win. Very basic and easy to use. There are different versions of this bet, for example you can bet the money line in regular time (No OT), or bet the money line with overtime included.
The most popular bet there is the NHL Money Line bet can be found at any Sportsbook. For the overall best odds and bonuses, I recommend using BetOnline..
Where To Bet Player Props
Player Props are a fun way to bet. They offer you to bet on a certain player statistics during the game instead of his team winning the game.
This amazing Player Props betting option is available at the incredible [geocode id=5 so go have a look and see just how fun it is.
Follow @BetNHL
BetNHL.ca » NHL Betting Guide » Where To Bet Specific NHL Bets | NHL Match Betting Options