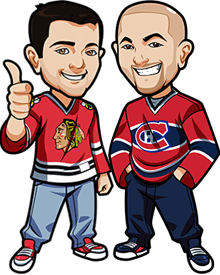 Follow @BetNHL
In what is widely considered the most talented division in the NHL, the Atlantic Division can be a hard division to predict. But not impossible and having a look at the Atlantic Division 2013 Odds can be a telling sign. Most Vegas Sportsbooks have a similar set of odds when looking at the Atlantic Division and Bodogs odds are as close to Vegas without actually being there. Think great Odds from home without the guilt of a weekend in Vegas
Just before the 2013 NHL Regular season got underway, here is what the odds for who would win the Atlantic Division looked like:
NHL Atlantic Division Winners Vegas Odds:
Pittsburgh Penguins +150
New York Rangers +300
Philadelphia Flyers +375
New Jersey Devils +700
New York Islanders +4500
Now with the season moving along and being about a week or so old this is how the Atlantic Division odds have changed since the season started:
NHL Atlantic Division Current Betting Odds:
Pittsburgh Penguins +125
New York Rangers +225
Philadelphia Flyers +375
New Jersey Devils +900
New York Islanders +4500
BetOnline. seems to be the only Sportsbook currently offering this betting options so above is the odds offered there. Keep in mind that odds change weekly and sometimes twice a week so be sure to check back to 5Dimes to get the most current Division winner betting odds
NHL Atlantic Winners Betting Tips:
Well as is common knowledge The Pittsburgh Penguins are the team to beat in the Atlantic and at odds that are better than even are a great value bet.
But with this being the strongest Division in the NHL the Penguins will have some competition and anything could happen.
The New York Rangers are a really good team and on top of all te offensive and defensive talent have arguably the best goalie on the planet in Henrik Lundqvist. The Rangers will defiantly challenge for top spot in the Atlantic and with odds that pay better than the Penguins, betting on the Rangers to win the Atlantic would be considered a safe bet.
Although off to a rocky start the Philadelphia Flyers are also a team that has all the right pieces to challenge for 1st place in the Atlantic. This team can play virtually all styles of hockey: They can play and excel at high scoring games and they are probably the best team in the league if the game turns into a physical contest.
Will this be Martin Brodeurs last year? Only he knows for sure but GM Lou Lamoriello knows how to put together a team. The New Jersey Devils will always be a team to fear and with the risk of losing the face of the franchise they will give it their all this year.
The third team to call the state of New York home, the New York Islanders are third on the totem pole behind the Rangers and Sabres for immediate success. With an abundance of talented youth and some experienced vets in the line up, this team could really benefit from a lockout shortened season.
BREAKING NEWS: The Pittsburgh Penguins are a really good hockey team and will win the Atlantic Division
They have to much talent and depth at each and every position to not win. And with Sidney Crosby being in the best shape of his life, that should strike fear in opponents not just in the Atlantic but around the league.
And with the odds of the Pittsburgh Penguins winning the Atlantic Division being an incredible +125 at 5dimes head over and take advantage before they change and drop it down to -250 where it should be
Follow @BetNHL
BetNHL.ca » NHL Betting Odds »