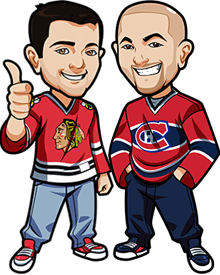 Follow @BetNHL
Eastern Conference 2013 Odds
When trying to predict just how the Eastern Conference will end up you have to factor in many things. The most important being the Eastern Conference 2013 odds as well as a shortened season and team additions. Vegas Sportbooks had the odds at the beginning of the season based on how the team did the year prior and overall success the previous season. We will useBodogs odds as they most closely reflect the Vegas Sportsbooks odd:
NHL Eastern Conference Winners Vegas Odds:
Pittsburgh Penguins +320
New York Rangers +345
Boston Bruins +500
Philadelphia Flyers +750
Washington Capitals +1100
Buffalo Sabres +1250
Carolina Hurricanes +1250
Tampa Bay Lightning +1500
New Jersey Devils +1600
Florida Panthers +1900
Toronto Maple Leafs +2000
Ottawa Senators +2200
Montreal Canadiens +2300
Winnipeg Jets +3000
New York Islanders +4500
Pretty much how you would expect them to look when the season started. But after over a week into the season lets take a look at how the odds have changed:
NHL Eastern Conference Current Betting Odds:
Pittsburgh Penguins +300
New York Rangers +350
Boston Bruins +450
Philadelphia Flyers +750
Buffalo Sabres +1300
Carolina Hurricanes +1300
Washington Capitals +1300
New Jersey Devils +1550
Tampa Bay Lightning +1600
Toronto Maple Leafs +1900
Montreal Canadiens +2200
Ottawa Senators +2200
Florida Panthers +2500
Winnipeg Jets +3500
New York Islanders +4500
The order and the odds have changed after only a week. And the order and odds will continue to change throughout the season. So because the Penguins have been favored all year does that mean you should pick them? Maybe but because they are favorites they payout as such. No matter who you pick you have a 1 in 15 shot of winning this bet so are +300 odds suitable? The Penguins might win it, but there are 14 other teams here who pay out substantially better. Below I'll give you some tips on teams who I think have a shot at winning the East, and from there you can decide for yourself who you think will win the East.
NHL Eastern Conference Winners Betting Tips:
The Pittsburgh Penguins have been the favorites for a while now and for good reason, they are an amazing team. With the reigning Hart trophy winner and a healthy Sidney Crosby in the best shape of his life this could be their year. But they are only paying out +300 which seems low for such a bet.
The Buffalo Sabres are a team that could cruise through the year without anyone noticing them and win the East. And at plus +1300 the risk is defiantly worth the reward. If Vanek can keep up his hot play and Ryan Miller can be one of the top goalies in the league as he has been for awhile now they have a shot.
Steven Stamkos is unreal and I believe that in a short season his play could carry them to the top all by himself. They brought in 2 veteran defenseman, a new goalie and some 1st and 2nd year players to help. Along with Stamkos Marty St. Louis and Vinny Lecavalier this team has all the pieces needed to do it. +1600 is an amazing value
The Toronto Maple Leafs might benefit the most from the short season and are defiantly worth a bet. And at +1900 it might be worth betting now before the the Leafs continue their amazing start and the odds drop
There is still lots of hockey to be played and teams will slowly but surely evaporate from the Eastern Conference race. You should take advantage of the odds now before the lower anymore, this way you maximize your profit.
So head to Bodog and Bet on who will Win the Eastern Conference now while the Odds are still in your favor
Follow @BetNHL
BetNHL.ca » NHL Betting Odds »