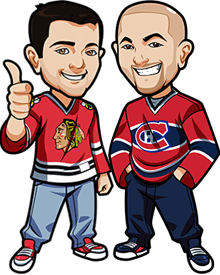 Follow @BetNHL
The NHL Regular Season is over with, and now it's onto the NHL Playoffs.
On this page, we're going to provide you with the best betting odds if you want to bet on who will win the Stanley Cup 2017.
Now you may be thinking "I have a sportsbook account already – do I really need another?".
The answer is a resounding YES!!!
Here's an example. Let's say you want to bet the St. Louis Blues to win the Stanley Cup. You currently bet at B365. Great. You bet $100 to win $2200 there at their 23.00 odds. However if you bet them to win the Stanley Cup at Pinnacle and they did, you'd actually win $3400.
Think about that. Over 10x your bet amount difference – simply because you took the time to bet at a sportsbook with better odds.
Another example catered towards our American audience – the Nashville Predators. At every online sportsbook they're +2500. Except GT Bets, where they are +3000. So again – why would you bet at crappy odds?
On top of that many of the sportsbooks give deposit bonuses etc so it's well worth having multiple accounts. This isn't just for the Stanley Cup either – throughout the season various online sportsbooks have different odds.
Here's the current best odds to win the NHL Stanley Cup 2017:
For the Stanley Cup odds at Pinnacle you have to click "Specials" in the side menu then "Hockey" then "NHL" and all the futures are there.
We have went through a variety of online sportsbooks – basically all the ones we trust – to pick out the best odds. The odds listed above are the best odds prior to the playoffs beginning.
The Washington Capitals are the favourites to win the Stanley Cup. The Capitals finished with the most points in the season, a whopping 118 points. They were the only team to lose less than 20 games as well.
Their goal differential especially was incredible. However they've never had much luck in the playoffs. Is Shattenkirk the one that can help them change their ways?
Last years winners, the Pittsburgh Penguins, are around 3rd-4th favourites depending on the sportsbook. The loss of Letang is a tough one and with a tough game to begin with against the Jackets, it's going to be a tough way to kick off the 2017 Stanley Cup Playoffs.
We'll be providing playoff betting tips for every series, and every game (from 2 onwards) 100% free of charge.
If you're new here throw your e-mail address into the box below and subscribe and you'll get our tips e-mailed to you every day.
Finally – seriously, take the time to sign up for the different sportsbooks listed above for the best odds. Not just for the Stanley Cup – but during the regular season. It's silly not to.
Follow @BetNHL
BetNHL.ca » NHL Betting Odds »