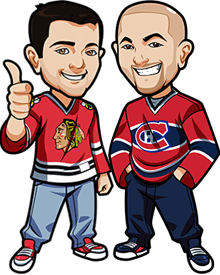 Written by Graeme & Scott on Friday, January 1st, 2021
Follow @BetNHL
Hi guys,
Hope everyone had a good New Year. We're even closer to the beginning of the NHL season now. Is it wrong that like kids we're counting it in terms of "sleeps"?
We will continue our player props futures right now.
Last time out, Scott covered the Rocket Richard and Calder futures.
Today Scott will cover the Art Ross Trophy and Hart Memorial Trophy futures.
As a reminder, you can bet these at the following sportsbooks:
Canada: Sports Interaction
USA: Bovada.
Everyone Else: 888 Sports.
Art Ross Trophy
Connor McDavid: 3.79
Nathan MacKinnon: 6.15
Leon Draisaitl: 7.21
Artemi Panarin: 11.00
Auston Matthews: 15.00
The Art Ross Trophy is awarded to the player the leads the league in points at the end of the regular season.
It should come as no surprise that the favorite to win this award is Connor McDavid. He was hurt last year and his team/linemate Leon Draisaitl took the trophy home. The year before it was Kucherov when the Lightning went crazy. The two years before that it was McDavid both times.
If he can stay healthy then I don't see a reason why he can't win this again. He has been in the league for 5 season, 2 seasons he played the full schedule and both of those he led the league in scoring.
With Draisaitl proving he can put up numbers without McDavid it will be interesting to see just how high McDavid can run his total with Draisaitl and staying healthy .
My pick to win the Art Ross Trophy is Connor McDavid for 3.79 odds at
Canada: Sports Interaction
USA: Bovada.
Everyone Else: 888 Sports.
Hart Memorial Trophy
Connor McDavid: 5.53
Nathan MacKinnon: 5.76
Auston Matthews: 10.00
Leon Draisaitl: 11.00
Artemi Panarin: 13.00
The Hart Memorial Trophy is awarded to the MVP of the regular season. This award takes all things in to consideration. So just because a player scored the most goals or had the most points someone can win this award based on the impact they had on their teams success.
With that being said I think that a healthy McDavid is going to tear up the league this year. The Oilers have the talent to do some damage but have came up short time after time. If the Oilers are to have a good year a huge part of that will be because of McDavid.
The team is full of youngsters who are still finding their way but having a guy like McDavid will take some of the pressure of them. This may be the year where all of their high draft picks realize their potential and follow the play of their Captain. Anything can happen though. A player may come out and have a monster year like Taylor Hall did a few seasons ago and claim the trophy. But looking at McDavid's numbers since he came into the league; 45 games, 48 points, 82 games, 100 points, 82 games, 108 points, 78 games, 116 points and 64 games for 97 points, make me think that if he stays healthy then he can have the best season of his career.
Connor McDavid for 5.53 odds at
Canada: Sports Interaction
USA: Bovada.
Everyone Else: 888 Sports.
Follow @BetNHL
BetNHL.ca » NHL Betting Tips »