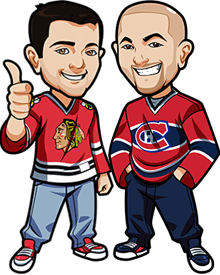 Written by Graeme & Scott on Friday, August 10th, 2018
Follow @BetNHL
The Art Ross Trophy is given out to the player that leads the league in points at the end of the regular season.  Connor McDavid has won the last two Art Ross Trophies.
Over at Sports Interaction they have a prop available where you can bet already on who you think will win this years Art Ross Trophy.
Sports Interaction is only available to Canadians and are the only sportsbook with Art Ross Betting Odds at this time. If any online sportsbooks offer odds we'll update this.
Below we will show you the top ten according to them, breakdown the top 5 and also talk about a player who isnt listed in the top ten but has a great chance to win it too.
Top Ten Players To Win Art Ross Trophy
Connor McDavid – 2.70
Sidney Crosby – 9.00
Nikita Kucherov – 11.00
Evgeni Malkin – 16.00
Patrick Kane – 16.00
Nathan MacKinnon – 17.00
John Tavares – 19.00
Mark Scheifele – 20.00
Claude Giroux – 20.00
Steven Stamkos – 20.00
The list is long so be sure to go to Sports Interaction for the complete list
Top 5 Analysis
Connor McDavid
It's hard to argue against McDavid.  He has won the trophy tho past two years and has only been in the league for 3 seasons.  The Oilers made no significant moves in the off season so McDavid will have to be the man again and I'm sure that wont be a problem for him.
Sidney Crosby
Its been 5 years since Crosby last broke 100 points in a season.  Thats not to say he wasnt productive as hes been over a point per game hitting at least 84 or more during that span and winning back to back cups.
Nikita Kucherov
He has been in the league for 5 years and each year his point totals have increased with last year being his best hitting 100.  Stamkos has thrived in his role as setup man with Kuch being on the receiving end of Stammers passes.
Evgeni Malkin
Always forgotten on the Pens and that's going to happen when you play on a team and same position as Crosby.   But Malkin had his highest point total in 5 years last season hitting 98 and plays on a line with Phil "The Thrill" Kessel
Patrick Kane
It sucks to say this but the Hawks best days with this roster are behind them.  Kane is incredible but the Hawks have to many questions up and down their roster and did nothing to address it during the off season.
Outside Top Ten with Good Chance
Taylor Hall – 24.00 odds
Hall had an amazing year last season winning the Hart Trophy.  In his second season with the Devils he looked great and will only get better.  He has an outside chance at winning the Art Ross as the young Devils improve around him.
Be sure to go to Sports Interaction and take advantage of these odds which will change as we get closer to the start of the season.
Who do YOU think will win the Art Ross in 2018/2019? Be sure to comment below!
Follow @BetNHL
BetNHL.ca » NHL Betting Tips »