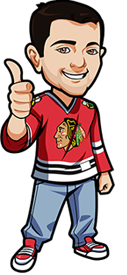 Written by Scott on Thursday, October 7th, 2021
Follow @BetNHL
For this article we will be going over the Atlantic Divison and who we think will win it by the end of the year.
There are 8 teams in the Atlantic and 4 of them could win it, and there is 4 who will have their work cut out for them to even make the playoffs .
I will be giving you the bet on who I think will win which is based on my own feelings, as well as of course actual betting value.
We will then provide a list of the best sportsbooks to bet at for the betting odds for each team. The below is the average betting odds.
BTW we said this last season and will say it again – please please please sign up for an account at BetOnline if your country is permitted. These guys have the best odds so often. It was over 50% of the time last year compared to all other sportsbooks which is a nuts ratio.
Atlantic Divsion Winner Betting Odds
Lightning – 2.50
Maple Leafs – 4.25
Bruins – 4.87
Panthers – 5.50
Canadiens – 34.00
Senators – 71.00
Red Wings – 151.00
Sabres – 201.00
Atlantic Divison Winner Betting Tips
This was a tough decision for me to make.  It was down to the Leafs and the Lightning but I went with, and my pick, to win the Atlantic Divison is the Toronto Maple Leafs.
The Leafs did the right thing and kept their "Core Four" of Matthews, Marner, Tavares and Nylander.  Besides those incredible offensive players they have a nice mix of youngsters and vets to round out their roster.  Guys like Spezza, Simmonds, Robertson and Kerfoot are good and they added Nick Ritchie, Ondrej Kase and David Kampf. So on offense this team looks great.
On defense the have Reilly, Muzzin and Brodie leading the way but youngsters Liljegren and Sandin look ready to take the next step.   In goal they still have Jack Campbell but moved on from Andersen and now have Petr Mrazek to form a solid team of goalies.
I'm sure many will argue my pick but there is reasons why I went with Toronto and you will read about them shortly
The best odds for the Leafs to win the Atlantic
Canada: 3.75 Odds at BetOnline.
USA: +325 Odds at GT Bets.
Everyone Else: 3.75 Odds at BetOnline.
---
We will now look at the other teams and give our thoughts on them, as well as the best odds.
Tampa Bay Lightning
The reason I didn't take the Lightning to win the Atlantic Divison was they have played more hockey over the last 2 season then any other team.  Sure they were pandemic shortened seasons but still.  
This team is stacked and obviously amazing.  When you win back to back Stanley Cups it's hard to call them anything other than a favorite to go for 3.
But they lost some key pieces.  Gone are Gourde, Coleman, Johnson and Goodrow and they replaced them with……. Corey Perry.  A bit of a head scratcher there.  Perry is great and for sure a hall of fame member but he can't put up the numbers that they lost.
It's the amount of games they have played and the losses of key members of the team that has me put off of them winning the Divison.  I wouldn't be surprised if they came out and found a way to compensate for their losses.
The best odds for the Lightning to win the Atlantic
Canada: 2.75 Odds at BetOnline.
USA: +175 Odds at BetOnline.
Everyone Else: 2.75 Odds at BetOnline.
---
Boston Bruins
The Bruins will start this season without Rask in goal.  Not only is the longtime Bruin gone but so is his backup Halak.  They brought in Linus Ullmark who joins Jeremy Swayman to form Bostons new goalie tandem.
Also gone are Krejci, Kase, Ritchie and Kuraly.  They brought in Nick Foligno, Erik Haula and Tomas Nosek.  That's a pile of roster turnover and it will take them time to adjust.
They still have arguably the best top line in the NHL with Bergeron, Marchand and Pastrnak so they will be a competitive team.
Best Odds for the Bruins to win the Atlantic
Canada: 4.87 Odds at Sports Interaction (SIA).
USA: +350 Odds at Bovada.
Everyone Else: 4.75 Odds at Mr. Green
---
Florida Panthers
The Panthers are a team we can't sleep on.   They won the Divison last season and only got better in the off season.   The Panthers or any of the 3 teams listed above could win the Atlantic and that's why this is such a hard Divison to predict.
They brought in Sam Reinhart to join their top 6 with Barkov, Huberdeau, Duclair, Bennett and Veraeghe.  They have good depth too with Tippett, Marchment, Thornton and Acciari.
On defense they lost Yandle and Stralman but are still in good hands with Ekblad, Weegar, Gudas and Montour.
Bobrovsky will be the starter thanks to his experience but don't be surprised if Spencer Knight ends up taking the job.
Best odds for the Panthers to win the Atlantic
Canada: 5.50 Odds at Intertops.
USA: +450 Odds at Intertops.
Everyone Else: 5.50 Odds at Intertops.
---
Montreal  Canadiens
The Habs surprised everyone last year and made it to the Stanley Cup Finals.   I hope I'm wrong but they won't be back for a while and will have a hard time making the postseason this year.
Captain Shea Weber is likely done playing hockey with foot, ankle, knee and thumb injuries he played through in the playoffs.  Also gone is defensive forward Phillip Danault, Eric Staal, Corey Perry and Tomas Tatar.  They brought in Mike Hoffman to ease some of the pain but there is only so much he can do.
David Savard and Chris Wideman are the new defensemen but how can you replace Weber and his skill and leadership.
If Price plays like he did last year then anything is possible.
(Yeah so just before posting this, it was announced that Price is out for at least a month. Odds will likely change but either way likely not worth betting unless it's a massive odds change)
Best Odds for the Canadiens to win the Atlantic
Canada: 36.00 Odds at Bodog.
USA: +3500 Odds at Bovada.
Everyone Else: 34.00 Odds at Bet365.
---
Ottawa Senators
The Sens are headed in the right direction.
As long as they can get the Brady Tkachuk situation sorted out they are only going to get better.
With Tkachuk, Stutzle, Batherson, Chabot and Brannstrom they have the pieces to build around and could challenge for division lead in the next couple years.
Best odds for the Sens to win the Atlantic
Canada: 151.00 Odds at Bodog.
USA: +15000 Odds at Bovada.
Everyone Else: 101.00 Odds at BetOnline.
---
Detroit Red Wings
Well the Wings missed the playoffs for the 5th straight year after making it in for 25 straight.
They have some decent youngsters who should have Wings fans excited but they will need much more to be a competitive team.  Seider, Verano and Lucas Raymond will be great additions to the team.
If you like them to surprise everyone and win the division here are the best odds for the Wings to win the Atlantic
Canada: 151.00 Odds at Bet365.
USA: +15000 Odds at Intertops.
Everyone Else: 151.00 Odds at Bet365.
---
Buffalo Sabres
Where do we begin. 
The Sabres and their fans are in for another long season.  Eichel and the team can't seem to agree what to do with his health and they should move him onto another team and get more pieces for tbe future.
The took Owen Power first overall in last years draft but he is a few years away from being NHL ready, same as Jack Quinn.  Dahlin is still young and will only get better.
They also have Cousins, Mittelstadt and Luukkonen so they have so players that could form the teams core eventually.
Best Odds for the Sabres to win the Atlantic
Canada: 201.00 Odds at Bodog.
USA: +20000 Odds at Bovada.
Everyone Else: 201.00 Odds at Bet365.
---
Finall note – we have an All New Comments System. Disqus sucked. They kept throwing in all these junk ads, AND they stopped e-mailing us to notify us of new comments so we kept missing new comments and couldn't reply. We have an all new comment system where you can use your Disqus login if you want, along with Facebook, Google etc.
We're still tweaking it and there may be issues so if there is – PLEASE shoot us an e-mail at site@betnhl.ca with the details so we can sort it. Thank you.
Follow @BetNHL
Best America Sportsbooks for NHL
BetNHL.ca » NHL Betting Tips » Atlantic Division 2021/2022 Season Preview, Betting Odds & Tips