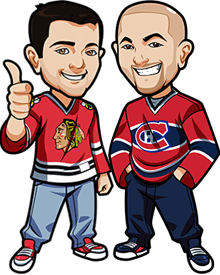 Written by Graeme & Scott on Monday, January 14th, 2013
Follow @BetNHL
One thing I love about sports betting is the variety of betting picks you can make – especially when it comes to online. For example you can bet on the Hart Memorial Winner – and after hours of debate with some friends, and a lot of research, I'm ready to provide my NHL 2013 Hart Memorial Trophy Winner Betting Tips.
The Hart memorial trophy is the oldest and most prestigious award in the league and is given to the player who is basically the MVP of the NHL. Winners are determined by a vote by members of the professional writers association and it's not given just for a players point total, although that does have some influence, but for his all around game and what he did for his team.
Recent past winners include Evgeni Malkin, Corey Perry, Henrik Sedin an Alex Ovechkin. As always I am going to provide you with two picks one being a sure thing and the other a long shot.
My Sure Thing Pick is Alex Ovechkin and my Long shot pick is Jonathan Toews. The best odds for both of these is at [geocode id=5. Click to see the latest odds.
This year is going to be different due to the short 48 game schedule but one thing is a safe bet and that's that these two players I have chosen and their teams are ready to prove that the success from the past wasn't a fluke and I believe that these two players, both captains of their respective teams, will put the teams on their backs and carry them to the promised land or at least the playoffs and will put together two outstanding years.
bet Alex Ovechkin as the Hart Memorial Winner:
This will be the year for Alex Ovechkin to get back to the skill level that we as fans have been used to seeing during his first seven years in the league. Last year Ovechkin put up the worst numbers of his career so far so you know that he more than anyone associated with the Washington Capitals organization wants to get back to his usual numbers and ridiculous shot totals. H
is accomplishments include: two Rocket Richard trophy's, a Calder trophy for rookie of the year,, a two time sporting news player of the year, an Art Ross trophy, a Lester B Pearson, a Hart as well as being a 5 time all star. To Alex Ovechkin winning is everything and I think the time is now. The Capitals got rid of the distraction that was Alex Semin, and brought in a more reliable and predictable player to play second line center in Mike Riberio who will surely help draw some of the attention away from the top line of Ovechkin and Nik Backstrom and Troy Brouwer.
Faster than Ovechkin can get over his slump, hen head to [geocode id=5 where they have betting odds Ovechkin to win the Hart at +650. Really high considering that he is one year removed from being one of the two best players in the league, that number should be somewhere around +300 but like I've said before I don't run sports books I just make a fortune off of them and their mistakes and this is one of them.
Bet Jonathan Toews as the Hart Memorial Winner:
Now if you were to ask me to name one player in the league to build a team around, without question Jonathan Toews would be my pick. He is, in my opinion, the best captain in the league, he does it all: He scores goals, he has some of the best hands in the league, he is downright deadly on a break away or penalty shot, he wins face offs, he kills penalties, plays on the power play the list just goes on and on.
He has won an Olympic Gold medal, was named top forward of that olympics, Won a Stanley Cup, and won the Conn Smyth trophy for MVP of the playoffs and all of this happened within a year which is way more than some players accomplish in a lifetime let alone a 6 month period.
After years of being a terrible team the Chicago Blackhawks drafted him third overall in 2006 and the rest as they say is history, slowly improving year after year until in 2010 they finished first in the central division and topping it all off by winning the Stanley Cup. A major reason for all of the recent success of the Blackhawks is all due to Captain serious Jonathan Toews and he hates losing so after to so-so years and two early exits from the playoffs I think this year they will get back to where they were only a few years ago and it will be because Toews will do whatever he can to get them there
If you feel like I feel that maybe this Longshot isn't a Longshot and more like a wrister from the slot then go to [geocode id=5 and have a look at those betting odds they have for people to bet on Jonathan Toews to win the Hart Memorial trophy at +2000. High yes but Toews is more then just gaudy numbers he is a do it all type of player and this award is about which player helps his team out to get to the playoffs and believe me this is a guy who will do whatever it takes to win.
The Towes bet is a long shot for a reason – but if you're looking to bet an underdog to win the Hart Memorial Trophy, it's hard to look past Jonathan Toews at +2000 odds.
Follow @BetNHL
BetNHL.ca » NHL Betting Tips »