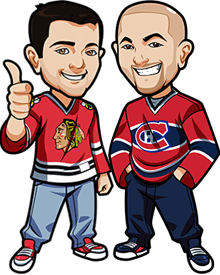 Written by Graeme & Scott on Monday, January 14th, 2013
Follow @BetNHL
The James Norris Memorial Trophy or the Norris trophy is a yearly award given to the best defensemen in the league based on the all around play. But did you know you can BET on who will win the James Norris Memorial Trophy? And not only that but the James Norris Memorial Trophy Betting Odds are great.
Let's look at my NHL 2013 James Norris Trophy Winner Betting Tips and see who we are going to pick. There are quite a few options.
In this article I'm going to give you a sure thing pick and a long shot pick. The sure thing being the player who is probably going to win it based on history and recent winners and the long shot being someone who had a decent shot at winning the Norris and had betting odds significantly better then the sure thing.
All betting on the James Norris Winner is available at Bodog.ca.
So my Sure Thing Pick is : Kris Letang and my Long Shot pick is Michael Del Zotto.
The four most recent winners are Erik Karlsson, who came out of no where and lead his team to the playoffs when at the beginning of the season the Ottawa Senators were all but written off, Niklas Lidstrom, who at the age of 38 at the time is just so good at the game he treats it like chess where he is always a few moves ahead of his opponents thus allowing him to stay healthy and help his team be successful year after year.
Duncan Keith who went from a nobody to a household name after the superb year he put together doing a little bit of everything including being arguably the best skater in the league, and Zdeno Chara the 6'9 freak of nature who has a mean shot and an even meaner attitude and is the type of player that does it all from put up points has the hardest shot in the league and is more than willing to take on the tough guys of the league:
Kris Letang to win the James Norris Trophy Betting:
When healthy Kris Letang has consistently put up great numbers and with him playing on the top pairing you know that he is going to get a lot of ice time and special teams time with players such as: SIdney Crosby, Evgeni Malkin, James Neal and more.
I think that even I would be able to be a decent defensemen on this team and I suck but Kris Letang doesn't so when you have a great defensemen and put him on a team with a bunch of superstars and have him skate almost 30 minutes hes definitely going to be putting up big numbers and his defensive partner Brooks Orpik they work so well together that their plus/minus numbers will for sure be way above zero.
I think its his time, I think its a year where the Pittsburgh Penguins will thrive and Kris Letang will stay healthy and his numbers will jump dramatically. In 2010-2011 Letang played in all 82 games putting up great numbers of 8 goal 42 assists for 50 points and last year due to injury only played in 51 games but still managed 10 goals 32 assists for 42 points. His stock just continues to rise.
At [geocode id=5 you can bet on Kris Letang to win the Norris trophy where they have the betting odds at +700 which is a little higher than I thought it would be, and represents some nice value.
Bet on Michael Del Zotto to win the James Norris Trophy:
Now this is my long shot pick for betting on who will win the Norris Trophy. Del Zotto is ready to take the next step from good defensemen to superstar and this might just be the year for it to happen. His numbers have been consistent: In 2009-2010 his first year in the NHL he put up numbers of 9 goals 28 assists 37 points the next year he split between the New York Rangers and the Connecticut Whale of the AHL.
Last year however, his second full season in the NHL he out up amazing numbers of 10 goals 31 assists for 41 points and he is only going to get better with the team he has in front of him its inevitable. Del Zotto will be counted on heavily for the Rangers this year and with all the firepower they are going to have on the ice even if he isnt having his best game he will be guilty by association.
Bodog are providing fantastic odds on Michael Del Zotto to win the James Norris Trophy. As of this writing, Del Zotto is +2500 to win.
Follow @BetNHL
BetNHL.ca » NHL Betting Tips »