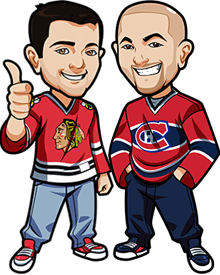 Written by Graeme & Scott on Sunday, January 20th, 2013
Follow @BetNHL
So this bet may seem tricky but once you look at it and break it down its actually quite easy.
[geocode id=5 will give each team a number and its your job to figure out if said teams points at the end of the regular season will be over or under that number.
So if the number given to a team was 51.5(the .5 just ensures that there wont be a push, or that its impossible to land exactly on any number) and you bet over then at the end of the regular season the team finished with 52 or more points then you win your bet. Simple as that.
. Here are five teams that I think will go over the number at [geocode id=5 (Note the records required to win the bet provided are based on wins and loses only and that overtime losses are still a point so the required number of wins can be less then stated which means that the team can have less wins and still go over the required number to win the bet)
Bet Dallas Stars Over 52.5 Regular Season Points at -115
So 52.5 means that the Dallas Stars need just over 26 wins or they have to win at least 55% of their games and finish with a record no worse than 27-21 and I think that they will easily accomplish that and then some.
This team boasts some really talented players as well as two future Hall of Famers who might call this their last years so a losing season really isn't an option here. Brandon Morrow, Jaromir Jagr, Derek Roy, Jamie Benn, Loui Eriksson and Ray Whitney will carry this team over the 27 win mark required for you to win your bet.
Bet this now at [geocode id=5.
Bet Edmonton Oilers Over 53.5 Regular Season Points At -115
53.5 means that the Edmonton Oilers will need 27 wins or win 55% of their regular season game which equals a end of the season record of 27-21 and these young guns are more than capable of pulling that off.
During the lockout many of the Edmonton Oilers young players went Down to the Oilers farm team in the AHL, the Oklahoma City Barons, and dominated there. Taylor Hall, Jordan Eberle, Ryan Nugent-Hopkins and Juston Schultz not only got in some valuable playing time they also stayed fresh so when the season begins they will already be up to mid season form.
Bet New York Islanders Over 53.5 Regular Season Points At -115
For you to win this bet the New York Islanders need 24 wins or they need to win half of their games and finish the year with a record of 24-24 – that's crazy!
Where else could you bet over and only need the team to play.500 hockey?
This team has a lot of talent and are ready to make the playoffs one last time before they are moved to Brooklyn. With John Tavares, Brad Boyes, Evgeni Nabokov, Lubomir Visnovsky and Matt Moulson leading the way I think its safe to say that the Isles will cover and are worth the bet. Practically free money – Thanks Bodog!
Bet The Ottawa Senators Over 52.5 Regular Season Points At -115
The Ottawa Senators were all but written off at the beginning of last year then they went out and surprised everybody and made the playoffs and it took the New York Rangers seven games to eliminate the Sens.
So for you to win this bet all that is needed is 27 wins for a record of 27-21 winning 55% of their games. Now had this been the spread last year I would have ran to [geocode id=5 and put everything I had on the under but this pesky squad proved that they are more then capable of winning games and this may be Alfies last year.
You know that everyone on this team will be doing everything they can to ensure Daniel Alfredson can go out on a high note, so put a small bet on the Sens to stay focused during the season.
Bet The Vancouver Canucks Over 58.5 Regular Season Points At -115
The Vancouver Canucks need to have a decent year to cover the 58.5 necessary to win this bet but as we know the Vancouver Canucks have consistently put up decent years and this year wont be any different.
You will need them to win 61% of their games and finish with a record better than 30-18 and with the Sedin twins you know that this will happen and once they move Roberto Luongo the returning talent will only help this already deep team. Good thing this is only for the regular season because we all know what kind of luck the Nucks have in the playoffs!
This is going to be a tight bet – barely +EV but it's profitable.
Follow @BetNHL
BetNHL.ca » NHL Betting Tips »