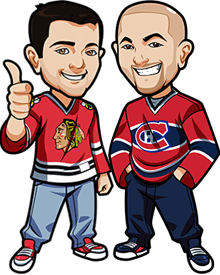 Written by Graeme & Scott on Monday, January 14th, 2013
Follow @BetNHL
Welcome to my NHL 2013 Vezina Trophy Winner Betting Tips. For those unaware you can bet on the winner of the Vezina Trophy. I've analyzed the Vezina Trophy Winner Betting Odds, and am feeling really good about my picks this year.
The Vezina trophy is awarded to the league best goalie and the winner is determined by a vote by all 30 general managers in the NHL based on statistics and overall play. Past winners include Henrik Lundqvist, Tim Thomas and Ryan Miller.
In this article we will help you determine on who to bet on to win the Vezina trophy with my two picks; one being a sure thing ,the player who stands the best chance due to recent winners and the team he plays for and the other a long shot pick who, maybe not guaranteed to win but in a shortened season stands a great chance and the betting odds are far more favorable.
For my sure thing pick I'm going to go with "The King" Henrik Lundqvist and for my long shot pick in going to go with Niklas Backstrom. Currently, the best odds for both of these are at [geocode id=5.
If history has shown us anything its that 95% of the time the player who wins the award does so with an outstanding team in front of him and my two picks: Henrik Lundqvist, whose New York Rangers are ready to challenge for the Stanley Cup and have an abundance of talented players at each position, and Niklas Backstrom.
Backstrom, as my long shot pick, will have a better shot this year now that the Minnesota Wild added on of the best two way defensemen in the league in Ryan Suter, both have decent teams to play behind and with the decreased work load due to the lockout should have no problems having to deal with fatigue and i wouldn't be surprised to see either of the two start all of their teams games this year.
Bet On Henrik Lundqvist to Win The Vezina Trophy:
So why is Henrik Lundqvist my sure thing pick and why should you bet on him to win the Vezina Trophy? Well for starters Lundqvist is the defending Vezina trophy winner, after his season numbers of: Record-39-18-5 Shutouts-8 GAA-1.97 Save Percentage- .930, its really no surprise he won, so maybe momentum will help to carry him but on top of that he is incredibly talented and the team in front of him is really good and only got better with the addition of Rick Nash and the continued improvement to youngster on the team most notably defensemen Ryan McDonagh and Michael Del Zotto and shot blocking machine Dan Girardi.
So if you think like me that Henrik "King" Lundqvist has an amazing shot at winning it and would like to bet that he will win the Vezina Trophy then go to [geocode id=5 where they have the betting odds that Lundqvist will win the Vezina at +400 which is a little high considering he won it last year and the Rangers only got better – but hey, good value is good value.
Bet on Niklas Backstrom to Win The VEzina Trophy:
Now for my long shot pick I went with Niklas Backstrom and why would I suggest you bet on Backstrom to win the Vezina Trophy?
Well remember last year when almost half way through the year the Minnesota Wild were leading the league and fell apart in the second half? Well remember this year is only a half of a season and the Wild have gotten better, a lot better.
His numbers last year were decent for only play 46 games: Record- 19 -18 -7 Shutouts – 4 Save Percentage – .919 GAA- 2.43. And with the addition of Ryan Suter added to an already steady defensive group including Tom Gilbert, Clayton Stoner(awesome name though) and Justin Falk. Not to mention the addition of former New Jersey Devils captain Zach Parise who owns a great two way game and will be sure to help out his defensemen whenever he is on the ice.
Now Niklas Backstrom doesn't have as good a shot of winning the Vezina Trophy as Lundqvist does but this is going to be a crazy year and there's a lot of value here. So if you would like to bet that Niklas Backstrom will win the Vezina Trophy then go to [geocode id=5 and enjoy the fact that his betting odds of winning the trophy are set at +2200. That's really high for a half season because we all saw what happened last year.
Follow @BetNHL
BetNHL.ca » NHL Betting Tips »