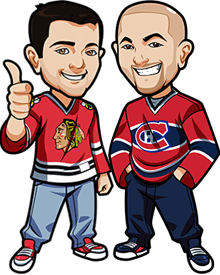 Written by Graeme & Scott on Tuesday, August 13th, 2013
Follow @BetNHL
Odds to Win the 2014 Eastern Conference
At Bovada you can bet on who you think will win the 2013-2014 Eastern Conference. With this seasons realignment bring two new teams to the East in the always scary Detroit Red Wings and the surprising Columbus Blue Jackets. These teams join an already superstar stacked conference and should make for a exciting and tight race to the finish.
Below I will list the Odds for each team to win the Eastern Conference then go over a few that area a safe bet and some that are long shots but still could win it. All these bets can be placed by heading to Bovada and under the hockey betting option choose Hockey Futures.
2014 NHL Eastern Conference Winner Betting Odds
Pittsburgh Penguins 3.50
Boston Bruins 5.75
Detroit Red Wings 9.50
New York Rangers 12.00
Washington Capitals 13.00
Montreal Canadiens 15.00
Toronto Maple Leafs 15.00
Philadelphia Flyers 16.00
New York Islanders 17.00
Ottawa Senators 17.00
Carolina Hurricanes 23.00
Columbus Blue Jackets 23.00
New Jersey Devils 23.00
Tampa Bay Lightning 23.00
Buffalo Sabres 41.00
Florida Panthers 76.00
Safe Bets To Win The 2014 NHL Eastern Conference
Pittsburgh Penguins 3.50
Stacked. That's the best way to describe the Penguins. A full and healthy year from both Sidney Crosby and Evgeni Malkin will go a long way towards the Penguins winning the 2014 Eastern Conference. They have so much talent at the top of the lineup that even if the team they are facing puts their best defensemen against Crosby's line then that leaves Malkins line free to do damage. They went out and brought in 2009 Stanley Cup winning team hero Rob Scuderi to help solve some of the problems that plagued them in last years Eastern Conference finals sweep at the hands of the Boston Bruins.
The Penguins are fed up with coming up short in the last couple of playoffs and will do everything in their power to make sure that this doesn't happen to them this year. A determined and motivated Pittsburgh Penguins squad is a scary thing. They are the odds on favourite to win the East and for good reason.
Boston Bruins 5.75
Last years Eastern Conference winners went out and made some moves that should help to bring them back and repeat last years success. Out are young gun Tyler Seguin, veteran Jaromir Jagr and 3rd line center Rich Peverley. In comes Jarome Iginla and Loui Eriksson. This team is now even a more deep team than last year and the addition of Iginla will only help this team. Iginla was supposed to join the Bruins last year at the trade deadline only to sign on with the Penguins. And we all know what happened there.
Iginla's style of play will fit in perfectly on this team. Iginla has evrything on his resume to make him a first ballot hall of famer except a Stanley Cup so expect him to give everything he has and the rest of the Boston Bruins to follow suit and once again be a powerhouse team in the Eastern Conference.
Detroit Red Wings 9.50
The Red Wings come over to the East and are already considered one of the favourites to win the Conference. Not only do they have the always productive and scray Pavel Datsyuk and Henrik Zetterberg but they went out and blew away the hockey world by signing life long Senator Daniel Alfresson.
Alfredsson will have instant chemistry with this team and at 40 is one of the teams youngest players lol. Not only did they grab Alfie the signed under rated center Stephen Weiss. This team has a great shot to come in and not only be a strong team in the East but could and may win the Conference.
Long Shot Bets To Win the 2014 NHL Eastern Conference
Toronto Maple Leafs 15.00
The Leafs Went out and were players during the off season. They went out a stole Jonathan Bernier away from the Los Angeles Kings to challenge James Reimer for the number one goalies job the also went out and grabbed this years Stanley Cup clinching goal scorer David Bolland and the intimidating David Clarkson from the suddenly depleted New Jersey Devils.
Leaf fans are going to love both Bolland and Clarkson who bring some much needed Playoff experience to this young squad. They both fit into Maple Leafs coach Randy Carlyle's style of player. The Leafs re-signed Tyler Bozak to a questionable extension so he will be motivated to prove naysayers that this was the right decision for the Leafs. A strong team led by Phil Kessel and Joffrey Lupul will only benefit from the arrival of the 2 Davids.
Columbus Blue Jackets 23.00
This team was the surprise of the season last year. The traded away the face of the franchise in Rick Nash and were expected to finish in last place. But not only did they not finish last they were in the playoffs up until the last day before the playoffs started.
A Vezina winning performance from Goalie Sergei Bobrovsky was the key to their amazing season. Another year like that will help this team plau a full season from Marian Gaborik and the newly signed Nathan Horton will only help this years team who were only missing some offensive fire power to take the next step. This may be a long shot but they still have a shot and with 23.00 betting odds this is defiantly worth a long look
Tampa Bay Lightning 23.00
So they have decided to move forward without longtime captain Vinny Lecavalier and this is finally Steven Stamkos' team. They brought in Valtteri Filppula to replace Vinny as the teams second line center. Also the team used the 3rd overall pick in this years draft on the ultra talented Jonathan Drouin who is expected to be riding shotgun on Stamkos' line.
If the ageless wonder Marty St. Louis can have yet again another strong season and Stamkos fully embraces his role as team leader this team can do some damage. And if Drouin shows any of the skill that he showed in Junior than this team will challenge for top spot in the Eastern Conference
Remember – bet these at Bovada.
Follow @BetNHL
BetNHL.ca » NHL Betting Tips »