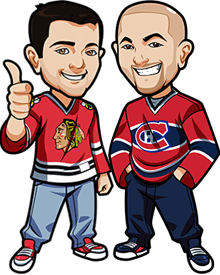 Written by Graeme & Scott on Monday, September 9th, 2013
Metropolitan Division Winner Betting Tips
Ya so this may be this worst name for a division ever in the history of sports!. But this Division features the most superstars in the NHL. Alex Ovechkin, Evgeni Malkin, John Tavares, Jaromir Jagr, the Stalls, Sidney Crosby, Claude Giroux, Rick Nash this list can keep going!!.
So with all of these superstar players then who will win the Metropolitan Division this season? With all the star power this division has it can be difficult to predict the Division winner but if you look a little deeper you can find a way to correctly predict the winner. So head Bovada(USA) or Bodog(Canada) or http://www.SportsInteraction.com for everyone else and under hockey choose hockey futures to find these great betting option.
Here are the betting odds to win the Metropolitan Division for the 2013-14 NHL Season available at Bovada(USA) or Bodog(Canada) or http://www.SportsInteraction.com for everyone else
Pittsburgh Penguins 1.80
Washington Capitals 7.50
New York Islanders 8.00
New York Rangers 8.00
Philadelphia Flyers 11.00
Columbus Blue Jackets 15.00
Carolina Hurricanes 16.00
New Jersey Devils 19.00
Best Bet To Win The Metropolitan Division
Well as always the Pittsburgh Penguins are the favorite to win not only their division but also the Eastern Conference and maybe the Stanley Cup. This team is scary good and will continue to be for the foreseeable future. They have shown that they are willing to spend to the limit and are always active at the trade deadline. What separates the Penguins from the rest of the league is that when an injury happens, an it will during this full 82 game schedule, they have other players ready to step in.
This team is just loaded with talent and will yet again be at the top of the standings for the entire year. In goal they have two goalies who could be the starting goalie on virtually every other team in the NHL. If Marc-Andre Fleury goes into a slump the Tomas Vokoun is more than capable of picking up the workload. On defense the are led by the exciting Kris Letang who brings not only a great offense game to the table but also a reliable two game also. Joining Letang is Paul Martin, Matt Niskanen, Brooks Orpik and the recently re-acquired Rob Scuderi. There are no holes on D for the Penguins and with Scuderi coming back it only strengthens an already strong D.
As for forwards, well you must know who they have by now. They somehow are able to afford to keep arguably 2 of the top 3 players on the planet plus have incredibly depth. Sidney Crosby and Evgeni Malkin are joined by; Chris Kunitz, James Neal, Jussi Jokinen, Brandon Sutter, Pascal Dupuis etc this team is down right scary good. This is the obvious bet to make when picking who will win the Metropolitan Division in the 2013-2014 NHL Season. Best odds at Bovada(USA) or Bodog(Canada) or http://www.SportsInteraction.com for everyone else.
Good Bet At Winning The Metropolitan Division
The Washington Capitals remained quiet during the off season but with the team they put on the ice each night there are really no glaring needs for them to address. Alex Ovechkin will have a fantastic year which should come as no surprise. He will be the main attraction for the Olympics this year where his team, Russia, is the host nation. But this team is no one trick pony. Up front they also have Niklas Backstrom, Martin Erat, Troy Brouwer, Joel Ward and the newly acquired Mikhail Grabovski who will fir in perfectly with this team style of play.
On D they are solid and with a healthy season from Mike Green this team will have no problems scoring goals. In Goal they are content with having two youngster battle it out for the starting role and the competition between Braden Holtby and Michal Neuvirth will inspire one another to perform with fear of losing out on playing time.
If Ovechkin can play like the Ovechkin we have come to expect than this team had to be taken seriously but with the Olympics happening this year he would like nothing more than to be the best player in the NHL and the Olympics and push himself above Crosby as the best hockey player on the planet. And its that reason alone that this team has to be considered a strong bet to win the Metropolitan Division. Best odds at Bovada(USA) or Bodog(Canada) or http://www.SportsInteraction.com for everyone else.
Long Shot To Win The Metropolitan Division
There are a few long shots that may win this division this year including the Rangers, the Islanders and the Newly moved Columbus Blue Jackets but the best longshot pick to win the Metropolitan Division is the Philadelphia Flyers. The Flyers have the perfect mix of youngsters and veterans that are needed to contend in todays NHL.
In goal they have Ray Emery, who showed during last years Stanley Cup winning season with the Chicago Blackhawks that he is more than capable to be a starting goalie in the NHL. Behind him is the former Calder winning Steve Mason who was in need of a change of scenary and will get that this year after becoming an afterthought for the Blue Jackets.
On defense this team is still missing Chris Pronger who may have played his last game in the NHL. But for Flyers fans there is no worry as this team has put together one of the strongest D cores in the entire league. Lead by Kimmo Timonen they also feature Braydon Coburn, Nicklas Grossman, one time first round pick Luke Schenn and they signed veteran Mark Streit who, as always no matter what team he is playing for, will rack up points and be a power play specialist.
The youngster/ veteran mix is nowhere more evident then with this teams group of forwards. They have Claude Giroux, the newly signed Vincent Lecavalier, Scott Hartnell, Max Talbot, Jakub Voracek and Wayne Simmonds as the "Veterans" (Giroux, Simmonds and Voracek are all 25 so not even in their prime yet). For the Youngsters they have Luke's brother Brayden Schenn, Sean Couturier, Matt Read and Scott Laughton who all look to have very long and promising NHL careers ahead of them.
If this team can find a way to hit their stride at the right time than they will challenge the Penguins for top spot in the Metropolitan Division and maybe also the Eastern Conference.
Hopefully this helped you in deciding who will win the Metropolitan Division this year and you can go to Bovada(USA) or Bodog(Canada) or http://www.SportsInteraction.com for everyone else, place your bet and cash in on these great odds even before the season begins because once it starts the odds are surely going to drop.
Best America Sportsbooks for NHL
BetNHL.ca » NHL Betting Tips » NHL 2013/2014 Metropolitan Division Winners Betting Tips