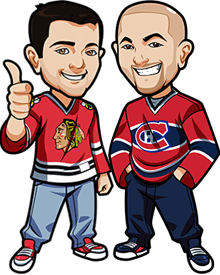 Written by Graeme & Scott on Thursday, September 5th, 2013
Follow @BetNHL
Pacific Division Winner Betting Tips
Its a great time of the year to be a sports fan. Not only is football about to begin but baseball playoffs are about to start and then we have the best spot in the world right around the corner. So once you are done playing the NHL 14 demo what will you do to hold yourself over until the season begins? Well lets jump on some futures bets before the season starts and take advantage of the early odds.
But who is going to win the Pacific Division is the real question and below we will tell you our three picks who we think each have at least a shot at winning the Pacific Division. Head to Bovada sign up then under the hokey betting category choose the Hockey Futures betting option to place your bet.
We will talk about the 3 teams we feel have the best shot to in the division form the best shot, a good shot and a long shot at winning the Pacific.
Here are the odds for each Pacific Division team to win the division this year available at Bovada :
Pacific Division
Los Angeles Kings 2.55
Vancouver Canucks 4.00
Anaheim Ducks 5.50
San Jose Sharks 5.75
Edmonton Oilers 8.00
Phoenix Coyotes 17.00
Calgary Flames 31.00
Best Bet To Win The Pacific Division
The Los Angeles Kings are a stacked team. They have finally addressed their goaltending issue by moving Jonathan Bernier to the Toronto Maple Leafs and in doing so were able to add a legitimate back up goal in Ben Scrivens and a budding young player with tons of upside in Matt Frattin.
This team has superstars at each position starting in net where the have one of the best goalies in the world in Jonathan Quick who is looking to rebound, no pun intended, from a rough playoffs last year.
On defense the have young and still no in his prime Drew Doughty who is one of the best offensive defensemen in the league. He is joined by some tough and reliable veterans in Matt Greene, Robin Regehr and Willie Mitchell.
But up front is where this team really shines. The have a top six of captain Dustin Brown, Anze Kopitar, Jeff Carter, justin Williams, Mike Richards and Frattin. They have some young and tough players rounding out the forwards and this team has no weaknesses and will contend for the Pacific Division title.
As long as Quick can have a fast, ugh again no pun intended, turnaround year and bounce back to the player we have seen in the past than this team will have no problems grabbing first place
Good Bet At Winning The Pacific Division
The time is now for the Vancouver Canucks. This team isn't getting any younger and with them being considered "favourites" year after year, I think that its now or never for them and anything less than a first place finish and we will see many of the teams stars begin to get moved.
They at least fixed their goaltending mess by trading Cory Schneider to the Devils for the first round draft pick allowing Roberto Luongo to reclaim his job as number one goalie back.
And on defense the still have a good deep group with Alex Edler, Dan Hamhuis, Jason Garrison and Kevin Bieksa. This group features players who can do it all from score, Garrison, fight and hit, Bieksa, and have a good complete all around game, Edler.
As always though this team lives and dies by the Sedin twins Henrik and Daniel. As long as they are healthy this team has a shot and will compete for first in the division. And they also need bounce back years from Ryan Kesler and Alec Burrows. As long as all of these things can happen this team will not have problems scoring goals.
I expect an amazing year from Luongo this year as he would love nothing more than to show the world why he should have been the number one goalie in Vancouver all along
Long Shot To Win The Pacific Division
The Edmonton Oilers may finally be able to move out of the leagues basement this year. And its all of the years of doing horrible that have allowed them to stockpile first overall picks that are going to benefit this team for years to come.
The have Taylor Hall, Ryan Nugent-Hopkins, Nail Yakupov, Jordan Eberle, Justin Schultz this list is really just loaded with young and promising talent. But the question comes thought just when are all off these kids going to finally live up to their potential?
This may be the year and the Oilers went out and added so key pieces who will not only help them this year but will help in teaching some of the youngsters and help them take their games to the next level. They brought in David Perron who is he can stay healthy can produce at a 25 – 30 goal pace each year and also brought in hometown boy Andrew Ference who is a great tough player who brings some much needed experience to this young club.
The Oilers will need a solid year from Devin Dubnyk in goal to really challenge for top spot in the Pacific Division this year. He has shown signs of brilliance but consistency has been issue. But he is still young and as with the rest of this team is still capable of doing big things
Once you have figured out who you would like to bet on to win the Pacific Division be sure to head to Bovada and place you bet before he odds change
Follow @BetNHL
BetNHL.ca » NHL Betting Tips »