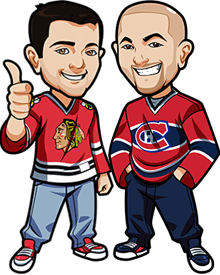 Written by Graeme & Scott on Tuesday, August 6th, 2013
Follow @BetNHL
Odds to win the 2014 Stanley Cup
Hard to believe, but the 2013 -2014 NHL Season starts on Tuesday, October 1st 2013 which is only 2 short months away. So what better way to celebrate that then to start betting on Who Will Win The 2014 Stanley Cup right now. As always Bovada offers bettors the chance to bet early on who they think will take home the cup.
Below we will show you the odds for each team to win the Stanley Cup followed by my 3 picks who have a great shot and 3 teams who are long shots.
To take advantage of this cool betting option head to Bovada and under the hockey betting option these can be found by clicking on Futures.
2014 Stanley Cup Betting Odds
Chicago Blackhawks 7.00
Pittsburgh Penguins 7.50
Boston Bruins 11.00
Los Angeles Kings 13.00
St. Louis Blues 13.00
Detroit Red Wings 17.00
Vancouver Canucks 17.00
San Jose Sharks 19.00
Edmonton Oilers 21.00
Minnesota Wild 21.00
New York Rangers 21.00
Anaheim Ducks 23.00
Montreal Canadiens 26.00
Toronto Maple Leafs 26.00
Washington Capitals 26.00
Philadelphia Flyers 29.00
New York Islanders 34.00
Ottawa Senators 34.00
Carolina Hurricanes 41.00
Colorado Avalanche 41.00
Columbus Blue Jackets 41.00
Dallas Stars 41.00
New Jersey Devils 41.00
Nashville Predators 51.00
Tampa Bay Lightning 51.00
Winnipeg Jets 51.00
Phoenix Coyotes 67.00
Buffalo Sabres 101.00
Calgary Flames 101.00
Florida Panthers 151.00
Our Three Best Bets To Win The 2014 Stanley Cup
Chicago Blackhawks 7.00
It's very rare that a team can repeat as Stanley Cup Champions. But with winning the Cup twice in 4 years the Blackhawks have a great chance to do it. The Blackhawks, yet again, had to lose a few of their key pieces thanks to the salary cap reduction but this time around the pieces leaving were not as important as last time they won the cup. Third line center Dave Bolland, bottom 9 forward Viktor Stalberg and backup goalie Ray Emery have left. But the Hawks went out and signed a familiar face in goalie Nikolai Khabibulin to replace Emery and the Hawks have so much depth that the others that left are easily replaced from within the system.
If any team can repeat in the new NHL it is the Chicago Blackhawks. With the continued improvement of their young core this team has the potential to be scary good. And after the playoffs that Patrick Kane had showing that he has matured and can now be considered one of the best players in the league they are ready and have the pieces to do it.
Pittsburgh Penguins 7.50
Pittsburgh fell apart in the playoffs. For a team that was considered by many to be the odds on favourite to win the cup they were swept in the Eastern Conference finals by the Boston Bruins. Not only did Pittsburgh already have their superstars Crosby and Malkin, they went out and grabbed Jarome Iginla, Brandon Morrow and Jussi Jokinen. But they failed to get the job done.
This year they have decided to keep only Jokinen and move forward with the player who have given the team great success over the last handful of years. But when your top six consists of Crosby, Malkin, Jokinen, James Neal, Chris Kunitz and Pascal Dupuis you are off to a good start. Then when you throw in their already strong defense led by Kris Letang and they fact that they brought in a key member from their 2009 Cup winning team in Rob Scuderi they are set in the back end. Plus have 2 number one goalies in Marc-Andre Fleury and Tomas Vokoun this team is yet again stacked.
Boston Bruins 11.00
This years Boston team will look much different then the squad that lost in the Stanley Cup Finals. Gone promising young star Tyler Seguin, veteran Jaromir Jagr and solid 3rd line center Rich Peverley. But in comes the player they were after at last years trade deadline in Jarome Iginla and they key player they received in the Seguin trade in star Right Winger Loui Eriksson.
This team is strong at each position and the loss of Seguin is a blessing in disguise. They now have arguably the best top 6 in the league an amazing set of defensemen and the incredible Tukka Rask in net. This team has the potential to win it all and how great would it be for Iginla to finally get the cup to cap off his already amazing career.
Our Three Long Shot Bets To Win The 2014 Stanley Cup
Detroit Red Wings 17.00
This team of greybeards still has life left in them. Not only did they show the world that there is life after Lidstrom but they gave the Blackhawks their only real challenge during this years playoffs taking the series to overtime in game 7.
Out of all moves made so far this off season, Daniel Alfredsson leaving Ottawa has to be the biggest. But he will fit right in on this team and will make them that much more dangerous. Then they went out and grabbed on of the best available centers in Stephen Weiss to run their second line. This team has a legitimate shot to take it all and win the cup for the soon to be retired Alfie.
Philadelphia Flyers 29.00
I'm not sure what happened to the Flyers last year but I can tell you that they won't be considered and after thought this year. This team already had some incredible players in Claude Giroux, Wanye Simmonds and Scott Hartnell plus so up and coming stars in Brayden Schenn and Sean Couturier. But they went out and added some truly amazing players in superstar Vincent Lecavalier and strong offensive minded Defensemen Mark Streit.
There only real lose came when they bought out the out of his mind and misunderstood goalie Ilya Bryzgalov. But they went out and plucked Ray Emery from the Hawks and he showed he can still get the job done posting a 17-1 record last year. But if Emery cant stay healthy they have the once great Steve Mason there to help ease the burden.
This team will once again be an Eastern Conference powerhouse.
St. Louis Blues 13.00
The Blues are a great team and one that should be brought up when discussing who will win the 2014 Stanley Cup. They have a two-headed monster in goal with Jaroslav Halak and Brian Elliott. An amazing D with superstars Alex Pieterangelo and Kevin Shattenkirk. Plus their forwards will be better this year with the addition of star center Derek Roy, Uber Pest Maxim Lapierre and the once promising Magnus Paajarvi.
I think a change of scenary for Paajarvi will help him and with him expected top log top 6 minutes he will have every opportunity to do it. This is a great strong squad and one that needs to be considered when betting on the 2014 Stanley Cup winner.
Remember – best place for these is Bovada
Follow @BetNHL
BetNHL.ca » NHL Betting Tips »