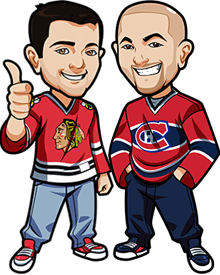 Written by Graeme & Scott on Friday, August 9th, 2013
Follow @BetNHL
Odds to Win the 2014 Western Conference
Think you know who is going to win the 2013-2014 Western Conference? Then head to Bovada and place your bets. The Western Conference will have a very different look this year with the Winnipeg Jets coming in and the Columbus Blue Jackets and the always strong Detroit Red Wings heading East. With the Red Wings leaving this will open the door for other teams to jump up to the top of the Western Conference.
In this article we will list all the teams and their respective odds then go over 3 teams who have a good shot at winning the West and 3 long shots who may not be considered favorites but should be considered when betting on who will win the 2014 Western Conference. To bet on these cool betting option head to Bovada and under the hockey betting option they will be listed under hockey futures.
Chicago Blackhawks 3.50
Los Angeles Kings 7.00
St. Louis Blues 7.00
Vancouver Canucks 9.00
San Jose Sharks 9.50
Minnesota Wild 11.00
Anaheim Ducks 13.00
Edmonton Oilers 13.00
Dallas Stars 19.00
Colorado Avalanche 26.00
Nashville Predators 26.00
Winnipeg Jets 26.00
Phoenix Coyotes 34.00
Calgary Flames 41.00
Safe Bets To Win The 2014 Western Conference
Chicago Blackhawks 3.50
In case you missed it The Chicago Blackhawks are good! They have won the Stanley Cup twice in 4 years and although they did have to part ways with some of the team yet again this time the losses are substantially less important then then they were after the last time they won the cup. They lost backup goalie Ray Emery and replaced in with Nikolai Khabibulin. They also lost 3rd line center and Stanley Cup clinching goal scorer David Bolland and the speedy but unimpressive Viktor Stalberg.
The Blackhawks were able to keep deadline pickups Michal Handzus and Michal Rozsival who were both very important in their success last year. Although losing Bolland hurts this team is deep and will be able to find a replacement from within the organization. The core of this team remains and with the maturation of Patrick Kane and the continued improvement from the surprising Andrew Shaw this team will once again challenge for both the Stanley Cup and the Western Conference title.
Los Angeles Kings 7.00
This team has no glaring weaknesses. They have arguably the best goalie in the world with Jonathan Quick. A very strong a reliable defense led by Drew Doughty. And a very stacked forward core. Jeff Carter, Anze Kopitar, Mike Richards, Dustin Brown the list goes on and on.
Expect the Kings to once again challenge for top spot in the Western Conference. Plus with the team finally moving Jonathan Bernier they were able to address the goalie controversy once and for all and in doing so acquired so help in promising young winger Matt Frattin.
St. Louis Blues 7.00
Last year the Blues were strong and were considered a good choice to win last years Western Conference. So instead of just hoping for another stong year from the same team as last years, they went out and grabbed some incredible players to only strengthen this already stong team.
The added Magnus Paajarvi who has lots of potential but as never going to have a legitimate shot on a Oilers team who already had too many young stars in training. They also went out and signed one of the best available centers in Derek Roy who will take a lot of the burden off of the first line. They also went and got the most annoying player on the planet in Maxim Lapierre. This team has virtually no weak spots so look for them to be in the running for Western Conference supremacy.
Long Shots To Win The 2014 Western Conference
Vancouver Canucks 9.00
The Canucks are running out of time. This team has always been considered one of the best teams in the league and this year may be the last time we can truly say that. At least the fixed the goalie problem and have handed over the reigns to proven star Roberto Luongo.
Luongo wants to prove the NHL wrong when everyone thought he was done with being a superstar goalie in the league. I expect Luongo to not only challenge for the Vezina but to start for team Canada in the Olympics. A strong year from Louie and another amazing year from the Sedins may push this team back into the conversation of who will win the 2014 Western Conference.
Edmonton Oilers 13.00
It is now or never for the Edmonton Oilers. They have so many first overall picks that its about time for them to start showing the world that they were drafted there for a reason. Taylor Hall, Ryan Nugent-Hopkins and Nail Yakupov should be able to help carry this team to the top throw in Sam Gagner and Jordan Eberle this team could challenge for top spot in the WEst for years to come. Plus another strong year from sophomore Justin Schultz can only help.
They went out and grabbed local boy Andrew Ferrence to strengthen the already strong D. They also added David Perron who, if he can stay healthy, can put up points. This team will be a contender but the only question is when it will happen.
Dallas Stars 19.00
This team will very different than last years team. They lost team captain Brenden Morrow at last years trade deadline and so far have moved Loui Eriksson in the off season. But they were able to bring in some strong replacements. Sergei Gonchar brings some veteran leadership to a young squad and strong 3rd line center Shawn Horcoff will be a great two-way player. Dan Ellis is a great choice for this teams back up goalie job.
The biggest move this team made was bringing in Tyler Seguin. Seguin would have had to continue to wait to be the Bruins first line center but comes to the Stars with that role handed to him. It will be interesting to see how he embraces that role and with the ice time he will be getting I expect him to jump to the top of the league in points and goal scoring.
Remember – bet these at Bovada.
Follow @BetNHL
BetNHL.ca » NHL Betting Tips »