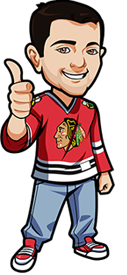 Written by Scott on Friday, September 12th, 2014
Follow @BetNHL
Ok so now that hockey is just around the corner we need to start making some pre-preseason bets.
Bovada always has the hook up and now they have all 30 teams listed with an over/under number for how many points they will have at the end of the season.
You can find these bets under NHL Futures. You will want to act fast as the odds will change the closer we get to the start of the season.
In the last article we covered the 5 teams we thought would go over their points total that Bovada had for them. In this article we will go over some teams who we think will come in under their number.
In no particular order here are the 5 teams we think will come in UNDER their point lines
San Jose Sharks 102.5
This is a case of a team who has done well in the regular season but just can't make any noise during the playoffs.
They have all the star power but just can't seem to get it done.
Now the Sharks have stripped Joe Thornton of his C and Patty Marleau of his A, this team is clearly preparing for life without the dynamic duo. Sure Logan Couture and Joe Pavelski will fill their shoes one day but you have to think that Thornton and Marleau will be moving on.
The Sharks hit 111 points last year and I predict a big drop in points
Bet the San Jose Sharks UNDER 102.5 at Bovada
Los Angeles Kings 106.5
The Kings are the best team in the NHL, are the defending Stanley Cup Champions and have won the Cup twice in 4 years
But as we all know they like to play it safe during the regular season like they did last year. They limped into the playoffs with the 6th seed and then went onto destroy every team they faced on route to capturing the franchise second Cup.
The Kings will make the playoffs they are so deep on forward in makes all other teams jealous. Anze Kopitar, Marian Gaborik, Justin Williams, Jeff Carter, Mike Richards, Drew Doughty the list goes on and on.
But I don't see them hitting 106.5 points as they will suffer from the dreaded Stanley Cup hangover
Bet the LA Kings UNDER 106.5 points
Calgary Flames
Wow where do we start with this team? They're clearly in a full on rebuild now that the face of the franchise, Jarome Iginla, has moved on.
They are relying far to much on their rookies and second year players to carry them.
They have a goalie in Jonas Hiller but that's about it. In a couple years though this team could be scary as they are quietly drafting some quality players but not this year or next even
Bet the Calgary Flames UNDER 71.5 points at Bovada
Buffalo Sabres 65.5
Another team you got worse in the off season.
The have Cody Hodgson and Matt Moulson for the little offense they will produce this year but bringing in Brian Gionta was a head scratcher.
They did get better defensively though by singing Josh Georges and Andre Meszaros who will join the giant Tyler Myers.
Also they have Michal Neuvirth in goal but he sure isn't anywhere close to the quality of their former mainstay in nets, Ryan Miller. This team has their worm cut out for them for the foreseeable future
Buffalo Sabres UNDER 65.5 at Bovada
New York Rangers 95.5
On paper this team looks legit. But on the ice the look completely different.
First they will make the playoffs but like last year just barely. Anytime you have the best goalie in the world you are going to make the playoffs. But can King Henrik play forward also?
They have Rick Nash who disappeared in the playoffs, Marty St. Louis who is going to start to slow down now that he is 39 years young, then their big offseason signing was the 38 year old dman Dan Boyle. Their number one center is the unproven Derek Stepen. Lots of question marks for this club.
They limped out of the gate at the start of last year and I expect much of the same this year. Unless they get overachieving seasons from Stepan, Mats Zuccarello and Chris Kreider this team will have trouble hitting 90 points.
Bet the New York Rangers UNDER 95.5 points at Bovada
Follow @BetNHL
BetNHL.ca » NHL Betting Tips »