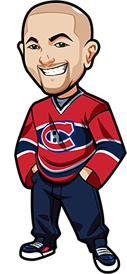 Written by Graeme on Saturday, April 19th, 2014
Follow @BetNHL
Quite the night yesterday. We got a push with the Habs/Lightning game as Montreal picked up their 2nd win in the series defeating the Lightning 4-1 on the road. With 2 games at home now, it's looking very likely the Canadiens will sweep the series. They looked just amazing last night, completely in control.
We lost the Bruins in regulation bet as the Red Wings caused the big upset, defeating them 1-0. Still a bet I would do time and time again though – when the team are Stanley Cup favourites, have been as hot as the Bruins are and are looking so strong – 1.83 in regulation was a gift, and one that just didn't work out.
In the other game, the Dallas Stars fought well against the Ducks but couldn't pick up the win, with Anaheim winning 3-2.
Today, we have 3 games on the board and I will get to that in a minute.
First I want to congratulate BetNHL reader Vince M. We've been recommending Fanduel Daily Fantasy Sports for the past couple of weeks. Vince sent us an e-mail to let us know that he isn't a big NHL fan and blindly follows our NHL Tips. However he IS a massive MLB fan and when he saw FanDuel offered MLB as well, he decided to sign up.
Well he's only been entering for a couple of days, but he sent us an e-mail ye4sterday letting us know on Thursday he won SIX different MLB tournaments on the exact same day. Here's the screenshot:
Amazing. Great job Vin. Me and Scott are still treading water with the Fantasy Hockey. We've got a few wins and are about -10 units at the moment. So be sure to check out Fanduel Daily Fantasy Sports.
NEXT – I want to recommend an exclusive promotion we set up exclusively for Canadians It's a $20 NHL Playoffs Money Back Special over at Sports Interaction. You get 1 $20 Guaranteed Bet on your first moneyline bet – if you lose, you get the $20 back. So head on over to Sports Interaction for that.
Okay – April 19th, 2014 time to get to the NHL Betting Tips:
Avs vs Wild: Avs in Regulation
I've said it before – I love the Avs for the Playoffs. In all my Playoff pools I've went with Avs and Bruins players for the most part. I think after the result in Game 1, they'll be coming into this one with a lot of confidence.
I'm going with Avs in regulation at 2.10 odds.
Blackhawks vs Blues: Blackhawks to Win
Have to go with the Hawks to bounce back. Massive game for them, and they almost had the game against the Blues wrapped up. They're slight favourites at 1.86 odds and going with that.
Playoff Player Prop: Pominville: Over 3 shots
Wild are using Pominville a lot and he had 6 shots in Game 1. We like him to have a few more shots on goal today and going with over 3 shots.
You can bet all player props at Carbon Sports and we will be doing one every day.
Follow @BetNHL
BetNHL.ca » NHL Betting Tips »