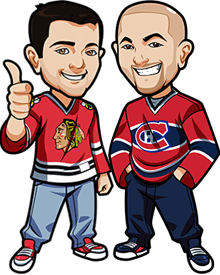 Written by Graeme & Scott on Friday, June 28th, 2013
Follow @BetNHL
If you missed part 1 or part 2 in our NHL Draft 2013 Betting Tips series, you can read them here: Part 1, Part 2.
Draft Props Part 3
And to finish off the recently released NHL Draft related betting props at Bovada we will go over how many players will be drafted at each position. Again this is an Over /Under bet and you are betting on if there ill be more or less players at each position then the number listed. These betting props are available at Bovada under the NHL Draft – Draft Props menu located on the main screen.
How many Forwards will be drafted in the 1st Round?
Over 19: 1.83
Under 19: 1.83
This draft features many strong forwards available. But with there only being 30 teams, so 30 picks will be made in the fist round, 19 forwards mean that will 2/3s of the picks in the first round be used on forwards? Well at the top of the board, with the exception of Seth Jones, there are plenty of forwards who will be taken. But once we get through the top ten there is expected to be a good number of defensemen selected scattered from the 10th pick up until the 30th.
There is a chance that there will be 19 forwards taken but to win this bet we will need 20 or more chosen. I would bet that this betting prop will stay under 19 at Bovada
How many Defensemen will be drafted in the 1st Round?
Over 10: 1.83
Under 10: 1.83
This year there is a good number of defensemen who will be drafted in the first round. Seth Jones will be the first defensemen taken in the top three picks. Darnell Nurse will go in the top ten.
So now we are left with there needing to be another 8 drafted in the remaining 20 rounds, so just under half of the remaining players. I think there will be more than 10 defensemen taken in the first round of this years NHL Draft so bet this prop at Bovada
How many Goaltenders will be drafted in the 1st Round?
Over 1: 2.00
Under 1: 1.71
There has really only been one goalie mentioned to go in the first round and that' s MacKinnon and Drouin's teammate in Halifax Zachary Fucale. I have seen him go as low as 22 in some mock drafts but as high as a top 10 pick in others. But the one certain we keep seeing is that he WILL be drafted in the first round.
So by betting Over on this prop at ** we are almost guaranteed to at least get our money back. Teams like to go off the board and surprise people with their picks and all we will need to win is to have one team select another goalie besides Fucale. Safe bet and one I am defiantly making at Bovada
Who Will be Drafted First?
Max Domi (London): 1.71
Bo Horvat (London): 2.00
Had this betting prop been available to make a couple months ago I would have jumped all over Bo Horvat going ahead of Max Domi as some mocks had him going in the top ten. But things have changed. Max Domi had a great year with 87 points in 64 games including 39 goals. Horvat is also a great player with a bright future in the NHL. Hes 6′ 200 pounds and put up respectable numbers: 61 points in 67 games with 33 goals.
I would love to see Domi go to the Maple Leafs, where his dad Tie is a legend, but he will be taken before they take their first selection. Domi will be taken before Horvat and don't be surprised if its by the Jets where his father also played and made a name for himself. Bet that Max Domi will be taken before Bo Horvat at Bovada
Who Will be Drafted First?
Anthony Mantha (Val-d'Or): 1.83
Valentin Zykov (Baie-Comeau): 1.83
This should be one of the easiest bets to make out of this years NHL Draft related betting props. In virtually all Mock Drafts I have looked at ,Anthony Mantha always goes ahead of Valentin Zykov and for good reason.
Zykov put up great numbers 75 points in 67 including 40 goals in the QMJHL this year and has an NHL ready body at 6′ 207 pounds.
But Mantha had numbers that looked like this: 89 points in 67 games and was the only player in QMJHL to reach 50 goals. Plus hes 6'4, 187 pounds so he will fill out once he is drafted
Bet that Anthony Mantha will be taken first at Bovada in what should be a sure thing bet.
Follow @BetNHL
BetNHL.ca » NHL Betting Tips »