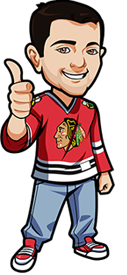 Written by Scott on Tuesday, September 26th, 2017
Follow @BetNHL
Futures bets are always fun to make although not recommended for any serious betting. However they can be good for something to cheer on throughout the season.
We're always looking at the props available prior to the season, discussing them and putting down some small wagers.
One of our favourites is "What Teams To Make the Playoffs" where you can bet whether or not a team will make the playoffs. It gets us interested in a team over the course of a season – whether we're booing them or cheering them.
This bet is available to make at:
USA: Bovada
Everywhere Else: Bet365 (Americans: We recommend http://www.bovada.lv. In "Hockey", at the bottom under NHL Futures.
Heres a few recommendations all written by myself:
Buffalo Sabres:
If the Sabres can stay healthy for a change than they have the offensive firepower to do some damage this year.
A full year from Eichel is going to be huge for their success.  Plus they have so big talent in their top 6 Where Eichel is joined by O'Reilly, Kane and Okposo. I think this is the year Eichel becomes a superstar.  He has the talent and players around him.
And Lehner has the potential to go from a good goalie to a great one.
I think the Sabres have all the right pieces and as long as they stay somewhat healthy they  Will Make The Playoffs  for 5.50 odds
USA: Bovada
Everywhere Else: Bet365 (Americans: We recommend http://www.bovada.lv
New York Islanders
I'm not sure what happened to the Isles.  They were once an young team with amazing young talent and destined for a bright future. 
They still have Tavares and he has something to prove this year as he is playing for a new contract.  If it's with the Islanders remains to be seen.
They also went out and acquired Jordan Eberle who is a good friend of Tavares' from their world junior days where they had success.
I like the Islanders to make the playoffs for 3.25 odds.
USA: Bovada
Everywhere Else: Bet365 (Americans: We recommend http://www.bovada.lv
Ottawa Senators
Last year the Sens surprised everyone making the playoffs and taking the eventual Stanley Cup champion Penguins to 7 games.
This year they won't be surprising anyone but I think they still have the talent to make the playoffs.
A bounce back to form for Bobby Ryan is going to help.  He was amazing in the playoffs and if he can translate that to the way he used to play during the regular season is going to help take some of the offensive pressure off of Stone, Turris and Hoffman.
Plus they still have Erik Karlsson.  He is a game changer and arguably the best defensemen in the world.
I like the Sens to Make The Playoffs for 2.62 odds
USA: Bovada
Everywhere Else: Bet365 (Americans: We recommend http://www.bovada.lv
Boston Bruins
The Bruins didn't add anyone of significance during the off-season.  Sure they still have Marchand and Bergeron but after then the talent at forward goes away.  Pastrnak had a strong first season so who knows how he follows that up.
Their biggest weakness is in D.  Chara is 40 and he best days are long behind him.  McAvoy has big potential as does Brandon Carlo but you can't expect much success with two players so young and inexperienced.  Rask has seen his numbers get worse year after year and with that defense in front if him I can't see that changing
Bet that the Bruins will Miss the playoffs for 2.10 betting odds
USA: Bovada
Everywhere Else: Bet365 (Americans: We recommend http://www.bovada.lv
Calgary Flames
I really hope I'm wrong here but I can't see the Flames making the playoffs this season.
The went and added 2 new goalies in Mike Smith and Eddie Lack with Smith being the starter.  Smith has a history of injuries and he's now 35 and he won't bounce back from injuries as fast as he once did. He has missed time for two straight years.  Lack has never been a full time starter so when Smith goes down is Lack good enough to carry this team to the postseason?  I don't see it.
Gaudreau and Monahan are amazing young players as is Tkachuk but with them being so young can we count on them to be enough to push the Flames into the playoffs?
They have a strong D and adding Hamonic only strengthened an already strong D.  But it's their goaltending that will be the undoing of this club.
Bet that the Flames will Miss the playoffs for 2.10 odds
USA: Bovada
Everywhere Else: Bet365 (Americans: We recommend http://www.bovada.lv
Los Angeles Kings
This team will need many things to go exactly right for them to get back to being a playoff team.
Their defense features only 3 players with any real experience.  Doughty is a freak and one of the best at the position in the league.  But 3 of their top 6 have almost no experience playing in the NHL.
Carter and Toffoli are their go to players for offense but after them where will they get points from?  Kopitar had a down year last year and will need a major bounce back to help this team.  Cammalleri will add some goals but not enough by himself.  A healthy Quick will go a long way for then too.
The Kings are a team that will need to go the whole year without any injuries to key players to get back to the playoffs but with this teams age I can't see that happening.
Bet the Kings to Miss the playoffs for 2.25 betting odds
USA: Bovada
Everywhere Else: Bet365 (Americans: We recommend http://www.bovada.lv
Follow @BetNHL
BetNHL.ca » NHL Betting Tips »