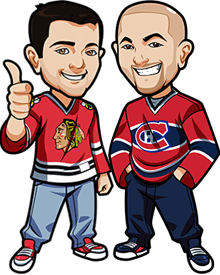 Written by Graeme & Scott on Saturday, August 11th, 2018
Follow @BetNHL
The Rocket Richard Trophy is given to the player who leads the league in goals during the regular season.  Ovechkin won the trophy last year after he scored 49 times. 
Sports Interaction has a list of players available where you can bet on who you think will win the trophy.
Note that Sports Interaction is only for Canadians and are the only sportsbook with Rocket Richard odds at the moment. We'll update this post when more sportsbooks offer odds.
We will show you the list of the top ten players and their odds,  talk about the top 5 and discuss who we think has the best shot at winning it
Top Ten Players To Win The Rocket Richard Trophy
Alexander Ovechkin – 5.75
Conner McDavid – 9.00
Patrik Laine – 9.00
Tyler Seguin – 11.00
Sidney Crosby – 13.00
Evgeni Malkin – 15.00
Vladimir Tarasenko – 15.00
Auston Matthews – 16.00
Nikita Kucherov – 17.00
Nathan MacKinnon – 17.00
For the complete list head to Sports Interaction
Top 5 Breakdown
Alexander Ovechkin
Really who else would be the odds on favorite to win the Rocket?  He has won it 7 times including 4 years in a row.  He is one of the best goal scorers the league has ever seen.  Now with him finally getting his cup will he go out and continue to do what he has done best? I think so
Conner McDavid
Has been in the league for three years and his point and goal totals have gotten better each year.  Last year he was only 8 away from Ovechkin who won the trophy.  The Oilers are going to need him to have a monster year this year and I see him one day hitting 50 goals.
Patrik Laine
2 years in the league and already has scored 80 times.  He hit 44 last year and with him and the Jets getting better I only see him challenging for the Rocket for the foreseable future.  This kid is the real deal.  He reminds me of a young Ovechkin.
Tyler Seguin
He had his highest goal total last season hitting 40. Hes only 26 so still in his prime.  He and linemate Jamie Benn have incredible chemistry.  Not sure he will win the Rocket but he does have the skills needed.
Sidney Crosby
He has won the Rocket Richard trophy twice already in his career to go along with all or the other trophies Sid has won, and there are lots.  At this point in his career I view him as more of a setup man, he only scored 29 last year to go with his 60 assists.  But in saying that he still has the talent to score a pile of goals.
Great Chance At Winning
Auston Matthews
You may have heard, the Maple Leafs grabbed the biggest fish during this off season, maybe ever, when they signed John Tavares.  Tavares is going to draw some of the shutdown lines that Matthews faced all season long.  With him having more freedom I expect his goal totals to climb.  He played in 62 games last season and still managed to score 34 times.  A healthy Matthews could easily break 50
And if a player you like isnt in the top 10 he will still be listed so head to Sports Interaction for the complete list of players and their odds to win the Rocket Richard Trophy.
Follow @BetNHL
BetNHL.ca » NHL Betting Tips »