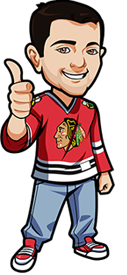 Fantasy Hockey Pool Tips: Centers
Easily the deepest position in the NHL. There are so many talented players here that no matter who you get there is a great shot that they will be getting you lots of points.
Below we will go over the top ten plus a few sleeper picks to keep an eye out for.
Top 5 Centers
Sidney Crosby- Pittsburgh Penguins– Easily the best player in the world. If he can stay healthy for the whole year he will surely pass 100 points and could end up as high as the 120-130 range.
Steven Stamkos – Tampa Bay Lightning– Depending on how your pool scores points he could pass Crosby for top spot. If they value goals more than assists then he should be your top pick He wont put up as many points as Sid, but he will score more goals and shouldn't have a problem going over 50
Evgeni Malkin – Pittsburgh Penguins– Has shown over the years that he is more than capable of leading the Penguins when Crosby goes down
Claude Giroux – Philadelphia Flyers– After a down year, and last year was just a terrible year for the Philadelphia Flyers, Giroux will be back to his usual self and put up some great numbers
John Tavares – New York Islanders– He has continued to get better year after year and that trend will also continue this year. This will be the year he goes from good player to great player
5-10 Centers
Pavel Datsyuk – Detroit Red Wings– As always Datsyuk shows no signs of slowing down with age. One of the best all around players to ever play the game. He will be his usual self if not better now the Detroit has moved to the weaker Eastern Conference
Anze Kopitar – Los Angles Kings– The Kings are as deep a team as any in the league. They are led by Kopitar and this year will be no different
Jonathan Toews – Chicago Blackhawks– In my opinion the best all around player on the planet. He may not put up a many points as the Crosbys and Stamkos' of the world but what he does best doesn't show up on the stats sheet
Henrik Sedin – Vancouver Canucks– The Canucks are running out of time. This could be the last year that the Canucks are a strong team as management and fans are running out of patience with playoff failures. He and his twin will do whatever it takes to get them to the playoffs.
Eric Stall – Carolina Hurricanes– The Hurricanes top line of Jiri Tlusty, Stall and Alex Semin played great together and expect more of the same this year. On paper this team is stacked now its just a matter of putting it all together and that starts with Stall
Sleeper Picks
Tyler Seguin – Dallas Stars– Finally gets his long awaited shot at being a number 1 center in Dallas. He was a long way away from it in Boston. The points will be there. He has Jamie Benn and Eric Cole on his wings
Stephen Weiss – Florida Panthers– Is slotted to be the Red Wings number 2 center. He put up decent points on the Panthers and now comes to a Detroit team loaded with talented forwards. This could be a career year for him
Ryan Nugent-Hopkins – Edmonton Oilers Surrounded by up and coming talent is this finally the year that all these youngster click and take the next step in their young careers?
Derek Roy – St Louis Blues– Has slowed down in terms of being productive but comes to the strong Blues club as the number 2 center
Mike Ribeiro – Phoenix Coyotes Goes from being on the second line in Washington to the first line in Phoenix. Put up good numbers during last years strike shortened season and will only improve this year
Best America Sportsbooks for NHL
BetNHL.ca » Blog » 2013 NHL Fantasy Hockey Pool Tips: Centers