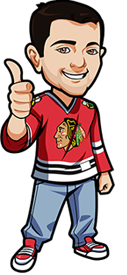 Follow @BetNHL
Fantasy Hockey Pool Tips: Left Wingers
There are some really good players at Left Wing but the talent level drops off once you get through the first round or 2. Who you select at this position can make or break your team. Below we will go over the top 10 left wingers plus 5 sleepers to watch out for when completing your roster
Top 5 Left Wingers
Daniel Sedin -Vancouver Canucks– As always he will be riding shotgun with his twin brother and like usual he will be the one scoring all the goals for the Canucks. With a rebuild in the not to distant future for the Canucks this could be the year the Nucks go from playoff disappointment to success story
Bobby Ryan – Ottawa Senators– Finally out from the shadows of his former Ducks teammates Ryan Getzlaf and Corey Perry,. Ryan will be counted on to ease the loss of lifelong Senator Daniel Alfredsson. Ryan has shown he has no problems scoring goals and with Jason Spezza this could be a dangerous line
Tomas Vanek – Buffalo Sabres – Consistent. Vanek will put up points. Last year he went on a tear to start the year. He will be counted on to do the same thing this year and he won't disappoint
Henrik Zetterberg – Detroit Red Wings – Another player who has zero problems producing points. The addition of Daniel Alfredsson to an already strong Detroit team will only help Zetterberg in the points department
Zach Parise – Minnesota Wild – Is looking to have a bounce back year. The Minnesota Wild had some success last year but were bounced from the playoffs in the first round. With a full year and all of the new players from last year better acquainted with each other look for Parise to be back around the 90 point mark
5-10 Left Wingers
Taylor Hall – Edmonton Oilers – On the verge of being a superstar in the NHL is this the year he takes that step? He has a shot at making team Canadas Olympic team this year so he will be going hard
Milan Lucic – Boston Bruins – Big and Mean! If your pool counts hits, fights won and penalty minutes than this is your guy. He is capable of putting up major points
Patrick Sharp – Chicago Blackhawks – Often forgotten about when talking about the top Blackhawk players, Sharp can score, put up points and can also play center. He is good for around 30 goals
Chris Kunitz / Jussi Jokinen -Pittsburgh Penguins – We put both here as one or the other will be playing with either Sidney Crosby or Evgeni Malkin. Both of these players will get lots of points just by being on either of those two players lines
Jamie Benn – Dallas Stars– Moving back to his natural position, Benn can now go back to what got him to the NHL in the first place. He has the potential to put up big points with Tyler Seguin this year
Sleeper Left Wingers
Jakob Silfverberg – Anaheim Ducks– The Key piece in the Bobby Ryan trade. Silfverberg will go from relatively unknown to playing on the Ducks first line with Ryan Getzlaf and Corey Perry. If there is chemistry there then the points will pile up for him
Matt Moulson – New York Islanders– the Chemistry he and John Tavares have is incredible. Good for about 30 goals and 60 points at least
Joffrey Lupul – Toronto Maple Leafs– If he can stay healthy he will put up good numbers especially with the additions Toronto added this off season
Jeff Skinner – Carolina Hurricanes– Another Player capable of big numbers s long as he can stay healthy. Has tons of potential. Is this his year?
Mike Cammalleri – Calgary Flames – The rebuilding Flames are hurting for talented players. Cammalleri can still put up points and will be counted on to do so .
Follow @BetNHL
BetNHL.ca » Blog »