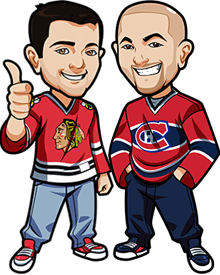 Follow @BetNHL
Hi everyone,
Scott & Graeme here. The NHL 2013/2014 season is almost upon us. Just a couple more weeks and we're in business.
October 1st, 2013 is the date with both our teams in action that night – the Habs hosting the Leafs, and the Blackhawks hosting the Redskins.
We wanted to send out a brief note to talk about the future of BetNHL.ca. We launched the site at the beginning of the 2013 season for the short NHL season, and we just wanted to cover a few things.
Covered in this article:
Last Season
Tips Are Our Forte
Expansion of the Site
Mexico
Where To BetNHL
Bonus To Take Advantage Of
Last Season:
We had an excellent debut season for our public betting tips, winning over 50 units assuming flat betting. So if you bet $100 per tip we provided, you would've made over $5k which is pretty damn nice. A lot higher than was expected and we had some crazy run-good, but hey we aren't complaining.
Tips will continue to be free. We had a few people ask if we were going to start charging for tips – OH HELL NO. Tips will continue to be free for the entire NHL 2013/2014 season, including the playoffs.
Tips Are Our Forte:
The NHL Daily Tips will continue to be the priority for the 2013/2014 season. Just like last season, we will do exactly 3 betting tips per day. We found that was the magic number to really help us when coming up with tips. It limits us and forces us to really argue over which 3 to choose, while also encouraging us to look at ALL potential bets. It also allows for a decent payoff if you're looking to do a treble or accumulator every night.
In saying that…
Expansion of the Site:
We were both incredibly surprised with how well things went last season. Not just with the tips – but the amount of traffic. We were getting over a thousand unique people per day from all over the world checking out BetNHL, and we formed a nice community of people who follow us on Facebook, Twitter and the mailing list.
So we are going to be expanding the content on the site slightly, as well as doing a new design. We're not going to try and be the hockey news central or anything like that – hell no. But we'd like to cover some new betting options as well as write some fun stuff.
So over the next couple of weeks we'll be implementing a new design, and adding some new content. For example – we love everything hockey. So we'll start doing reviews of video games, of hockey books or biographies etc – if it's hockey, we'll cover it basically.
We'll also be looking at covering tips outside of the NHL. For example, we're both big fans of the OHL(Ontario Hockey League) and attend the majority of Kingston Frontenacs games. So we'll be looking at providing a few tips here and there on the OHL. We'll also be providing tips on the Olympics as well.
Don't worry – as mentioned above, tips are our forte but we've had a blast running the site so far and really want to expand our audience and add some content that you guys will like.
Mexico:
During the opening couple of weeks of the NHL season, both of us will be enjoying it in sunny Mexico, staying at an all-inclusive resort.
Despite that, we still plan on doing tips every day. There MAY be a day that we miss here and there but we just wanted to give you a quick heads-up about that.
We also want to apologize in advance. While you're all sitting reading the tips in cold Fall weather, we'll be SURE to attach pictures of both of us relaxing in Mexico, drinking free beer and going over our tips while chilling on the beach.
So yeah, please don't hate us too much for that!
Where To Bet NHL:
For the upcoming season, we recommend the following:
Americans: Without a doubt, Bovada is your best bet. They are #1 for hockey for Americans, with great bonuses and prop bets etc.
Canadians: We've started doing a lot of our betting at Sports Interaction and we'd recommend them. They are Canadian, and run a ton of Canadian exclusive promotions. We did most of our betting at B365 last year, but for Canadians SI do an amazing job.
Everyone Else: Without a doubt, Bet365 (Americans: We recommend http://www.bovada.lv.
Bonus To Take Advantage Of:
Sports Interaction USUALLY have a 100% match bonus to $125. However for the football season, they are currently running a 100% to $200 bonus. We're not sure how long this will last but we confirmed you CAN use it on the hockey season. So before it runs out, for anyone who is NOT an American – head on over to Sports Interaction and deposit $200 for a free $200.
That's it everyone – we'll continue to update the site with futures and props and we'll see you October 1st for the first NHL tips of the season.
Scott & Graeme
Follow @BetNHL
BetNHL.ca » Blog »