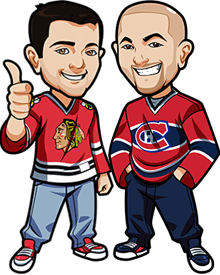 Follow @BetNHL
Man oh man – where does the time go?
Usually at the end of the NHL season we do a general season recap post. Talk about the season that was and talk about what to expect from us during the Summer.
And we planned to do that – it's been on our to do list sitting there prominently every single day.
Yet here we are over one month later and we're just now getting to it!
Sorry about that.
It's been a busy Summer for us. As the NHL season was wrapping up for example, the CFL season was just starting. So that meant we had to turn our attention to our CFL Betting Tips website.
So far it's been an interesting season. Graeme started off just great by going 0-4. Backed all the favourites and they all lost. Great job there.
However we've turned it around since then with two 3-1 weeks and are hoping to keep on going. So if you're looking for betting action over the Summer, check out BetCFL.net.
We're already counting the days to the new NHL season and trying to take in all the news, rumours and trades. We'll be back with the daily NHL Betting Tips in October of course, where we hope to have a SIXTH winning season in a row.
Last season was an amazing season from a betting perspective. We started off with a whopping 4 losing months in a row and were into double units with the losses. Honestly we had given up hope of having a proftable season. It happens and we can accept it but it still sucks.
Then we had an amazing February and March to turn it around.
Thanks to everyone who sticks with us. It felt great to be able to turn that around. And thanks to everyone who comments with their own tips and analysis each day – it's great to be able to read all of that and we love this community.
So – what about during the NHL off season?
Well first of all there'll be a lot of work behind the scenes. We did a bunch of maintenance during the season and we have a lot of plans like a much better live odds displayer, a complete overhaul of various sections such as the review section etc. We'd also like to set up comprehensive tracking of all of our betting tips etc to make it more user friendly.
We'll also be doing weekly articles on the site leading up to the start of the NHL season. Some of it will just be information that some will find useful such as NHL Schedules month by month by timezone. We might do simulations in NHL 17 such as simulating the new Vegas team and seeing how they'll do(our guess: not very well). A look back at the season that was and all of the notable moments etc.
We're also checking the sportsbooks daily looking for prop bets and if we find something good we'll tip it and make a post on here.
Speaking of – this ones for Canadians only:
2017/2017 Regular Season Player Props:
These are only available at Sports Interaction under Hockey->NHL Props. The odds for them aren't great in regard to locking your money up for a year – I mean at best you get a 100% return so it's your call if you want to lock your money up for that long or not.
Ales Hemsky Over/Under Games:
So on this one you can bet Over/Under 60.5 games for how many Hemsky will actually play.
His last 3 seasons with the Stars were going backwards – 15 games, 75 games, 76 games.
Essentially what you're betting on is will Hemsky get injured. Simple as that. Habs aren't the most injury prone team – even though they do seem to be at times – but they do get their fair share of injuries. They had 15 players play over 60 games last season.
I'd personally take the Under. Honestly there's no real statistical analysis on it – I just think he's a year older and will be more injury prone. Could also be a case of him just not working out for the Habs. I hope I'm wrong. Not one we're really recommending though.
Drouin vs Radulov Most Points:
You can bet on who will get the most points over the season between the two and we're going with Radulov. Drouin won't have the same caliber of linemates as he did in Tampa and the Habs don't even seem sure where he's going to be play yet – with the talent they have on the left it'll probably either be center or on the right. Either way will be a big adjustment period.
Radulov gets to play with Benn and Seguin, two of the best players in the league. We expect Radulov to put up the best numbers of his career honestly – he's never played with as many talented players on one team. They've also added Bishop, Methot and Hanzal and we expect a big performance from the Stars this year.
Deeper team and better players – we're taking Radulov to get more points.
Only available for Canadians at Sports Interaction .
Anyway that's about it for us. We're looking at adding KHL to our OHL / AHL / WHL betting tips and really expanding. However that won't take away from the NHL – that'll be just a computerized betting system making those predictions. NHL is still our forte.
Have a great Summer and if there's any topics you'd like us to talk about just let us know!
Follow @BetNHL
BetNHL.ca » Blog » 2016/2017 End of Season Recap / Summer Plans