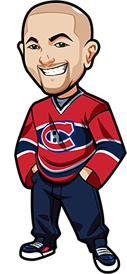 Follow @BetNHL
Hey guys,
Hope everyone is having a great Summer. We had a lot of fun watching the World Cup, and we both went to Las Vegas together which was also an awesome time. Sadly we were one week too late for the NHL awards which would have been sick – but we still had an excellent time, regardless.
Of course now the World Cup is over, our minds are starting to get onto hockey again. We've got a lot of fun stuff to come over the Summer, as we try and kill time until the season kicks off.
One thing we picked up at the end of last season was Daily Fantasy Hockey. For those unaware this is like fantasy hockey – except it's daily, as opposed to spread out over a whole season. This is a LOT of fun, and really adds to the games.
We've tried a few places, but the one we like most is FanDuel.
Now neither of us are experts by any means at it – but we managed to get the hang of things near the end of the season. We started off with $100, whittled it all the way down to $53 and then by the end of the season managed to get it up to $93.96. We're ready to make a big deposit next season, and start playing much bigger entry fee tournaments with confidence.
We wanted to share same of the tips we learned from last season with you – and recommend that next season, you be sure to sign up at FanDuel where we will hopefully be able to do some sort of freeroll or something.
(Note: This is Graemes tips. On some things, me and Scott disagree but we'll both be writing separate articles over the Summer providing daily fantasy hockey strategy and tips like this):
1: Goalies: More Than Meets The Eye
The goalie position is one of the most important positions when it comes to Daily Fantasy Hockey. However there is a lot more to that position than meets the eye.
At FanDuel goalies get 3pts for a win, -1pt for a goal against, 0.2 points for a save and 2pts for a shutout. The 0.2pts for a save is the key one. It takes just 5 saves to neutralize the goals against. Then just 10 saves to equal a shutout. So while a shutout would be great, you're essentially looking for a goalie who will be forced to make a lot of saves.
2: Defense Is A Crapshoot
That's not quite true – but it's close to it. Looking through the 60 or so daily fantasy tournaments we entered, it was rare where a defender actually mattered. Sure sometimes the combined 8pts from Chara/Krug helped us bump up a tier – but when many offensive players can get that amount of points by themselves – it doesn't matter as much.
This is in part due to the fact that defenders are scored the exact same way as the forwards, and goals against or shutouts or even wins don't factor in for them point wise. Basically – pick your defenders last.
3: Treat it Like Betting
Don't just pick players willy nilly – treat it like betting. You're essentially gambling on specific games.
For example – look through all of the games that day. Maybe the Senators vs the Leafs are playing, and the over/under on that one is set at 6 goals. You're quite confident that the game will go over 6 goals – so that's where you plan accordingly. You start looking at the offenses and the lines set for each team, and you base your picks on that. If you feel confident both teams will score goals, then that is what you are going to be risking on by picking at least 2 forwards from each team.
Basically – don't spread yourself too thin. On an 11 game night, try and narrow it down to just 3-4 games and then pick players from those games.
4: Always Remember the Power Play
Almost 1 in 4 goals scored in the NHL are on the power play. So this is something that you really need to factor in when making picks. It doesn't have to be the ultimate decide on making picks – but it's something you do need to always consider. For every position and FROM every position too – a goaltender with a great penalty kill stat against a team on a bad run on power plays can be a goldmine.
5: Defense: Focus on the Lines
One of the best things you can do when it comes to defense, is determine what lines people are playing on, and then compare that to any games where you expect it to be high scoring.
As defenders are given points the same way as forwards – they become much more useful on the offensive part of things. Take Duncan Keith for example – in the regular season last year he racked up 55 assists, 11 more than 2nd placed Patrick Shark. Seabrook was also there. Picking defenders is pretty easy really – once you've picked everyone else, look at your salary cap, look at games where you expect it to be high scoring, then pick accordingly.
When you're not as worried as much about defenders conceding goals, it can make it a lot easier to pick them.
Summary:
Hope everyone has enjoyed this article, and as we crunch the numbers and do more research we'll have more talking points and tips for daily fantasy hockey later in the Summer.
Be sure to sign up at FanDuel and be prepared for the NHL season. They're also running various MLB Freerolls you can enter without having to deposit.
Follow @BetNHL
BetNHL.ca » Blog »