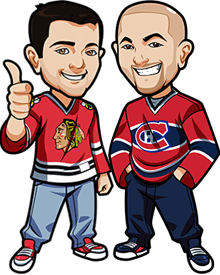 Follow @BetNHL
Hi guys,
Well that is the NHL season over with, and wow – what a season it was.
The regular season itself was fantastic, and the playoffs were just incredible with some amazing series. It was quite the season seeing Ovechkin fail to make the playoffs, and Crosby struggling unable to deliver. Meanwhile many others made their names, and already we are very excited for next years season. We're already counting the days!
We made a good bit of money during the regular season, and even more during the playoffs. It was very nice to have a 2nd profitable season delivering the tips to you guys.
We also want to thank every one of you simply for visiting this website, and give special thanks to those who share BetNHL.ca on their Facebook or Twitter pages, or on Reddit or forums etc.
We were regularly getting over 10,000 visitors daily and that is huge – the more eyes on us, the better. It just makes us that much more focused when it comes to delivering the best tips possible. It's also cool meeting new hockey fans from all around the world as well – when we launched this website on a .ca domain we expected to only get Canadians visiting for our NHL Tips.
While Canada did have the most visitors at 21%, over the past season we have had visitors from over 132 countries! Considering there are only about 190 countries in the world that is amazing, and we thank everyone especially our new friends in countries like Finland, Sweden, Denmark, France etc.
For those wondering – NHL Tips will remain free next season. We had some people ask – it's just not something we want to do, despite the traffic numbers and the success thus far. We enjoy giving out free NHL tips and hope to continue doing so for a long time.
Of course it wasn't just about NHL Tips this season – it was also about Daily Fantasy Sports and the OHL. We didn't do too much OHL Tipping this season but we hope to expand to that next season.
During the off-season we are going to be studying the crap out of NHL stats, and hopefully will be able to provide a lot of daily fantasy advice as well.
Finally – you will still hear from us throughout the off-season. There will most likely be bets about the draft that we will look to offer NHL tips for, as well as props in regard to potential trades etc.
We also want to deliver a variety of other content such as sportsbook reviews, actual NHL book reviews, and a wide variety of fun content. On top of that, we're also going to be delivering to you betting information for any beginners.
If there is any topics or articles you would like us to write about, please just let us know in the comments or via e-mail at betnhl.ca@gmail.com.
Expect about one article per week from us, leading up to the NHL 2014/2015 season.
Have a great summer guys. And thanks for visiting and following!
Follow @BetNHL
BetNHL.ca » Blog »