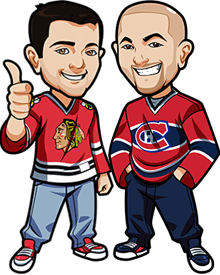 Follow @BetNHL
Welcome to the BetNHL.ca Olympic Contest – a contest that is taking place over the Winter Olympics 2014 which should add a lot of fun to the events. Plus, some prizes to boot!
For the Olympics, we are going to be doing a player pool for the hockey. We are going to keep it as simple as possible for you to enter, so that even if you know very little about hockey you can still enter it.
Before I talk about how to enter, let me just get to the actual prizes.
Our Olympic Contest is sponsored by the awesome online sportsbook Sports Interaction, who have kindly donated the prize pool for this contest. Many many thanks to them.
Prizes:
The prizes are as follows:
1st: $100 at Sports Interaction
2nd: $50 at Sports Interaction
3rd: $25 at Sports Interaction
So you need to get yourself an account at Sports Interaction for full participation! (Of course you don't have to – but the more people who sign up, the better the prizes will be in the future so please take 2 minutes to sign up!)
(Note to Americans: Sports Interaction don't accept players from the USA. Don't worry you can still enter the contest and we will find a way to hook you up if you win - probably at Bovada, so sign up at Bovada).
Okay, so here are the Groups:
Group A: Russia, Slovakia, USA, Slovenia.
Group B: Finland, Canada, Norway, Austria.
Group C: Czech Republic, Sweden, Switzerland, Latvia.
You will need the rosters too. This is the best link for rosters as it's updated with all the injury news.
How To Enter:
Here's how to enter:
So for example, if you picked Group A and Group B, you'd send something like this:
Group A:
G: Bobrovsky
D: Chara
D: Suter
F: Kessel
F: Ovechkin
F: Pacioretty
Group B:
G: Niemi
D: Subban
D: Keith
F: Crosby
F: J Jokinen
F: Getzlav
You can pick as many players as you want from a country. So if you pick Group B, you could pick 6 Canadians or 0 Canadians. Mix and match – 3 Russians, 2 USA and a Slovenian. As long as it's within the same group.
Points:
Points are fairly simple and are counted up until the Gold Medal game is complete:
G: 1pt win, 2pts shutout.
D: 1pt assist, 2pts goal.
F: 1pt assist, 1pt goal.
We will have a spreadsheet listing all of the picks, and will e-mail you back with the link as well as post updates. Hopefully this is all simple enough but if you have any questions e-mail us or comment below.
Closing Date is Tuesday, February 11th at 7pm EST. That will allow us time to get in all of the entries.
Thanks again to Sports Interaction for hosting this, and here is a template below if you want to copy and paste it for e-mailing:
Group :
G:
D:
D:
F:
F:
F:
Group :
G:
D:
D:
F:
F:
F:
Follow @BetNHL
BetNHL.ca » Blog »