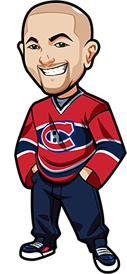 Follow @BetNHL
Hi guys,
The month of December generally sucks. Snow, shovelling, family dinners interrupting hockey games and oh so much more.
Leaderboard: Here.
Thankfully for the SECOND year, BetNHL.ca is doing a contest to liven the month up with prizes. This is the BetNHL.ca December Dynasty 2014 contest, and it is free to join!
It's very simple. There's 30 teams in the NHL. Over the course of December, you need to pick, for all 30 teams, a game that they will win.
So for example – you'll look at the Avs schedule and say "In December I think they'll beat the Sabres on this date". Then you move onto the Blackhawks and so on. Make up a big list, and send it in to us.
And don't worry we've made it easy for you. Here's the schedule in Google Drive covering every team and in easy to read format.
Prizes:
We're going to talk to some sportsbooks about setting up prizes – like free bets and so on. In the meantime here's what we have:
1st prize: $100 cash.
2nd prize: $50 cash.
3rd prize: $25 cash.
Bonus Beat BetNHL.ca $100: This year, Scott and Graeme will be teaming up to do our picks together as one. If you get a better score than us, then you will have your name put into a hat. We will then draw a name and that person will win $100!
Also as a special bonus, the awesome guys at Sports Interaction have decided to offer up 3 $20 free bets for the top 3 finishers. If you're eligible to bet at Sports Interaction and finish in the top 3 then congrats – on top of the cash prizes you'll win yourself a free $20 bet. Full details below.
Rules / How To Enter:
Please submit your picks in the following format:
December 2nd: Bruins, Capitals
December 3rd: Blackhawks
And so on. This makes it a shitload easier for us when adding them to the google document.
The closing date for entries is prior to the December 6th games. That gives you a whole week to do it.
Any mistakes you make are on you. We'll do our best to catch them and if we see something like a team picked twice or the wrong date or something will e-mail you.
Submit all picks to betnhl.ca@gmail.com.
If you have any questions ask in the comments below. Feel free to share this with your friends etc.
If there is a tie then we will do some sort of tiebreaker involving picking the most games correctly on a future date.
The @ sign in the document means it is a road game.
So in closing:
E-mail picks to betnhl.ca@gmail.com.
Share this page with your friends or on Twitter, Facebook etc! The more the merrier.
Sit back and watch Graeme & Scott kick your butts like you were the Edmonton Oilers.
And any questions – ask below.
Also here's the T&C in regard to the Sports Interaction free bet:
To be eligible for the $20 free bet, your country must be accepted at Sports Interaction. We have geo-targeting available so if Sports Interaction is linked here: Sports Interaction (Exclusive: $20 Free Bet for Canadians) or for Americans try out Bovada and everyone else Bet365.com. then you're able to sign up there.
You must have an active account at Sports Interaction to get the free bets. Active account means you must have already deposited to the account in the past – however if you are not a member of Sports Interaction, you can sign up there, deposit and then get the free bet. By instituting this rule it allows us to lower the rollover of the free bet which is just a 3x rollover. Account must be in good standing.
Follow @BetNHL
BetNHL.ca » Blog »