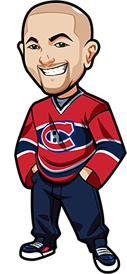 Follow @BetNHL
QUICK NOTE: $50,000 guaranteed tournament at DraftKings for todays Daily Fantasy NBA, less than 40% of people joined. SICK OVERLAY. Head to DraftKings ASAP – it starts at noon EST.
This post is in relation to the December Dynasty Contest that we are running. If you didn't enter it – too late now!
It was free to enter, and you had to pick one game throughout the month of December that every one of the 30 NHL teams would win. Easier said than done – other than "Pick whoever is playing the Oilers".
It has the prizes of the following:
1st Prize: $100 Cash, $20 Free Bet At Sports Interaction
2nd Prize: $50 Cash, $20 Free Bet At Sports Interaction
3rd Prize: $25 Cash, $20 Free Bet At Sports Interaction
And one random person who beats BetNHL.ca in the leaderboard will also get $100. That includes the top 3 potential prize winners FYI.
I wanted to apologize first of all for not updating the leaderboard in a few days. Long story short, after updating it on December 15th I decided to do a brief audit just to make sure we hadn't messed anything up.
We had.
It was a mess. Basically almost every one had one extra "result" – meaning each one had 31 picks when there are of course only 30 teams in the NHL and thus 30 picks. It required me completely starting it from scratch and was going to be a bit of a job – so I decided to put it off for a few days.
However I didn't want it hanging over me on Christmas, so I spent this Christmas Eve spending a few hours working on the NHL contest and tallying it all up correctly, rather than wrapping Christmas presents.
(That may sound like a selfless act for the good of the community – but in reality it just meant I got to sit at my computer for a few hours drinking beer and listening to Spotify, while my wife wrapped the presents!)
So here is the current leaderboard after December 23rd games sorted by wins: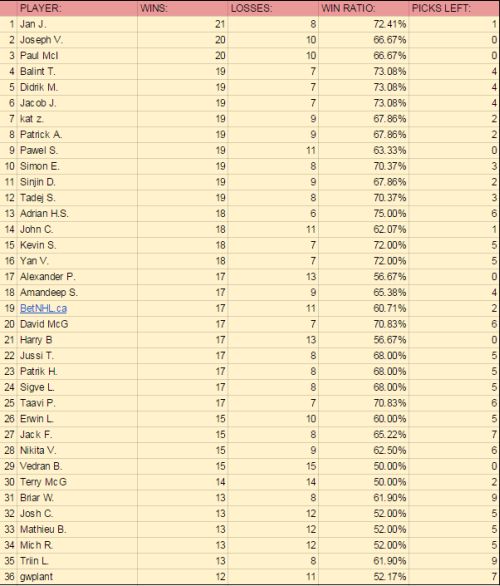 Quite an interesting leaderboard. Jan J. is the current leader, but only has the Montreal Canadiens left on December 30th, when they take on the resurging Florida Panthers on the road.
Joseph V. and Paul McL are currently 2nd and 3rd, but it's highly doubtful either will make the money. Most of the leaderboard could leapfrog them, and while they're rocking it in the wins, win ratio wise they're only 17th & 18th.
The leading candidate to win is Adrian H.S.. Adrian is down in 13th at the moment, but he has 6 picks left and the highest win ratio of everyone, at 75%. He has the Islanders, Predators, Wild and Flames on the 27th, the Senators the 29th, and then the Blue Jackets on the 31st. So this one is going to be going down to the wire.
Based on the current win ratios, there are a whopping 26 people that will land ahead of BetNHL.ca and be in that random drawings. Considering last year Graeme came 3rd and Scott came 30th, clearly Scott is dragging us down. No question about it.
It's looking like the lowest win ratio of the leaderboard will be 50% which is pretty cool when you think about it. That's a solid win ratio considering you have to pick so many days ahead. I mean, going into December the Flames were absolutely rocking it and the Blue Jackets were a disaster, and boy have those two turned things around.
Anyway that's about it – we want to thank everyone who has participated. I'll be honest I was a bit disappointed that despite getting thousands of visitors a day only 35 people participated – but after having to tally up all the bloody scores tonight, I'm not complaining too much!
Have a great Christmas everyone. We'll hopefully do some more posts over the next couple of days – but this 60 ounce bottle of rum I just opened means that may not happen!
Follow @BetNHL
BetNHL.ca » Blog »